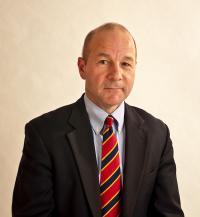 FORREST SHOAF, formerly Cracker Barrel Old Country Store's chief financial officer, has joined Dobie Media as advisor and investor, founder Bruce Dobie confirmed for VNC.
Word of the appointment comes just ahead of a full-fledged A-round capital raise for Dobie and close on the heels of the arrival of another investor-adviser, new-media entrepreneur Rick Blair, as previously reported by VNC. Dobie Media is a West End startup that provides its EvieSays online events calendars for media outlets.
Reached by VNC, Dobie and Shoaf expressed enthusiasm for Dobie Media's progress, and Shoaf emphasized his confidence in Dobie's vision for the company.
Bruce Dobie
The relationship between Dobie and Shoaf was cemented when Shoaf served as investment banker during Dobie's sale of Nashville Scene to Village Voice Media in 2007, he explained. The transaction rested on "one of the best [valuation] multiples I ever achieved as a banker," said Shoaf, adding that the property was sold "at the top of the market." (The Scene, which Dobie had co-owned with now-American Songwriter co-publisher Albie Del Favero, was subsequently sold to Nashville-based Southcomm Communications.)
Shoaf, 61, most recently served nearly seven years at Lebanon, Tenn.-based Cracker Barrel in various roles, including general counsel, corporate secretary and senior vice president, ultimately retiring from the company as chief financial officer, reporting to CEO Michael Woodhouse. Shoaf's relationship with Cracker Barrel continues under a contractual agreement, Shoaf confirmed, declining to provide details.
Prior to Cracker Barrel, Shoaf pursued both lawyering and investment banking: He was a partner at Bass Berry & Sims; managing director of investment banking at Avondale Partners; and, managing director of the former J.C. Bradford corporate banking department and within Memphis-based Morgan Keegan (now part of Raymond James).
Shoaf, who said he is now taking his first break from full-time work since age 17, does not rule-out eventually becoming involved in other ventures. While both law and investment banking are logical avenues for a return to full-time employment, said Shoaf, who added that at the moment he feels more drawn to running a business as CEO.
While highly technical businesses might be beyond his ken, he said, he believes he's up to running businesses in most sectors -- notwithstanding his recognition that "everything is harder than it looks" from the outside, he added.
Alluding to the sport of boxing, Shoaf said he relishes the role of counselor and has often been cast as the "corner man." Now, he said, "I'd like to put the gloves on."
Shoaf stepped into the ring repeatedly, as a guest on Teddy Bart's Round Table, once one of Nashville's most prominent morning-drive radio talk shows. Brandishing taughtly reasoned views, conservatism and his personal brand of civility, Shoaf appeared on the show from 1996 til its end in 2005. He misses the show, which was "very Nashville," he said.
Shoaf said that his "biggest damn-fool mistake" in life, thus far, was his 2002 GOP primary candidacy for the 7th District House of Representatives seat. The experience was a "cure for narcissism," he said, particularly given that it cost $350,000 of his own money and $150,000 of funding from supporters. The seat went to U.S. Rep. Marsha Blackburn.
In 1997, soon after he began appearing on The Round Table, then-Lt. Colonel Shoaf completed 20 years' U.S. Army service. His military service had been weighted with 12 years on active duty, much of that as an Airborne Ranger. He graduated from the U.S. Military Academy at West Point in 1972, and later served as a West Point instructor. He earned his J.D. at Harvard Law School and a master's in literature at Vanderbilt University.
Shoaf is a former member of the board of directors of the National Restaurant Association. He was legal counsel to erstwhile presidential candidate and now-U.S. Sen. Lamar Alexander, a former Tennessee Republican governor. He attended the Webb School at Bell Buckle, Tenn., and years later served 15 years as a trustee of that school. He is now a trustee at Cumberland University, in Lebanon. He is a member of Tennessee's Post-Conviction Defender Oversight Commission, which watches the budget and expenditures of the state's Post-Conviction Defender, which provides legal counsel to indigent death-penalty prisoners.
Shoaf lived much of his childhood on Shoaf's Island and in Ripley, in West Tennessee. His full name is Nathan Bedford Forrest Shoaf, an honorific result of a Shoaf ancestor's having served with pride under Confederate Lt. Gen. Nathan Bedford Forrest.
Forrest, of course, was the widely admired military tactician and strategist who is also linked in history to brutality in warfare and to the formative years of the Ku Klux Klan, from which Forrest is said to have eventually severed his ties and sought to contribute to post-bellum reconciliation.
When asked by VNC for comment about living with the extraordinary name he inherited, Shoaf accepted the familiar question easily; and, though clearly prepared to discuss Forrest's record in any detail required, he made clear he bears Forrest's name with pride. He added only a few notes regarding what he believes to be mischaracterizations of Forrest's military and subsequent conduct, and cited praise of Forrest during the general's lifetime, and afterward.
"It is more name than I can live up to. Nathan Bedford Forrest was the finest soldier Tennessee ever produced," he asserted.
A crowd-sourced Wikipedia entry includes references to the controversies surrounding Shoaf's namesake, as well as references to praise from Shelby Foote, the historian, now deceased, who played a central narrative role in Ken Burns' Civil War documentary series. VNC