It may not help Nashville recruit corporate headquarters, but -- for good or ill -- tonight's relaunch of NASHVILLE STAR on NBC, MySpace, Facebook and mobile phones everywhere seems sure to spike awareness of "Music City U.S.A."
Fortunately, Nashville's brand has already survived 39 years of "Hee Haw" reruns, the endless dissection of Altman's "Nashville" film epic and the televised escapades of then-Mayor Bill Boner, among other incidents.
Regardless of "Nashville Star's" impact on the city's image, the city's brand will probably become a focal-point when members of Nashville's Entrepreneur Project release their recommendations for improving the local entrepreneurial economy. The report is due out this summer.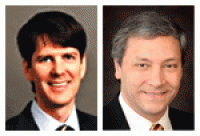 The Entrepreneur Project is co-chaired by Bobby Frist and Mike Shmerling (L-R, at left), who are the CEOs of Healthstream and Xebec Management, respectively.  Their report couldn't come at a better time.The Chamber recently reported Nashville created only 3,000 jobs in its most recent 12-month period, compared 18,500 the previous year.  The Chamber's recent statement that Nashville is doing better than many other cities on the job front is bolstered by data that suggests that half of all Tennessee's recent job growth has been in Nashville.
Nonetheless, there are problems.  In 2005, Nashville Chamber consultant Market Street Services found that Middle Tennessee "lags in certain measures of capacity for innovation," should do more to support entrepreneurship, and must improve availability of capital, technology transfer and commercialization, public K-16 education, transportation, and other areas.
Atlanta-based Market Street Services also reported, "While the Music City, U.S.A. brand has put Nashville on the map, many felt this image did not do justice to the business community, sports and recreational amenities, and other offerings..."
In response to MSS' findings and its own research during the past six months, The Entrepreneur Project is known to be considering recommending the creation of an "Entrepreneur Energy Center."
The center would be designed to increase the success and retention of "early-stage, high-growth ventures." The center would be affiliated with the Chamber/P2010 and would address such issues as venture and angel capital; workforce development; collaboration among universities; accelerating formation of potentially high-growth enterprises; inadequate regional recognition, and related matters.
The Entrepreneur Project or a successor group is also likely to scrutinize Nashville's brand, in preparation for an eventual campaign to raise awareness among key industries and professions regarding Nashville's growth-industry resources and achievements.
Nashville's brand is evolving and getting stronger, according to Chamber/P2010 Senior Vice President Janet

Miller.  During a June 4 interview, Miller explained that just as the world is awakening to the importance of what has been dubbed the Creative Class among workers, an important "shift" has occurred in Nashville's brand:  The creativity that was long associated with Music now translates into a perception that creativity reigns throughout the city and its increasingly diverse industries. Miller said she believes this has been driven in large measure by the fact Nashville's music scene has become more hospitable to Rock, Jazz and other genres -- while Country, itself, has also become more diverse.

Miller recalled that in the past decade or so, assessments of Nashville's brand "always came back the same," with executives telling researchers they think of Nashville as a "tier two" city, strong in both music and healthcare.
Now, Miller declared, "we have definitely moved the needle" of perception, particularly among the corporate-relocation consultants whom she says determine 70 percent or more of all relocation choices.
A strong brand should give Nashville a leg-up in pursuing companies within the sectors Market Street Services identifiied as representing our best targets:  healthcare, advanced manufacturing and logistics, music and entertainment (including digital-technology), logistics or supply-chain operations, and corporate headquarters, generally.
Miller said her new understanding of the power of Nashville's creativity has been shaped by such experiences as the relocation of Nissan headquarters from California to Nashville. During that move, Miller said she remembers talking with a Nissan executive who praised Nashville, insisting "it's not [simply] about the music in this town" -- rather, he argued, Nashville's core identity is creativity, itself.
Miller said she now realizes that "music equals creativity and creativity is a great tool for economic development." Miller said she believes that while Music City remains "the predominant brand," Nashville's creativity is increasingly seen as characteristic of the entire city. No longer, she said, is Nashville viewed as "a one-trick pony."