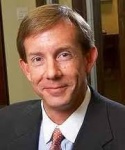 Updates 20 Oct. 2015: On 19 Oct., AHM reported a $2.3MM capital raise.-Ed.
AMERICAN Hometown Media, parent of Just A Pinch Recipe Club, will have all the lip-smacking ingredients it needs, once it adds a $5 million dash of Series B capital, Founder and CEO Dan Hammond told VNC.
Hammond projects that by year-end 2014 Just A Pinch will have 2,000,000 registered users (up from 1m at EY13); and, by year-end 2014 it will also be logging 12m-17m monthly uniques on the site, up from 10m monthly uniques in January this year, Hammond said.
He'll be reaching out to his network, particularly on the U.S. Coasts, in search of B-round investment. He is already significantly invested and there is not an enormous supply of growth capital in Nashville, he added. For more on the backstory of this venture, see our previous report here.
Its 2011-2012 Series A was initially set at $3MM and then lifted to $5MM on investor interest, as previously reported.
In addition to Hammond himself and Angel investors, its previously acknowledged institutional investors have included Solidus, Nashville Capital Network and Limestone Fund, the latter organized five years ago by participants in Tennessee's TNInvestco capital-formation initiative.
As previously reported by VNC, Hammond and his institutional and individual co-owners successfully exited Publishing Group of America in a reported $140MM transaction in 2007, after raising about $30MM in capital. The buyers were Bain Capital and Shamrock Capital Advisors. And, in 2011 he exited a similar venture, American Hometown Publishing, in the course of spinning-out what became American Hometown Media.
Asked about an exit scenario for American Hometown Media's current owners, Hammond said that owners who are aboard by the end of the B-round could fare very well, if the company succeeds in efforts to surpass the performance of AllRecipes at the time of that company's 2012 sale to Meredith in a $175MM transaction. (Allrecipes.com had still-earlier been owned by Readers Digest Association [NYSE:RDA], which had bought it in a $66MM net transaction in 2006, nine years after AllRecipes' inception, according to information online.)
Meredith not long ago launched a companion Allrecipes print magazine. Hammond made clear, as he has previously, that additional American Hometown media offerings targeting the Women's demographic are plausible over the horizon for AHM's Just-A-Pinch.
While Just A Pinch currently has seven employees and roughly 10 contractors, Hammond estimated AllRecipes had about 250 at its sale, and zero EBITDA.
In addition to Meredith, Hammond said that future bidders for Just A Pinch could logically include such major media holding companies as Hearst, Time Inc. (recently a TIME Warner spin-off) and Advance Publications, which owns Nashville Business Journal, Bon Appetit and dozens of other titles.
While addressing LaunchTN's 2013 Southland Conference in Nashville, Hearst corporate VP George Kliavkoff told his audience that Hearst acquisitions are no longer so heavily weighted toward New York City and other traditional media centers. The company scouts for properties serving underserved markets with strong ad-revenue potential. Hearst typically makes early-stage investments via Hearst Ventures, he said, normally starting with a minority investment.
CEO Hammond more than once stressed during an interview for this story that Just A Pinch's gains have been purely organic, with no spending to gain website traffic and zero sales staff. Add, 29 August: Hammond points-out fresh analysis on the sites's traction by a prominent interactive agency pundit, article here.
Asked about the timing of the Series B, Hammond explained that Just A Pinch has now demonstrated major-brand acceptance and return on branded ad spending, thereby making prudent aggressive new spending on salesforce deployment (particularly in New York and Chicago); on technology staff; and, on marketing, including use of social media, interactive advertising, search optimization and other tactics.
The Franklin-based company was profitable in both 4Q13 and 1Q14, said Hammond, who declined to provide recent revenue figures and noted that 2Q14 results for its flagship website are -- as is true for the category -- seasonally softer during each 2Q. In a 2011 VNC story, Hammond said the company projected $2MM 2011 revenue and $4MM 2012 revenue.
It has 400,000 member-submitted recipes on its site, adding to its performance metrics, which Hammond said have astonished some industry peers and other observers. In August two years ago, Just A Pinch announced hitting the 100K-recipe milestone. Just A Pinch has the largest holding of user-submitted recipes at this time, said Hammond.
In addition, according to Hammond, the site now boasts 16-minute average stay per registered user session, with such users visiting one to three times per day. Virtually all its Web traffic originates in North America.
Hammond's outside advisors include attorneys with Nelson Mullins and with Everhart Law Firm (for IP work). Its accounting is with Frasier Dean Howard. It continues the founder's long-standing banking relationship with Pinnacle Financial, said Hammond.
Hammond said the National Pork Board and National Butter Board tested advertising on the Just A Pinch community website, with strong click-through results.
VNC research on the Just A Pinch site is on-going, but quickly turned-up evidence on both the power of pork on waffles and on the liberal and appropriate use of butter. VNC