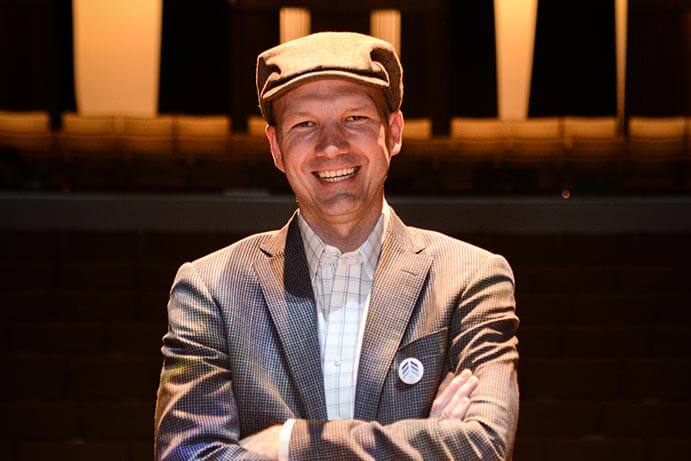 Updated: April 10, 2017: Dart submitted to the Court its proposed auction plan today. Dart Music, aka Dart Data, issued a statement Feb. 28, 2017, saying that it had filed for reorganization under bankruptcy laws, citing $2.57MM debt. The Tennessean reported artists royalties are being held in trust for payment. Dart's board includes CEO Chris McMurtry and investor-entrepreneurs Joe Galante, Mark Montgomery. Our July 26, 2016 story follows. -Ed.
DART DATA is the new street name for Project Music 2015 startup graduate Dart Music, which now offer its metadata collection, cleanup and delivery services for all industries and segments thereof worldwide, not just for its original Classical Music niche.
Dart's Founder, CEO and majority owner Chris McMurtry today confirmed for Venture Nashville that the company has launched a $2MM Series A capital raise and is charting a growth trajectory that could reach $100MM or more, thanks for its stealthy pivot into the broader market.
McMurtry, 37, volunteered that the Series A target is modest by West Coast digital-venture standards, in line with his own preference for organic growth. "I prefer revenue," he said.
Heretofore, all Dart capital-in has been provided via convertible notes, he said. The company is not yet at breakeven-or-better and has four full-time employees, he said, adding that staffing is likely to reach 10-15 FTEs within two years.
The broadening of Dart's target market is not entirely surprising: McMurtry recently mentioned the $100MM revenue notion during the Google for Entrepreneurs Demo Day at the EC, without elaborating on the broader target he had in mind.
And, in December 2015, he said during an NPR All Things Considered interview that more than half Dart's revenue was already outside the Classical space.
Today, he told VNC that he had realized some time ago that while the Classical niche was a viable business, customer demand had essentially led to pursuit of the metadata line of business, as well.
That dilution of effort has now ended, and the company no longer needs to compete with such mature players as The Orchard (NY), Naxos (Nashville+) and Harmonia Mundi (France), or directly evangelize and hand-hold individual Classical users, said McMurtry, a native Nashvillian and multi-genre musician who added that he retains his strong interest in supporting Classical Music artists and producers.
Dart's advisor on the round is Julia Polk (New Ventures Consulting LLC), who according to her LinkedIn recently completed more than a year as an entrepreneur-in-residence at the Nashville Entrepreneur Center. She remains an EC mentor. Her other activities include membership in the Entrepreneurship Commmittee of Launch Tennessee (Tennessee Technology Development Corporation, TTDC).
Reached for comment between meetings today, Polk said Dart's repositioning has been thoroughly vetted, with mounting evidence that Dart's opportunity was larger than originally discerned. Rather than deal with individual users of its original Classical Music data tools, the company can now partner with major gatekeepers to enter large-scale markets in numerous sectors.
Polk said, in part, "It's an exciting time for a co that's been working quietly to produce a broad offering and we're receiving positive feedback on that offering '- and we're ready to go!"
David De Busk
McMurtry said his other advisors include IP attorneys with Patterson and corporate counsel at Bass Berry & Sims. He banks with LA-based City National Bank (Music Square office in Nashville) and accounting is handled by WSquared.
The founder also further confirmed that David De Busk has just joined the Dart team fulltime as head of all-industry business development.
De Busk has spent the past 20 years or more in strategic roles for BMI, Landmark Digital Services, Sun Broadcast Group, Shazam Entertainment and others he has previously served as a consultant. His LinkedIn is here. VNC


.
---