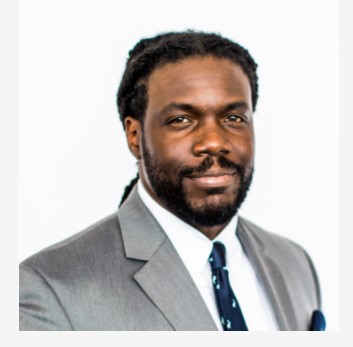 NASHVILLE's Mayor John Cooper has declared that February 15 is now Nashville Black Innovation & Entrepreneurship Day here, according to an announcement by Nashville Entrepreneur Center.
The first observance of the newly designated day has been set by the EC for tomorrow (Tuesday, Feb. 15).
That's when a related panel discussion and pre-accelerator business sampler will convene at midday, as part of the EC's statewide "Twende" program of support for entrepreneurs of color.
Registration for the EC Twende event is without charge, for attendance in person or by Zoom, details here.
The newly established February 15 commemoration is expected to come 'round annually during this nation's annual Black History Month, now underway.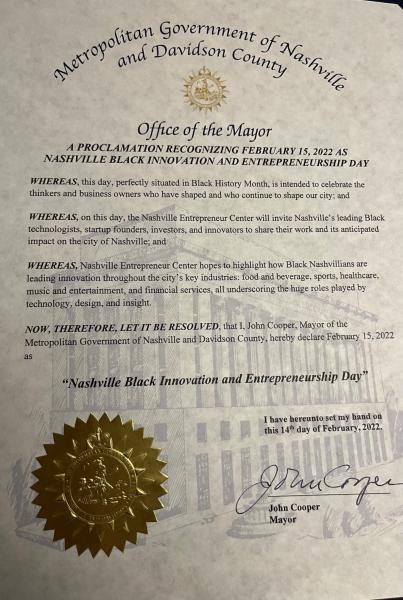 Click above for
larger Photo
UPDATED: In his proclamation dated Feb. 14 and received by Venture Nashville this evening, Mayor Cooper notes that the organizers of the annual commemoration will invite Nashville's "leading Black technologists, startup founders, investors, and innovators to share their work and its anticipated impact on the city of Nashville..." One goal, said the mayor, is to highlight Black leadership of innovation in the city's key industries, while underscoring "the huge roles played by technology, design and insight." The key industries cited are food and beverage, sports, healthcare, music and entertainment, and financial services. Click the photo at right for proclamation document.
Tomorrow's panel discussion includes three professionals, among them Nashville-based VC and serial entrepreneur Marcus Whitney.
Whitney is a co-founder of Jumpstart Health Investors and its affiliates, including Jumpstart Foundry and Jumpstart Nova, the latter focused exclusively on investments in companies scaling-up in the hands of teams of Black founders or co-founders.
The panel also features Victoria Butler, founder and master blender of Uncle Nearest Premium Whiskey, based in Shelbyville, Tenn. The young Uncle Nearest brand has gained considerable renown.

Rounding-out the panel is Nashville-based Courtney Hale, who leads SuperMoneyKids (aka Knowledge Bank), which promotes financial literacy among youth.
Following the panel, four entrepreneurs will competitively present their businesses, with those who rank first or second winning $2,500 and $1,500, respectively.
The scheduled presenters (The 2 winners each received $2,000):
The EC piloted the Twende program in 2019-2020, and inaugurated statewide operations in 2021.
Twende staff said the program now has 55 members registered as members, and all the members' firms are "tech-forward and growth-oriented." The Twende portfolio is here. Update: Twende staff said Feb. 15 they hope to double the number of firms in the portfolio by February 2023.
VNC review shows the majority of the current Twende members' companies are probably best characterized as Services or tech-enabled services firms. The remainder the members' businesses involve development of software, applications and-or integration platforms.
The manager of the EC Twende initiative, EC VC Brynn Plummer, said applications for the 2022-2023 cohort of Twende are to be taken beginning in early September, with a deadline four to six weeks, thereafter.
The EC said in a recent release that its non-government sponsors include UBS, Cummins, Verizon Wireless, LBMC, Citizens Bank, Wells Fargo, Butler Snow, and entrepreneurs Turner and Phylanice Nashe.
EC CEO Jane Allen secured a Twende program funding commitment in 2021 from Tennessee Gov. Bill Lee, which came with support from Launch Tennessee, a nonprofit that is controlled and largely funded by the Lee Administration's Department of Economic and Community Development. Related coverage here.
The Launch Tennessee grant for Twende was made possible partly by a grant from Charlotte, N.C.-based Truist (NYSE:TFC).
Among reasons often cited for choosing February as Black History Month is the fact that the birthdays of both Former President Abraham Lincoln and lecturer, author and Abolitionist Frederick Douglass are in February; and, because historian Carter Woodson chose February for the earlier Negro History Week.
The theme of Black History Month for 2022 is Black Health and Wellness.
The theme selected for Black History Month 2023 is Anti-Black Violence and Resistance in the Diaspora, according to the Association for the Study of African American Life and History. Further resources 1 | 2 | 3.
Earlier VNC Twende coverage is here. VNC
. last edited 25 February 2022 1458
---