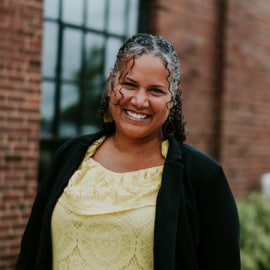 NASHVILLE startup Possip Inc. is raising Seed capital for its Possip platform, which offers regular, useful and coherent feedback for both students' parents or guardians, as well as for school administrators.
In addition to an initial $100K from friends, family and founder, the company led by Founder-CEO Shani Jackson Dowell yesterday told the SEC it has raised $100K toward its $750K Seed goal.
Seed capital will support sales, staffing and platform development. Dowell said she intends to fund the company's early growth with outside capital, but has not set timing and target for a Series A raise.
She holds controlling interest in "Possip," which is a brand amalgam of "positive" and "gossip."
The CEO grew up in Houston and arrived Nashville a decade ago, where she rose to Nashville director for Teach for America. In addition to roughly 14 years in classrooms and with education nonprofits, she had early experience with consulting firms, including Bain & Co. (Boston). She holds an MBA from Stanford University and a bachelor's in business from Howard University (LinkedIn).
She said her company recently attracted its first Angel money from an as-yet undisclosed Nashville individual, and has ongoing conversations with other Angels here and elsewhere, as well as lines into institutionals in other Southeastern cities and in other regions. Dowell said she is open to funding from Bay Area investors, but is not currently pursuing funding in that market.
Asked about Nashville institutional investors, she said "everyone is willing to talk with you," but those she's met have ultimately said her company is "too early" for them. "I think I will need to go elsewhere" for venture capital, she said, adding that it sometimes seems to her that lack of edtech familiarity or "pattern recognition" among local VCs may limit her options.
That said, Dowell was delighted to hear that Greater Nashville has over the years been the launchpad for a number of edtech and related ventures. Previous VNC coverage of only some of the most recent is here and here.
Two-year-old Possip earns revenue from schools and-or school districts for the Possip package of email- or text-message content and transmission, an actionable summary of parental responses to queries, plus trend reports and insights that are drawn locally and-or derived from the company's expanding network of participating schools, which currently touches 16 states.
Possip's offering will be attractive to both public and private schools, said Dowell, but the company strongly prioritizes the roughly 70% of all U.S. public schools that qualify for Title I funding in support of low-income households.
Dowell said she believes that Possip can be a "transformative" technology in those and other schools in which parents have, for whatever reason, under-participated in providing vital feedback on the experience they and their children have in pursuing education.
Asked about competitors, Dowell cited 7-year-old Kleiner Perkins-backed Remind (SFO) and 4-year-old Bloomz Inc. (Redmond, Wash.).
She said she believes Possip is differentiated from those two sector entrants by the fact that Possip emphasizes obtaining vital feedback from parents, and takes an active role in gathering data and creating content that support educational improvement.
Brief VNC research turned-up legions of edtech providers, broadly defined, but yielded no offerings that seemed point-for-point identical to Possip's. Education trade media addressing parental engagement do mention such entrants as School Messenger (which earlier this year became a unit of PE Apollo-backed West Corporation, Omaha); and, VC-backed ParentSquare (Santa Barbara).
Asked about major edtech companies that could be logical bidders for Possip, should it opt for a strategic exit, Dowell noted that Blackboard is probably among the most obvious logical candidates. Formed 21 years ago, D.C.-based Blackboard is owned by Providence Equity Partners. Blackboard was Nasdaq-listed 2004-2011.
Dowell added that any potential strategic acquirer would have to be a good fit, in terms of educational mission and vision.
Dowell began working fulltime on Possip six months ago. She said the Possip team represents about 4 FTE, and draws on her and on six other professionals who are based in Nashville; Denver; Milwaukee area; New Hampshire; Portland, Ore.; and, Washington, D.C.
In January, after Possip's latest signees are onboarded, the company projects it will be serving parents and administrators associated with roughly 120 schools. Customers booked at that point will have varied time-spans and fees schedules, and will represent about $100K annualized sales.
In November, Possip began serving 25 Metro Nashville Public Schools, through a program that is to run through the 2018-19 school year. In the previous school year, Possip's beta involved five Nashville-area schools.
Asked about advisors, Dowell said she relies on attorneys David Morris with Forrest Firm out of Durham, NC; and, on attorneys with D.C.-based Evans IP Law (trademark) and King & Spalding (IT, data security).
She said the Nashville Entrepreneur Center's InFlight Program she is currently enrolled in has proven very helpful, as have individual informal advisors such as Danielle O'Rourke of ROND Capital, an affiliate of Martin Ventures.
The startup's accounting is with Acuity LLC of Atlanta, and Possip banks with Capital One Bank.
The founder and husband Randy Dowell, who is executive director of the KIPP Nashville charter school, live in East Nashville with their two school-age children.
The CEO is also currently a member of the board of Nashville Classical Charter School and, until she went fulltime on Possip, she was executive director for teacher pathways of the NYC-based Relay Graduate School of education. VNC

. last edited 1742 19 Dec 2018
---