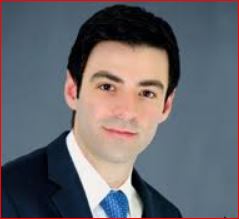 Update: On March 17, 2022, Embold amended an earlier Series B filing to show a total $23MM raised, up from the earlier reported $20MM. Industry media reported this week that additional investors include JP Morgan's Morgan Health, Whistler Capital Partners and Chrysalis Ventures. Its related March 16 press release is here. VNC estimates Embold's total capital raised to date at $54.9MM, based on SEC filings. Related FierceHealth coverage here. A representative of Embold Health confirmed today that VNC's tally is correct. Embold's SEC reports, filed here. Our original Sept. 12, 2019 story on Embold appears below. -Ed.
EMBOLD HEALTH, a healthcare analytics company based in Nashville and Austin, filed with the SEC today on a roughly $22.4MM capital raise, with about $12.4MM in, including conversion of a previously reported $4.5MM in debt.
Daniel Stein MD is founder and CEO. Before founding Embold in 2017, he was chief medical officer of Walmart Care Clinics, Bentonville, Ark.
He earned his medical degree at The Johns Hopkins School of Medicine, his bachelor's at Yale University and pursued an MBA at Harvard Business School.
Stein also served as a member of the staff of the U.S. Senate Committee on Finance and did an internship centered on value-based pricing of healthcare services within an office of the Centers for Medicare and Medicaid Services.
Embold management has not yet responded to a VNC interview request placed this morning. This story will be updated, as warranted.
Embold's website says in a 2018 release that it offers "a science-based tool to empower employers, health plans and consumers to identify and choose top-performing providers who provide high-quality care when it's needed, at the right cost." The site says Stein founded Embold Health "to drive a seismic shift in health care, improving quality, reducing unnecessary medical care and decreasing costs."
The website further explains that Embold Health helps "companies and their employees find the best doctors -- the ones who are delivering high-quality, appropriate care at a reasonable cost". The startup says it seeks to help health plans "improve quality by featuring the top physicians in their provider networks", and the company highlights "the doctors who consistently deliver outstanding care and help those who aren't there yet meet these higher standards."
Today's filing reports 37 investors associated with capital raised, to date.
Persons in addition to Stein who are associated with today's SEC filing include these individuals, who are labeled as directors in the filing: Edward Bergmark; Laura Kaiser; John Langenus; Jim O'Connell; and, Brad Kimler, the latter being the company's chief commercial officer.
The LinkedIn profiles associated with these names were researched and assigned by VNC. Corrections, if any, are welcomed.
Bergmark is particularly known as having founded the Optum service within UnitedHealth.
Laura Kaiser
Laura Kaiser is believed by VNC to be CEO of SSM Health in St. Louis, as well as former EVP of Intermountain Healthcare and formerly an executive with Ascension Health.
John Langenus is chairman of the board of Blue Cross Blue Shield of Rhode Island, among other industry roles.
Jim O'Connell
Jim O'Connell is currently serving as president of the Vinik Family Office, in the Tampa area. LinkedIn information indicates O'Connell also previously served as chief of staff to hedge fund manager Jeff Vinik.
Vinik was profiled earlier this year by Institutional Investor. The magazine also reported that Vinik has also been expanding Strategic Property Partners, a real estate development firm he launched in partnership with Bill Gates' family office, Cascade Investment LLC.
In 2018, Vinik became a partner in Dreamit Ventures, which, among other offerings, runs a healthtech accelerator in New York City.
Harpeth Capital and Harpeth Securities are listed on today's filing under the Sales Compensation section.
Embold's VP-communications is Katie Young Schlacter, who joined Embold in July, after seven years with Nashville Health Care Council.
Embold SEC filings are here. Embold Health was formerly known as Better Medicine, Inc. VNC
. last edited 31 Jan 2022 1020
---