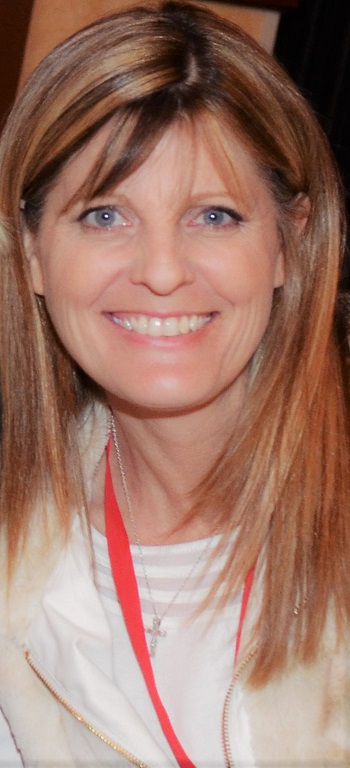 ENTREPRENEUR Tyna Bryan believes the technology she's launching in January can help improve trucking companies' operational safety, regulatory compliance, economics and retention of sought-after truck drivers.
Bryan is owner/CEO of Cookeville-based DOT Readiness Group Inc., which she has bootstrapped since the business began in Texas in 2012.
That company focuses on training, compliance reviews and related services for trucking clients who seek to maintain corporate and driver compliance with U.S. Department of Transportation regulations for operators of commercial motor vehicles, as well as for operators of unregulated vehicles.
In January, Bryan plans to stand-up Proverbs Technology LLC as the parent of her new regtech platform -- DOT-Ready (new site offline at publication) -- which will immediately begin a month of beta testing by about 20 commercial carriers. Those carriers have been waiting for the beta opportunity for a year or more, the CEO said.
The carriers' enthusiasm about the beta opening is not surprising: In addition to the ususal business risks and pressures, in 1Q 2018 the American Trucking Association (ATA) reported that the rate of annual driver turnover within fleets with more than $30MM annual revenue had risen to 94% -- up 20 points from the same period, year-earlier. Annualized turnover among smaller full-truckload operators rose to 73%. An ATA economist said that unsolved, these trends "will threaten the entire supply chain." A 2015 ATA report provides further detail.
VNC research suggests that the U.S. CDL driver shortage now totals 50K-60K drivers at any time, and, partly due to increased use of trucks for delivery of ecommerce purchases, that number is expected to climb dramatically higher, within a few years.
When the minimum viable DOT-Ready product (MVP) emerges in a few weeks, operators of regulated and non-regulated commercial motor vehicles will be able to rely on DOT-Ready to ensure timely and accurate documentation of drivers' driving time, incident/accident reports, equipment maintenance and numerous other checkpoints that must be faithfully tracked.
Because compliance calls for tracking medical conditions and factors related to drugs and alcohol, DOT-Ready will comply with all regs pertaining to personal health information (PHI, HIPAA).
Remaining in compliance can quickly become a personal and financial life-or-death issue for a trucking business: Suspending operations due to noncompliance is costly and disruptive.
Worse still, given that most operators are small, a finding of liability in an accident that results in loss of life and-or property can force owners into heavy debt, or force them to liquidate equipment and other assets.
By digitizing record-keeping, DOT-Ready not only helps operators and their drivers remain compliant, but eases the administrative burden on drivers who already struggle on the road with unhealthy eating, lack of exercise, family separation, lost productivity beyond their control, and other factors -- all of which has contributed to very high levels of annual turnover among companies' drivers.
Bryan said she expects both of her businesses to operate in the black in 2019.
She explained that she not only has carriers queued-up to trial DOT-Ready, but on the consulting side of the house she has also served about 750 clients (including individual training registrants) in the past four years, and her newsletters reach a list of 34,000 addressees with whom she has business ties.
After the beta, DOT-Ready will move to soft launch in February, with users paying monthly subscriptions structured based on each company's numbers of drivers or vehicles.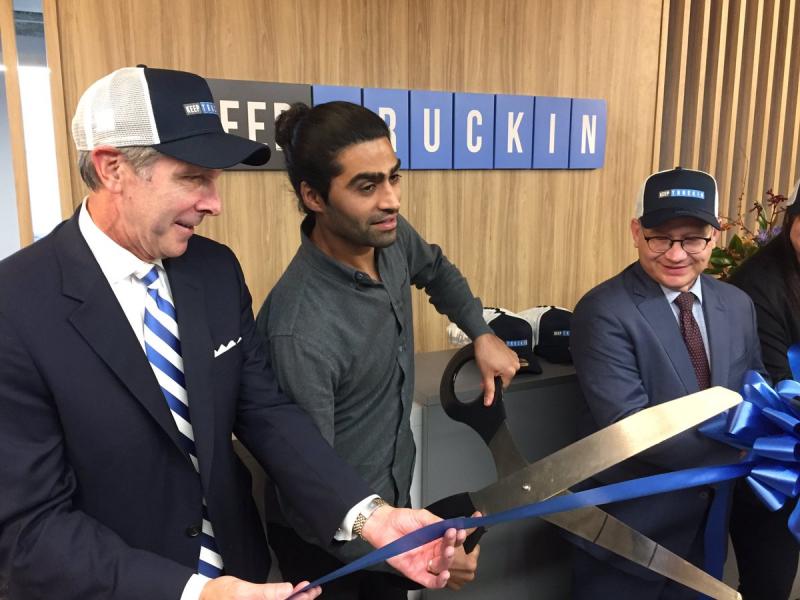 (L-R) TN ECD Comm. Bob Rolfe, KeepTruckin
CEO Shoaib
Makani, Mayor David Briley
during October announcement.
Longer-term, Bryan said she is keen to establish a partnership with a company like VC-backed KeepTruckin, Inc., the San Francisco trucking software startup that recently announced (photo at left) plans to employ 385 workers in Nashville.
Though a bootstrapper, Bryan said she would certainly consider accepting capital from a strategic, VC or high net worth individual investor, provided they have business savvy directly related to electronic logging devices (ELD) for DOT compliance and related matters.
Such investors might be focusing more intently on Tennessee transportation innovators these days, because the state is well established as a logistics hub; and, it is cultivating entrepreneurs through such programs as EPIcenter's Memphis Logistics Incubator, logistics-supply chain VC Dynamo in Chattanooga and other efforts.
Asked about competitors for DOT-Ready, Bryan said she has used virtually all the relevant software available in the market.
She cited such established entrants as Neenah, Wisc.-based JJ Keller's Encompass online tools; Tulsa-based Tenstreet; and, two Houston-based companies, DISA and TivaCloud.
Bryan will be 100% owner of Proverbs Technology and will retain controlling interest in her six-year-old DOT Readiness compliance training and consulting business.
She operates DOT Readiness with minimal payroll employees. She accomplishes this in part by contracting for an array of marketing, back-office and tech services from Cookeville-based BGBO Co (Etch Enterprises LLC), which is operated by Micah Johnson and Alane Boyd.
Bryan's outside advisors include intellectual property attorney Kevin Christopher, a Bay Area transplant who co-founded of Ridgeline Law in Cookeville and Chattanooga; and, Cornell Kennedy of SRVH (Sherrard) in Nashville. Sherrard would probably handle any securities assignments, she said.
Bryan currently banks with Regions and Wells Fargo and plans to sign-on with American Bank & Trust of the Cumberlands (Cookeville).
For accounting, Bryan currently relies on a practitioner in Texas, but she's considering Tennessee accountants.
A 46-year-old native Californian, Bryan relocated to Cookeville from Odessa, Texas in July 2017.
The CEO keeps current her commercial drivers license (CDL), but is no longer directly involved in fleet operations and compliance as she was in the 1990s.
Over the years, word of her industry savvy spread, and she began receiving regular calls for compliance guidance and help. That was soon enough to prompt her to start her own business.
Bryan said that her earlier experience with trucking compliance taught her a great deal, and not always without pain. She said she's certified as a trucking safety director by the Texas Trucking Association. VNC
. last edited 1638 CT 28 Nov 2018
---