ENTREPRENEUR Tod Fetherling, the man who said he aimed to energize an association some thought had become "old and stodgy," has resigned his post as president of Nashville Technology Council and will return to the venture sector July 1.
Fetherling confirmed for VNC this morning that he intends to join founder Jason Moore in startup HealthDataSource, though the matter has not been finalized. VNC previously reported Fetherling's investment in startup HealthDataSource, a "healthcare service demand" market data and mapping startup. HDS Founder/President Jason Moore has not yet responded to an interview request.
Reflecting Fetherling's emphasis on a robust agenda, the NTC board is schedule to be golfing today at Hermitage Golf Course; and, Fetherling's "Nashville 500" membership campaign push is set to conclude on his last day in office, June 30.

Andy Flatt
NTC Chairman Andy Flatt and Vice Chairman Chris Sloan praised Fetherling's contributions and declined to comment on his plans when reached this morning, but said the board met via teleconference yesterday to handle related business, including roughly defining a search process to find Fetherling's successor. The executives said NTC will conduct a strategic review process coincident with the arrival of its new CEO, on a timeline yet to be determined.
Fetherling will officially serve through June 30, but has informally agreed to fill-in beyond that point as his time permits, should his successor not be in-place upon his departure, said Sloan. Fetherling is likely to remain on the NTC board and its executive committee, Sloan added. NTC has two full-time staff other than Fetherling: VP-business development Leah Magee; and, events coordinator Mollie McCormick, Flatt said.
The change of command at the staff level coincides with the end of Flatt's two-year term as chairman; he'll be succeeded by Sloan, who is an attorney with Baker Donelson Bearman Caldwell & Berkowitz.
Looking beyond the leadership-transitlion challenge, Flatt said he expects NTC to consider mounting additional efforts related to healthcare technologies, because of Nashville's prominent role in that sector; and, suspects NTC will find ways to extend its programs and services statewide. Asked whether NTC will piggyback with the Nashville Entrepreneur Center's own statewide ambitions, Flatt said that's likely to occur when it makes sense. Flatt is senior vice president and CIO for HealthSpring.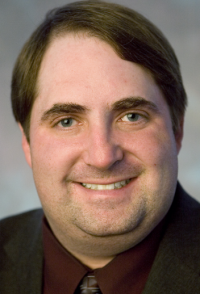 Chris Sloan
Sloan may bring new priorities to his term as chairman. Partnering with local technology transfer and commercialization organizations, particularly with Vanderbilt University and other universities, is likely to be a target for NTC, going forward, but the idea will be subjected to the strategic planning process, Sloan said, adding that he sees such an initiative as consistent with the "T3" program authored by Flatt, through which in alliance with local educators NTC has focused on raising awareness of the need to educate and train greater numbers of information-technology and related professionals.
NTC is likely to remain colocated with and closely allied with the Nashville Entrepreneur Center and is likely to work more closely in future with Life Science Tennessee (formerly, Tennessee Biotechnology Association), he said. VNC research indicates Life Science Tennessee currently has no full-time employees.
NTC has not yet decided whether to retain an executive search firm, Flatt said. The search that landed Fetherling in 2008 was run by Steve Hayes of Human Capital Group. Sloan and Flatt each said they have generated numerous potential targets for recruitment to the NTC CEO role. In addition, unexpected applicants and the imperative of matching traits with NTC needs will make the process "difficult, but exciting," Sloan said. Flatt said their initial review of the CEO job description, with input from Fetherling, suggests only a few changes will be made to those duties. (The recent updated NTC CEO job description is here; Fetherling's job description at hire is here.)
Fetherling will have effectively honored the minimum 3-year commitment he made upon taking the post, said Sloan, who added that the board had always recognized that such an entrepreneur was not likely to be long in office. "He's an entrepreneur at heart and I'm not surprised at all to see him getting back to his entrepreneurial roots," said Sloan. A 3- to 5-year commitment is expected to be asked of Fetherling's successor, as well.
Fetherling took the NTC reins in the wake of predecessor Jeff Costantine, who had not long beforehand retired from HCA executive ranks. Costantine succeeded Ray Capp, chairman of ConduIT Corporation. Capp had followed long-time NTC chief David Condra, who is CEO of Dalcon Communications, a healthcare communications solutions provider. NTC was launched largely through the labors of now-Atlanta-based attorney Warren Ratliff, in 1999. VNC