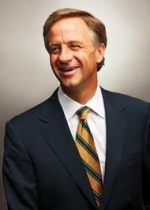 Aug. 16, 2011: Gov. Bill Haslam and ECD Commissioner Bill Hagerty today announced the Feds came through with $29.7 million in funding for an array of innovation- and venture-oriented programs, including research and accelerators. The original INCITE announcement story May 5, 2011, appears below as originally published.
By Milt Capps
GOVERNOR Bill Haslam's new $50 million INCITE economic-innovation program will include co-investment for Tennessee ventures, new incubators, a push on both tech transfer and entrepreneurship, and a continuing role for Tennessee Technology Development Corporation (TTDC) and other allies, the governor said today.
The Haslam innovation agenda, elements of which had been sketched-out during the Administration's First 100 Days, was further detailed today during Haslam's keynote address at TTDC's sold-out 2011 Tennessee NEXT Conference, running through tomorrow at the Sheraton Downtown. He has been governor 110 days, Haslam noted.
Haslam said the INCITE program is needed, because "the status quo is not acceptable," and recent studies of Tennessee's competitiveness in the "New Economy" show Tennessee lagging on key dimensions, including patents awarded, patents licensed and skilled workforce.
Coincidentally, this morning CEO Magazine issued a ranking of best states for business that showed Tennessee dropping to fourth place, ceding the top three spots to Texas, North Carolina and Florida, the latter of which moved up three rungs from 2010.

Bill Hagerty
The governor said the new "INCITE" innovation program is a focal-point within his broader Jobs4TN program and will, as the acronym suggests, help drive "innovation, commercialization, investment, technology and entrepreneurship" within the state.
The INCITE effort has been entrusted to Economic and Community Development Commissioner Bill Hagerty. Hagerty's workplan, as described prior to today's announcements, is here (pdf).
Roughly $30 million will be deployed for seed-, early-stage and mezzanine-capital co-investments, with preference to small business and manufacturers; the program will be overseen by Hagerty, the governor explained, adding that co-investing alongside private investors reflects his belief that "We don't want to be in this [investing] by ourselves, as a state."
Those co-investments will be made alongside Pathway Lending and other lenders or investors, Hagerty told VNC. The funds have been allocated for Tennessee through the U.S. Treasury's State Small Business Credit Initiative (SSBCI), according to Hagerty. The co-investments should prove complementary of other programs, including the state's two-year-old TNInvestco program, Hagerty noted. Neither investment criteria nor co-investment partnership priorities have been finalized, Hagerty told VNC.
In-line with his Jobs4TN regulatory reform and other initiatives, the governor's INCITE plan calls for prioritizing resource allocation to target six industry clusters: business services, healthcare (including medical devices, health IT and life sciences), automotive, chemical products and plastics, transportation and logistics, as detailed on page 8 of the Hagerty workplan.
Gov. Haslam also pledged the state will "create or support" a statewide entrepreneurship network, phrasing that seemed to leave somewhat in doubt the extent to which ECD will rely on existing nascent entrepreneur networks.
Hagerty told VNC that Pathway Lending, Nashville Health Care Council, Nashville Entrepreneur Center (NEC) and TTDC, which sponsors the fledgling Tennessee Enterprise Network, are among organizations likely to have roles under the INCITE umbrella.
L. Wisner Lynch
In his remarks today, Gov. Haslam declared that the strong turnout for today's NEXT program suggests to him that TTDC has grown in both "credibility and criticality" with respect the economic mission of his Administration. During a TTDC board meeting a month ago, Hagerty expressed interest in establishing a highly productive relationship with 12-year-old TTDC. TTDC President and CEO Leslie Wisner Lynch responded to the governor's remarks today by pledging TTDC's support to the Administration.
Next, the Governor said he will convene an annual Governor's Conference on Innovation; and, he will annually issue a "Governor's Award for Entrepreneurship." Hagerty told VNC there would be some rigor applied in the awards process, but criteria and structure of the award and the competitive process, if any, have not yet been addressed. (Also undecided: Whether to continue the traditional governor's economic development conference that incumbents have held for years. The 2011 fall event is still planned, said a Hagerty spokesman.)
In addition, at least four substate regions of Tennessee will receive assistance in creating those regions' first incubators; five other substate regions already have one or more incubators, Hagerty said. ECD's goal is that the incubators quickly become self-sustaining.
Grants for the state's planned nine incubators, the entrepreneurship network development and related functions will cost roughly 20 percent, or $10 million, of the initiative described today by the governor, sources explained.
Included in the $50 million pricetag of the initiatives announced today is the state's previously announced commitment toward providing $10 million to fund the Memphis Research Consortium (MRC), as authorized by the General Assembly a year ago. AComments by an ECD spokesman in The Tennessean (May 6) suggest the Administration will need to secure some degree of additional appropriations to fully fund its plan.
The MRC's mission is to leverage research and development to foster commercialization of intellectual property developing on campuses of Tennessee research universities. There is no word, yet, on how the MRC initiative might be integrated with other efforts statewide to enlist the state's researchers in devoting more energy toward tech transfer and commercialization. A related Nashville initiative, the Capitol City Research Consortium, has made no progress (related story here).

Also in-line with previous announcements regarding regionalization of ECD's efforts, nine regional economic development directors, one for each of the state's long-standing economic development districts, all reporting to a field director under Hagerty, will be recruited, assigned and trained by May 30. The dispersed regional directors will essentially run the previously announced "base camps" that are to provide support for regional economic development. The decentralized ECD operational model followed ECD's recent 35 percent reduction in its headquarters staff. The regional directors will convene later this month, to get their marching orders.
Haslam, Hagerty, Lt. Gov. Ron Ramsey and others have stressed their focus is on existing business as the source of the majority of current and future jobs, and have played-down the relative importance of recruiting business and jobs from other states and nations. The Administration has shown no sign of ignoring worthwhile opportunities to recruit business to the state, domestically and internationally.
As the Haslam Administration previously announced, incentives for new and existing Tennessee businesses, as well as the issue of regulatory impediments to business formation, location and growth remain under review; and, although some changes may be affected sooner, most legislative action on that front will await the next legislative cycle, Hagerty said. Hagerty recently appointed Paul Fassbender to help drive ECD's portion of the regulatory-review process.
The NEXT Conference this week may prove a launchpad for stakeholder groups' own announcements. Nashville's JumpStart Foundry may unveil its 2011 class of incubatees there this week, a JumpStart spokesman recently told VNC. In addition, Vanderbilt University's new chief for tech transfer, Alan Bentley, speaks publicly as a panelist during the NEXT event, for the first time since announcement of his selection by VU. The NEXT Conference is the successor to TTDC's two earlier annual conferences, previously known as the Tennessee Innovation Conference & Venture Showcase.
ECD is currently TTDC's primary funding source, and is cosponsor of the NEXT conference. Other sponsors listed by TTDC include Life Science Tennessee, Cool Springs Life Sciences Center, Nashville Entrepreneur Center, Memphis BioWorks Business Association, Tennessee Enterprise Network, Knoxville Oak Ridge Innovation Valley, Emerge Memphis, Ryan Search and Consulting, The Cumberland Center at Cumberland University, CFO2Biz, Digital Nashville, LaunchMemphis and the Federal Laboratory Consortium for Technology Transfer. VNC