KEMP DOLLIVER, the former head of Healthcare equities research at Nashville-based Avondale Partners, has adopted an international mindset for his year-old Cherrystone Hill Capital Management, based in Cambridge, Mass.
Dolliver's Cherrystone Hill may represent a new window on a portion of the Healthcare world that gets too little attention in the United States.
In 2013, Dolliver, now 52, returned to ConUS after more than a year pursuing a "personal and professional growth opportunity" as head of Healthcare research-Asia for Singapore-based Religare Capital Markets.
His international interest represents quite a shift. During his two-plus years with Avondale, he covered mainly Nashville's HCA, LifePoint Hospitals, Community Health Systems and Vanguard Health Systems, since acquired by Texas-based Tenet Healthcare. At that time, only HCA had even a smidgen of a cross-border footprint. Notably, in 2010 Tenet made a run at buying major Australian hospital group Healthscope, but met shareholder resistance and withdrew. This week, Healthscope is reported nearing an IPO, driven by owners Carlyle Group and TPG Capital Management.
Dolliver's experience in Singapore and his subsequent analysis of possible gaps in investment services, have led him to assign longer-term priority to relationships among "healthcare systems in the developing world (defined as emerging and frontier markets)" and connections those systems have with healthcare systems in the developed world," he explains on his firm's blog.
Dolliver's timing seems good. The World Bank's International Finance Corporation (IFC) said in a recent report, "Of all the publicly listed health care companies in the world, the majority are based in emerging markets and many are demonstrating rapid growth."
Yet, most U.S. investors and executives in healthcare delivery and HealthIT who have been interviewed by this reporter in the past five years say they assign little priority to cross-border business development or investment. At least until recent reforms in healthcare delivery, payment and technology have been more fully implemented, there's just too much opportunity right here at home, they have nearly always said.
That may change, Dolliver suggests, as strategic and financial investors become more aware of rising R&D, innovation and supply relationships between publicly held U.S. and ex-U.S. companies. Dolliver's two favorite examples: The fact that India produces 40% of the OTC and generic drugs consumed in the U.S.; and, Malaysian companies are collectively the world's largest producers of clinical gloves and condoms.
Some notes on varied Nashville international activity:
►Nashville Health Care Council
, a nonprofit trade association and an affiliate of the Nashville Area Chamber of Commerce, seeks continually to build international industry bridges, in order to "position Nashville as an industry capital and set the stage for future international collaborations," according to
its website
. With the completion of its 2013 mission to Paris, Council groups have now visited 17 cities in 14 countries.
►Nashville attracts foreign corporates and investors. Case in point: Formerly Ireland-headquartered Lincor Solutions, which offers a patient-engagement platform, became a chartered Tennessee company in May 2013. It was drawn here partly by its prior relationship with Hospital Corporation of America. Lincor investors include Edison Ventures.
►Locally based HCA has in recent years resumed growing its ex-U.S. business, though almost entirely in London and environs. Many will remember that HCA (now at $28BN market cap) had been relatively aggressive in the late Seventies and early Eighties on the cross-border scene, particularly in the Middle East. Then, it retrenched.
►Nashville-based AmSurg (NASDAQ:AMSG) acknowledged a year or two that it sees opportunities for cross-border ambulatory surgery buys or partnerships. Though some observers anticipated a European deal announcement, AmSurg's latest move was its $2.1BN (plus stock) acquisition of Sheridan Healthcare, an outsourced-physicians services provider.
►Locally based Healthways (HWAY) doesn't provide healthcare services. But, the well-being services provider does have an international line of business and says its services touch four continents. Of its $663MM corporate revenue in 2013, about 4% came cross-border, according to its May 8 investor presentation.
►Cumberland Pharmaceuticals (CPIX), with 2013 revenue of about $32MM and a current market cap of about $80.8MM, focuses its own specialty pharma commercialization in the U.S. markets, and has agreements with partner-licensees with commercialization rights in a dozen or more nations or regions, according to its 2013 10K. It has $40.8MM cash and equivalents available at year-end 2013.

Some smaller local firms continue to pursue Healthcare-related opportunities, internationally.
►Ron Marston, a former president of HCA International and a former HCA corporate vice president, continues to develop international healthcare management services business via his independent firm, HCCA Management Company. Update: Marston told VNC 30 July that in 2013 HCCA Management Company and Quorum Health Resources created a Joint Venture called QHCC Partners , which offers "full management and consulting services in the global market," under that JV name.
►Also, Louisville-based Chrysalis Ventures has since 2002 held a stake in another Nashville-area firm with a similar name, HCCA International, which has, despite turbulence wrought by immigration-law changes and the global recession, rebounded in the overseas nurse recruiting and U.S. placement business. A related 2013 press release from backer Chrysalis Ventures provides more context.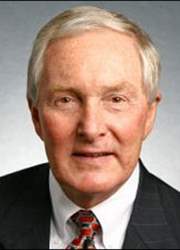 Tommy Frist
►There are also bigger hitters venturing abroad: For example, HCA Co-founder and Chairman Emeritus Thomas "Tommy" Frist Jr., M.D., is also co-founder of Nashville's privately held Chinaco Healthcare Corporation (CHC), which, according to its website, "holds a majority stake (70%) in CHC International Hospital, a joint venture with municipal government" in Cixi, Zhejiang Province.
Introducing a for-profit healthcare services venture into China via a joint venture is apparently no slam-dunk. Neither Frist nor Co-Founder Charles Elcan has yet declared victory for their China entry.
Meanwhile, another generation of Nashvillians seems to be acquiring some appreciation for global Health.
For example, according to his LinkedIn Bryan Frist was involved for more than three years with Chinaco. He now is apparently back in Nashville doing an MBA summer internship with HCA's venture subsidiary, Health Insight Capital. Bryan Frist is a son of former U.S. Senate Majority Leader Bill Frist, M.D., and a nephew of Tommy Frist.
Senator Frist is a partner in Healthcare-centric Cressey & Co. And, Frist has for years been involved in both developing world and U.S. healthcare investment, relief, reform and services. VNC