Updated April 5, 2021 - 86Borders filed for a planned $2.5MM equity raise.-Ed.
86BORDERS LLC, an Atlanta- and Nashville-based company offering its ConnectAllCare (CAC) platform for healthcare engagement, care-coordination, medical delivery and related process management, is building its team and advisors, and has passed a financing milestone.
On Dec. 31, the company made its latest SEC filing, showing just over $1MM raised.
That pushed its total outside capital recruited to a bit north of $5MM raised since its inception in 2014, CEO Dan McDonald confirmed for Venture Nashville.
McDonald also said the revenue-generating company is weighing options for future organic growth and-or outside capital, and he has discussed such matters with some investment bankers and VCs in Nashville, New York and San Francisco.
CEO Dan McDonald
For now, management, directors and existing investors in the company are focused on growing revenue and earnings.
The CEO said he is targeting $2.4MM revenue in CY2021, an increase driven partly by the fact that the company has recently signed contracts with a very large U.S. healthcare payer and with two of the nation's five largest insurance companies. He described the company's client-revenue base as "very dispersed," rather than concentrated.
On its website, the company describes its platform, in part, as "Informing members, setting up appointments, establishing check-ins, sending notifications, directions, geo-location tools, points-based rewards for participation and more. All in relation to where people are, real-time, in the work- and information-flow ecosystem... A pro-active communication and end-to-end solution set in one digital platform. Communicating, scheduling, automating, motivating and triggering all of the various audiences and action steps necessary to achieve desired outcomes in almost any healthcare context." The platform is also multilingual and text-enabled.
The company aims to support healthcare payers and patients during the journey from "diagnosis to recovery," said the CEO.
Asked about the impact of COVID-19 cases, the CEO said he's seeing rising interest related to use of critical vaccine supplies, vaccination certification and staffing processes, and related things.
McDonald emphasized that the company is heavily experienced in supporting healthcare engagement for patients receiving benefits from Medicare and-or Medicaid programs.
A significant portion of those populations -- particularly 'dual-eligibles' -- are thought likely to seek vaccinations and other care via venues other than, for example, CVS and Walgreens pharmacies that are operational partners in Operation Warp Speed.
86Borders has been running a related pilot program with Meharry Medical College in Nashville, which is led by President and CEO James K. Hildreth PhD MD.
McDonald and Michael McChesney -- who is the firm's chairman, founder and largest single investor -- are based in the Atlanta market, as is Chief Technology Officer Andrew Meshkov.
COO Nick Balog
Among the company's team members in the Nashville area are Chief Operating Officer Nick Balog, 64; and, VP Healthcare Business Development and Strategic Partnerships Wes Gallagher.
While the company began in 2014 with a primarily logistics focus, by 2017 it had established some presence in the healthcare engagement and care-coordination space.
Despite pandemic headwinds, McDonald said the company's CY 2020 revenue still reached roughly $750K, the majority of it from the healthcare sector. During 4Q CY20, the company signed and onboarded nine new clients.
Today, time is of the essence for any new ConnectAllCare users. COO Balog, 64, told Venture Nashville that new adopters of ConnectAllCare can go-live within a day or so of signing, via APIs or uploading.
Asked about competitors, McDonald confirmed they include mPulse Mobile (Encino) and Lightbeam Health Solutions (Irving, Texas). According to Crunchbase, 6-year-old mPulse has raised more than $40MM through five rounds.

However, when asked about such entrants as Nashville-based Relatient (backed by Brighton Park Capital, Greenwich) and Allscripts' FollowMyHealth, McDonald said they may compete with respect to some of the company's "communication functionality, but not in a complete solution. We are focused on engagement of both the provider and patient as a means to drive adherence to a care plan or program. Our primary focus is on value based programs," the CEO added.
The company has a total 8 FTE, including Gene Miller, who joined recently as its chief revenue officer. McDonald said he is now weighing selection of both a CFO and additional backend tech talent, as well as implementation staff.
The CEO's brother, Mark McDonald, is an 86Borders board member and investor, as well as a principal in Oldacre McDonald LLC, a commercial real-estate development firm based in Nashville.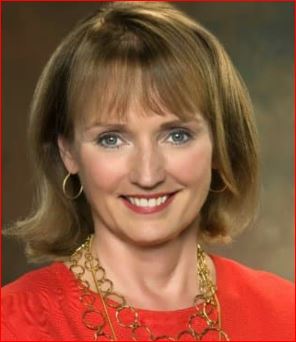 Beth Harwell PhD
Currently, all members of the company's board of advisors reside in the Nashville area, including healthcare- and medical-sector advisor Jim Bonnette MD; serial entrepreneur David Bartholomew (executive chairman, Shearwater Health, backed by Heritage Group); Murfreesboro-based public-affairs consultant Jimmy Earle; and, TVA Board member Beth Harwell PhD, who is also a former Speaker of the Tennessee House of Representatives.
McDonald said he is in discussions with at least one additional member of the board of advisors.
86Borders currently holds neither patented nor trademarked intellectual property, but it is preparing one or more applications, said McDonald.
The company's outside advisors include Atlanta attorney Ralph Harrison JD; and, it banks with Wells Fargo and with FirstBank, which acquired Franklin Synergy Bank. It relies on an independent accountant, but is considering accounting and audit firms.
Chairman McChesney's earlier interests have included founding and leading StarPound Technologies (fka M1 Global Solutions), which offered infrastructure technology to support enterprise call centers. Still earlier, McChesney's interests included WebTone Technologies, a banking software company that he sold in 2003 to Fidelity National Information Services Inc. (FIS), in 2003.
That StarPound infrastructure served as the base for the first-generation of the 86Borders platform, now matured as CareAllConnect, McDonald noted.
Asked about the meaning of the corporate name, "86Borders," McDonald explained, "The term '86' means to 'eliminate' or to 'remove'. We eliminate (86) enterprise borders/barriers and extend communication outside of an enterprise to connect disparate groups within healthcare, think patients, payers, providers, caregivers, ancillary services and even CBO's (community based organizations)."
Prior to joining 86Borders, COO Balog was COO for another relevant entrant, PopHealthCare (the Tempe and Franklin, Tenn.-based sub of Jacksonville-based GuideWell).
Still earlier, Balog spent 23 years with a number of Nashville-based healthcare and healthtech companies, including PhyCor, MD2Patient, Healthways and The Advisory Board. Balog earned his Master of Public Health degree at Yale University and his bachelor's in business at Bryant University. Balog's LinkedIn is here.
Prior to moving to Atlanta, CEO McDonald lived 23 years in the Nashville area. His earlier career included 28 years in financial services and life insurance fields.
At one point, he also held franchises for nine Jersey Mike's Subs units in three states. His franchise group employed about 130 people.
McDonald, 63, earned his bachelor's in economics at Furman University, where, he recalls, he competed in Track against Vanderbilt University and others. Each week, he still runs and walks at least 44 miles. LinkedIn profile here. VNC

. last edited 1413 27 April 2021
---