Avondale Partners has name a senior research analyst to cover healthcare services companies, but the lead analyst role for health information technology companies remains vacant.
On Friday, Nashville-based Avondale said Brian Williams, previously based with Credit Suisse in New York City, will oversee healthcare services coverage, but, at least initially, will not assume responsibility for health-tech coverage.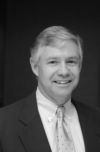 Williams will "...focus first on the hospital companies," according to Pat Shepherd (left), the firm's senior managing partner, general counsel and head of administration, who responded to a VNC query.
VNC research indicates that health services companies that have been subject to Avondale coverage in recent years have included Advocat Inc.; Amedisys Inc.; Assisted Living Concepts Inc.; Five Star Quality Care Inc.; Healthsouth Corp.; LHC Group Inc.; NovaMed Inc.; RehabCare Group Inc.; and Sunrise Senior Living.
Consistent with that lineup, Avondale said Friday that Williams' duties at Credit Suisse included assaying companies with interests in hospitals, nursing homes and behavioral health care providers. Earlier, while with UBS, Williams covered hospitals, nursing homes and the medical supplies and devices companies.
Meanwhile, Avondale's coverage of the healthcare IT space has not had a dedicated senior analyst since senior analyst Ben Green left the firm, nearly a year ago. Green had been promoted to the lead role, after understudying with Sean Jackson, an award-winning analyst who moved on to oversee Avondale's China Tech and Financial Services portfolios.
About the time of Green's departure, Avondale healthcare information portfolio included such stocks as HealthStream Inc.; Cerner Corp.; Computer Programs and Systems Inc.; Eclipsys Corp.; Emageon Inc.; and, First Consulting Group Inc. VNC could not determine the extent of Avondale's coverage of the sector over the weekend.
On Friday, Avondale Research Director Sarah Sherck (at right) told VNC the company considers future coverage assignments

confidential. Update: Since this story was published this morning, Sherck directed us to Avondale's current coverage universe.

Williams has long been focused on healthcare. Prior to serving at UBS, he spent eight years in Dallas with PricewaterhouseCoopers's healthcare consulting practice, serving providers and payers. Williams earned a masters of health administration from Tulane University and a BA in sociology from the University of Texas, where he was also an All-American and captain of the Longhorn's men's swimming team.
Founded in 2001, Avondale Partners is positioned as a full-service institutional investment bank, with other offices in Baltimore, Boston, Philadelphia, San Diego, San Francisco and St. Louis. The company says it has executed 110 transactions, together valued at more than $10.6 billion. ♦