Updated: The Tennessean reports 12 December 2012 that Ditto passed $2MM annual revenue and plans to raise $2MM-$3MM capital and has annual revenue now north of $2MM. Our 7/17/2011 story is below. -Ed.

Music, the Liverpool, England startup that chose Nashville as its North American headquarters, will soon launch its Australian web presence and may raise its first outside investment capital.
Two brothers own 100 percent of their six -year-old company, which distributes music and promotes artists who are not under contract with labels: Lee Parsons, 30, is CEO/Nashville, while brother Matt Parsons, 33, is CEO in Liverpool.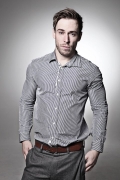 Lee Parsons
Lee, who serves as point-man in developing Ditto in the Americas and Australia, spoke with VNC in Nashville, where the company offices at 33 Music Square West. Matt was separately interviewed in Ditto's office in the Liverpool's Elevator Studios building on Parliament Street, a 10-minute walk from the 804-year-old city's port on the Irish Sea.
For the first time since its founding, Ditto recently exceeded GBP 100,000 (about $160K) consolidated revenue for a single month and is close to reaching a $1.9 million sales-revenue run rate, Lee told VNC. The company has nearly 30,000 paying customers, is profitable and debt-free; it has 12 full-time staff, five of whom are in Nashville, plus two part-timers for graphics and analytics, he said.
Ditto's direct competitors include Brooklyn, N.Y.-based TuneCore and Portland, Ore.-based CDBaby, which claims to be the largest Indie distributor, the brothers agreed. Its natural business allies are more plentiful, they explained. The company has long-since struck-up symbiotic relationships with powerhouses iTunes and Spotify, among many others.
Essentially, Ditto helps unsigned artists "build their own record labels," wrapping-around their often struggling bands services analogous to those offered by traditional labels, said the younger Parsons. Artists pay Ditto a flat fee for distribution and keep all track-sales proceeds. Ditto's distribution targets include iTunes, Grooveshark, Spotify and other rapidly proliferating venues, Lee explained.
Ditto has several times been approached in earnest by would-be investors, but each time decided against diluting their equity, opting to continue bootstrapping, according to interviews with the brothers and earlier media reports.
Now, Ditto has "regrouped" and is ready to talk with smart money, said Lee. The timing for such talks is good, he explained: The U.S. launch of Spotify has heated-up awareness of "the future of digital music distribution"; and, Ditto -- having already developed its technology and processes and established a cross-border track record -- is likely to be "a much more appealing investment than a startup," he added. Turning down investment earlier "meant longer hours and...a whirlwind few months out here, but I think it will definitely pay off."
Lee nonetheless cautioned that Ditto fully realizes that simply engaging in discussions with investors can be distracting and energy-draining, and even good deals can take months to execute. "It is very important to us to have the right investor. People have been keen to offer us money, but have still not understood the whole concept of our business... We are looking for investors who can help add to the brand as well as offer money," he explained. The company has not yet decided whether it needs an outside advisor for the process, he said when asked.
What would more capital do for Ditto? Lee said it would allow Ditto to put "fresh emphasis on online tools and free marketing software. These include marketing, social media, mailout software, statistics, band landing pages to sell and give away music on, websites. All of these are services that we can roll out" to increase income for Ditto and its customers, he added.
Many weeks, Ditto releases more than 1,000 artists' tracks by 250 to 300 artists; and, on some days the company gets as many as 70 new band sign-ups per day, said the brothers. "We're the only people who actually do the record label services in the world with unsigned artists -- there's literally no one else that does it. I don't know why no one's actually picked up on this," Matt told VNC. Ditto has track-placement relationships with more venues than any competitor and is quick to get contracts in-place with new online stores as they appear, he added.
Ditto's profits come mainly from value-added "label"-type services, such as registering bands for the industry's charts, designing and executing pre-release campaigns across all media and from "full-on project management," said Matt. Perhaps half Ditto's new value-added customers seek Ditto's help, while the other half are pursued after Ditto research suggests the performer's brand is under-developed. "Three-fourths of bands don't even have a Twitter account, I don't know why," added Matt.
Asked about the potential technology-driven competitive forces, Lee Parsons replied, "We don't fear the industry changing, we adapt and find ways of growing with it."
Asked about his views on the debut of Spotify, the younger Parsons said, "We knew the Spotify guys when they launched" in Europe. Ditto was "the first distributor to put unsigned content on there, and it has been great watching them develop," he said. "Streaming payouts are quite low. Spotify is a great promotional tool for artists. Artists who stream more, sell more. Spotify streaming revenue is fast becoming the secong highest payout for artists and labels. Unsigned artists who know how to use social media have tremendous success."
Ditto's Australian market-entry strategy is evolving rapidly. Ditto is likely to hire quickly a small number of Australians, while Ditto scouts for partners to license Ditto's API software and partners to sell Ditto services to bands, Lee explained. Sydney or Melbourne is likely to become home for Ditto Down Under, he said. (When Lee resumes scouting Australia this summer, Ditto's Nashville office will be run by Vice President Jay Kerr, whose usual Liverpool duties will be picked-up by James Walsh, a Briton who normally serves in Nashville as U.S. artist and business development manager.)
Ditto chose to plant its flag in Nashville earlier this year because it has offices of the key New York City- and Los Angeles-based music organizations with which Ditto needs close relationships; its cost of hiring and living is much more tolerable for a startup; and, the Central time zone is more convenient for Britons than the Pacific, Matt explained. In addition, he said, Lee, in particular, has come to love Nashville's lifestyle, live-performance activity and other characteristics.
Ditto's competitive advantage? Lee sums it up, this way: "Matt and I started off as musicians. We are actually one of the few people in the industry that started a digital company themselves without financial backing or corporate knowledge. Our strengths are in knowing how artists think. We have a passion to help artists succeed. Being in a [band] and doing everything wrong has actually proved to be the best education we could have had. Companies may distribute music, but there still aren't any [Ditto competitors] who have managed to get artists into the charts."
Lee stressed, "It isn't just financial backing, it's trying new ideas, reading the market and being open to a fresh way of thinking. I think artists can identify with us because of our background and for this reason they trust us with their career. We know that this isn't just getting music online -- you are talking about artist careers. We have seen many of our artists go on to be household names. Seeing that makes us believe it is possible, and that is how we want our artists to feel.
The backstory: In 2007, Ditto's renown in the UK spiked after it helped the first unsigned band (Koopa) reach the UK Top 40, with its single, Blag Steal and Borrow. Today, 11 of Ditto's client bands have reached the UK Top 40; helping boost artists to the Top 40 is an assignment that falls mainly to Matt, who told VNC he helps performers make the charts by using "principles that I've made up and have learned over the years."
The Parsons brothers were once signed by Sony, but that didn't last, according to a 2007 newspaper report. Matt Parsons told VNC what happened after the Sony experience: He had a band known as "Duffles," and he was simultaneously running a computer-services practice. He rebranded his IT business "Duffles IT Technical Outsourcing," or DITTO. Meanwhile, Lee was running a "Bouncy Castles" business that provided inflatables for kids' parties. The Duffles band, the IT work and the Bouncing venture all used a single phone number. The brothers answered all calls with the greeting, "Hello, Ditto," and then took it from there.
After the Duffles band expired, the brothers had a single track they deeply believed in, but found they couldn't get a one-shot iTunes account or radio airplay without both a label and a greater volume of content to push. Determined to place their own music, they learned digital guerilla marketing, then began helping other performers and soon became a bootstrapped business.
Before it paid-off, they rode bikes instead of owning cars and when short of coin, they carted their laundry to their parents' home to wash. That was a little more than five years ago. VNC
VNC researcher Jessica Capps of Nashville is completing a master's at Queens University-Belfast and has been researching management of live-performance events.