ConnectivHealth CEO Scott McQuigg is putting more weight on Steve NeSmith, the company's former director of technology operations, appointing him to the newly created position of vice president for interactive.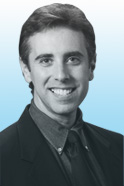 Thirty-nine-year-old NeSmith (at left) is keeping technology and adding marketing and product development to his portfolio.
ConnectivHealth's product-development job was previously held by Tod Fetherling, the entrepreneur who in 2007 sold his own health-information company, Relegent LLC, to ConnectivHealth, and then stayed aboard the parent company a year, before becoming a consultant to McQuigg.
Fetherling (at right) resurfaced last week when Nashville Technology Council announced his appointment as

the trade association's president and CEO. About 48 hours after NTC's announcement regarding Fetherling, ConnectivHealth announced NeSmith's elevation.
In a press release Friday, McQuigg indicated that expanded use of social media and video content are key elements of his gameplan, as well as integration of the company's content-management system across all its lines of business.

Brentwood-based ConnectivHealth, a digital-media holding company with investment from backers Petra Capital Partners and Chrysalis Ventures, was reported in January to have "more than $5 million" in annual revenue and nearly 40 employees here and in other cities.



The company has in the past year taken to referring to itself as "a network of powerful health information brands," a claim strengthened by its purchase of Relegent and its adoption of emerging technologies for publishing and social engagement.

NeSmith told VNC this morning, "we're interested in any technology that makes it easier for customers to consume content. [For example,] some might argue it's easier to consume content through video, rather than reading..."

Individual divisions of the company have also been partnering with companies that might otherwise be seen as competitors, such as ReachMD, which provides healthcare professionals information via XM Radio and other channels.

ConnectivHealth provides health-content products and services directed toward physicians, hospital-based professionals, K-12 teachers and curriculum developers and consumers. The company's flagship products, both of which came with the Relegent acquisition, include HealthTeacher educational content and resources for educators; and, PeerClip, an online resource that enables healthcare and medical professionals with access to the system to share and discuss healthcare issues and information.
In addition, the ConnectivHealth network includes Discovery Hospital, a health-content service for hospitals and their customers, produced in cooperation with Discovery Communications; and, VerusMed, originally known as FaxWatch, which provides medical news and information for physicians. It was VerusMed that recently partnered with ReachMD.
McQuigg told VNC on Saturday that in preparing for ConnectivHealth's fresh push for innnovation, NeSmith has recruited additional staff, including Marketing Director Jennifer Faught, who joined from Birmingham-based Integrated Medical Systems International (IMS); Jeremy Payne, who is HealthTeacher product manager and who joined the company from the Advisory Board (Washington, D.C.); and, Bhavik Shah, PeerClip product manager, who joined after finishing his MBA at Owen Graduate School of Management.
McQuigg said ConnectivHealth also contracts for services from a number of local firms, including Funny Pages Productions (Franklin); Anthology Creative (Nashville); RemarkableWit (Nashville), web development; and, MGroup (Nashville), marketing.

McQuigg's own career with ConnectivHealth (known earlier as Fax Watch Inc., or FWI)was launched three years ago, after he was tapped as CEO of the parent company of VerusMed, by Petra and Chrysalis. Soon thereafter, he moved VerusMed's headquarters from Scottsdale, Ariz., to Nashville.

McQuigg had previously spent five years as co-founder and CEO of HealthLeaders-Interstudy, the health information service that was split-up and sold off by Co-Founder Bobby Frist (founder of HealthStream) and other investors. Prior to HealthLeaders, McQuigg had spent nine years in publisher and advertising jobs with American City Business Journals' publications in Nashville and Tampa.

NeSmith said this morning, "I'm obviously thrilled with the promotion, because this is the kind of environment I signed-up for, a startup environment... It's a very entrepreneurial, a very fast-paced ever-changing environment, and that's the pace I wanted to get into."

Prior to joining ConnectivHealth a year ago, NeSmith served as director of e-business at Broadman & Holman Publishers, the trade-publishing division of LifeWay Christian Resources of the Southern Baptist Convention. Earlier, he was manager of online marketing and strategy for LifeWay; and, director of new media for Orlando Regional Healthcare. He has also consulted independently on planning and execution of Internet marketing campaigns, Web site analysis, search engine optimization and e-mail management.
NeSmith is an eMarketing Association Certified eMarketer. In 2000, NeSmith earned his master's in corporate communications and technology from Rollins College (Winter Park, Fla.). He earned a bachelor's from Florida State University, in 1991. He and his family reside in Franklin. ♦