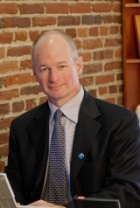 GARY PEAT, the Nashville venture-capital executive known for his acumen and his patented intensity, has relaunched as an independent "mentor capitalist," after nearly 13 years with Council Capital.
Peat and Council Capital confirmed for VNC that he recently completed his transition from the firm, with each commending the other and neither closing the door on future collaboration.
Peat has cast his lot with seed- and early-stage companies and with the entrepreneurs who aim to "change the world," he notes in a posting online.
His time at Council Capital happened to span one of the most tumultuous and exhuberant decades in the modern history of Tennessee capitalism. It's just one actor's story, of course; but, when one of the "usual suspects" of local entrepreneurism opens a new chapter in their career, in a climate of post-Recession dread and lean-forward hopefulness, it merits a nod.
Promoting his new practice, 47-year-old Peat tags himself on Linkedin as a Mentor Capitalist (MC) whose interests lie in "Cloud-based business models, healthcare AND other industries," including early-stage healthcare companies that improve the quality of delivered care, while reducing its cost. (Two California-based MCs operating as healthcare-focused MedStars say they serve entrepreneurs, investment companies and corporate strategic investors, and help startups get their business in shape to raise outside capital.)
There are no signs Peat plans to raise capital for new funds. His current personal investments include a stake in Joe Maxwell's Shareholder InSite, according to his profile. The profile also shows that his director and/or investor roles recently ended in nearly a dozen current or former Council Capital portfolio companies.
Peat's pitch online cites an array of current engagements, including SVP for corporate development at eDoc4U, a ConduIT Corporation portfolio company that supports personal health management via a platform that leverages health data analytics. He holds a similar outsourced post with Chattanooga-based SIGNiX, which offers a digital-signature solution; and, he is lead director and acting president for a business created by strength and conditioning advocate Mike Flynt.
Peat joined Council as a general partner in 2000, the year the firm was founded as Council Ventures and the Dot.com bubble burst. In recent years, his stated Council focus was healthcare information technology, telehealth, telemonitoring of health, clinical data exchange and clinical decision-support, according to one posting.
Startup-oriented Peat has been associated with many of Council's successes, including its exit of Senior Whole Health, which was acquired by TA Associates in 2011 and its exit from eVault, acquired by Seagate in 2006. Not everything comes up roses, of course, as when Council and other investors pulled the plug on iKobo, an Atlanta-based payment services provider, in 2008, just as the magnitude of the latest recession was becoming clear.
During the period 1991 to 2000, Peat's roles included two years as VP and principal of Columbus, Ohio-based Banc One spinout Stonehenge Partners, where he manage a portfolio that included companies previously held in the portfolio of Banc One Capital Partners, where he had previously served. Peat's online posts suggest he played a role during that part of his career in selling tech portfolio companies to such strategics as Intuit, Borland, Wolters-Kluwer and ABS Capital Partners.
Council Ventures adopted its current name in fall 2011, reinforcing its long-declared positioning as a growth- and early growth-oriented private equity firm that focuses on healthcare services and healthcare information technologies companies. Its earlier-stage TNInvestco-funded Tennessee Fund has a more diverse tech portfolio, but is meant to complement the other funds' healthcare-weighted portfolios.
Peat joined Council at the inauguration of its first fund. Since then, the increasingly growth stage-oriented Council team has been deepened by the 2008 additions of General Partner Grant Jackson and Senior Associate John Davis, followed by the 2010 recruitment of Rick Apple to direct its TNInvestco fund.
Co-founded by Managing General Partners Dennis Bottorff and Katie Gambill, Council currently has approximately $150MM in capital under management; is still investing from its second fund (vintage 2008); and, aims to invest in firms that generate $2MM to $50MM annual revenue and which are at or near profitability, according to its website. Council is widely perceived as likely to mount a third-fund raise, when signs augur well.
Peat, a Houston native, and his wife, their two sons and a niece and nephew reside in Williamson County. He earned his MBA (finance) and bachelor's degrees at the University of Houston, in 1991 and 1989, respectively. His GaryPeat.com site is only parked, for now. VNC