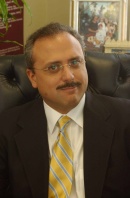 John Casillas, president of the Franklin-based Medical Banking Project told VNC Thursday that his organization has completed pilot testing of an unprecedented certification program designed to attract banks that handle medical-payment and related data.
Casillas, the 47-year-old founder and sole proprietor of the MBP, said the MBP Gold Seal Accreditation program has been pressure-tested in a trial installation recently concluded at Bank of New York Mellon, and has been vetted by two-dozen data-privacy and -security experts.

If MBP-type certification becomes valued by employers and others in the medical-banking sector, then MBP's "seal" could become a competitive edge for financial institutions, Casillas explained. For the online component of its assessment work, MBP licensed technology from Seattle-based Milliman Inc., a large actuarial and consulting firm.

He said banks will be invited to pursue certification after Casillas completes design of the certification-review process and installs a review body that will be known as the Public Trust Advisory Board. Casillas projected he'll complete that work by the end of 2008.

Casillas told VNC that, among a myriad of possibilities, he aims for MBP to influence government policy and industry practices; and, among other things, to create a "health-wealth" portal through which, for example, consumers could manage health payments, search for charity assistance with bills or shop for health savings account (HSA) services; and, banks could market credit and perhaps, ultimately, even provide infrastructure to support access to electronic health records.
Casillas said banks seem to be awakening to the possibility of becoming clearinghouses for healthcare data, as well as for payments. At the same time, such giants as Microsoft, Google and Intuit are entering the arena.
Amid this crowded field, he added, MBP might have an opportunity to play a role similar to that of Gartner, the information-technology analyst that assesses companies and technologies and whose pronouncements have tremendous market impact.
MBP now boasts about 65 corporate members each of which pays $2,500 to $15,000 per year for a total of nearly 200 executives to participate.

MBP earns additional revenue from events and other services. Casillas declined to provide MBP-MBI revenue figures, but he indicated he has, personally, funded MBP and preceding activities since about 1996. MBP was created in 2001. In addition to Casillas as proprietor, MBP contracts with five outsourced persons.
Although banking institutions are key players in MBP, no Tennessee-headquartered banks are currently members. Nashville-based Pinnacle Bank previously held a membership, which has now lapsed, according to Casillas.
Among the banks most active in MBP is Cincinnati-based Fifth Third National Bank, which has a healthcare lending practice that is

based in Nashville and led by Senior Vice President Kevin Lavender (at right). Fifth Third recently ranked sixth in Middle Tennessee by deposits, and 15th in the nation by assets.

Lavender told VNC this afternoon that the banking community "and Fifth Third in particular" have a role to play in this arena. He added that while not all the answers the industry seeks are yet apparent, "the Medical Banking Project is at the forefront in talking about the role banks can have..."

In addition to BNY Mellon, MBP members include United Healthcare, WebMD Health Services, the U.S. Treasury, WAUSAU Financial Systems, VISA USA, PNC Bank, Fiserv Health, Australia-based Thelma US, Alabama-based SSI Group, and a number of Middle Tennessee technology companies, including Conmergence and eTransX.
Although acknowledging that he has placed little emphasis on outreach and missionary selling of membership – having relied, instead, on "word of mouth" – Casillas said he believes some Tennessee banks may have been concerned earlier that MBP would somehow be an adversary or competitor with healthcare and related companies based here.
In fact, he explained, in 2001 some banking organizations characterized MBP as a threat, because Casillas was pressing for more attention to banks' responsibilities with respect to HIPAA compliance in handling health-related information. By 2003, he continued, banks had largely embraced their role as stakeholders in "medical banking" -- a term Casillas may have coined.
Casillas said banks that want to become "thought leaders" and who want to be involved in the "building-out of the industry segment" have been more receptive to MBP membership. Beyond that, Casillas declined to speculate about the lack of native Tennessee members, offering only an allusion to the adage about 'a prophet in his own land' being ignored by locals.
Casillas explained that MBP initiatives are typically overseen by one or more working groups, which are also responsible for raising funds to support their work. [Investing in medbank-related companies may be increasing, see The VN Blog.]

The model has been used to pursue development of technology standards for electronic data interchange, and for such diverse projects as the development of an online media platform dubbed CarevilleTV (known until recently as Charitable Communities Network) which Casillas intends to provide community-specific information about "safety net" services for those who need financial assistance in buying healthcare and medical services.

Casillas also said that the annual MBP-aligned Medical Banking Institute will be returning to Nashville, March 11-13, after two consecutive years in Marietta, Ga. He projects 125 or more executives to attend the conference.
Prior to founding MBP, Casillas co-founded Medical Banking LLC, which formed a joint venture with a Tennessee Hospital Association subsidiary, THA Solutions, which offered an "electronic medical debt trading platform." He was also co-founder of a venture with Nashville's Private Business, dubbed Private Business|Medical LLC, as well as founder of Realistic Cashflow Management. At one point, he was also director of product strategy for WebMD, with responsibility for integrating newly acquired companies and their technologies into the WebMD environment. He earned a bachelor's in cytotechnology at Thomas Jefferson University: College of Health Professions, in Philadelphia, Pa. ♦