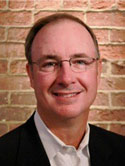 The Estate of Elizabeth Turner Campbell (ETC), the late member the Turner family of Dollar General fame, is the de facto third leg of recently formed Family Venture Management (FVM).
FVM co-founder Don Mundie, who also continues to serve as managing partner of Delta Capital Management, told VNC that the estate is the initial "anchor" investor for FVM, with several other families likely to come aboard, soon.
The ETC family may occasionally act through ETC or its affiliates as the sole investor in FVM's prospective portfolio companies, Mundie noted.
Joey Harwell
FVM is a joint venture undertaken by Delta Capital in collaboration with ETC Ventures. ETC Ventures is an affiliate of ETC Management LLC, which is the Turner family office led by CEO Croley Graham Jr. ETC Management Chief Operating Officer Joey Harwell, 52, is also president of the Elizabeth Turner Campbell Foundation; Harwell represents ETC Management in the FVM joint venture, he told VNC.
Mundie explained that FVM is filling a "gap" in the spectrum of investment opportunities for families, and FVM aims to provide those families fresh access to the "venture" class of investment, through value-added services, which FVM refers to on its website as "value venture investing."
The state's TNInvestco program, through which 10 new venture-capital companies have been thus far been created, may produce some "monster job creators," if it works as intended, Mundie said. High-risk capital for startups is an ever-present need, he noted.
Mundie noted that although he is "not an advocate of government just handing-out stuff, because it's not diligent," and notwithstanding the fact that he and collaborator Advantage Capital Partners (St. Louis) failed in their 2009 bid to win a TNInvestco license, Mundie said "I want that thing to be as successful as possible, because that's good for the environment" in which he and others operate.
Meanwhile, FVM's targeted companies are "tweeners," Mundie said, explaining that they "past the startup stage, but not quite ready to show some history of EBITDA, and they need some leverage."
Targeted early-stage companies will not yet be ready for investment from larger institutional firms. They have customers and hovering around breakeven, but need funding for balance-sheet cleanup, special projects, or to "round-out" the management team, Mundie continued.
FVM looks for 18-24 months of collaboration and investment, with an eye toward the portfolio company obtaining growth funding in 24-36 months after FVM invests. FVM intends to avoid funding early-stage companies' operating losses, he notes, adding that by working with founders on strategies for both growth and exit, a relatively short-term exit is possible. "We're not looking to hit homeruns," said Mundie. "We need singles and doubles in short amount of time."
Typically, targets will be generating $3MM-$4MM in revenue, are about breakeven and still run by their founders. Because many VC's are now looking for opportunities involving $2MM-$3MM EBITDA, they'll be passed-over by the VCs. So, FVM is "playing a part in the lifecycle" of ventures, he added.
FVM investments are likely to range $1MM-$1.5MM each. It is in active discussions with target companies and deal announcements are likely to be made in near future, although the holidays makes estimating the timing of announcements difficult, Mundie said.
FVM will be highly selective in making perhaps two investments per year. Each time, Mundie continued, he'll bring the private-equity experience and Harwell the operating experience to bear on advancing the portfolio company.
FVM's attorneys are Bass Berry & Sims, whose attorneys structured the joint-venture agreement, Mundie said. Its accounting is performed by by Diane Green, who is ETC Management's VP-Finance. FVM's banking needs are met by Renasant, which has long been Delta's bank, Mundie said.
Prior to joining ETC Management, Harwell was director of private-equity services for Lattimore Black Morgan & Cain (LBMC). He earlier held senior financial positions with HCA Management, Noranda, Manchester Tank & Equipment and Adorno Mobility, and was still-earlier affiliated with Peat Marwick and Arthur Young. He is a Lipscomb University accounting graduate and holds an MBA from Vanderbilt University Owen Graduate School of Management.
Mundie, age 53, continues to oversee six Delta portfolio companies, including SmartFurniture in Chattanooga; Delta has sold five of its portfolio interests in the past 11 months, mostly from its 2000 fund, he explained. While no further Delta holdings are being actively shopped for sale -- Mundie expects to exit "one or two" more portfolio companies during the coming 12 months, he told VNC.
Delta made 35 investments between 1992 and 2008, with a total $92MM assets under management during that span, Mundie previously told VNC. There are no plans to raise further funds for Delta, Mundie affirmed. Mundie discussed the venture capital climate and the wind-down of Delta, in a 2008 VNC story about his then-new relationship with Buffkin.
For several years prior to forming FVM, Mundie apportioned some of his non-Delta time to work as lead partner in The Buffkin Group, based in Franklin; there, he focused on executive search for venture portfolio and technology companies. He remains close to the principals of the Buffkin firm, but serves only in a friendly advisory role, he said.
Prior to Delta, Mundie's experience included a stint in investment banking with Union Planters National Bank; and, he was a supervisor with then Ernst & Whinney. He is a 1982 graduate of Mississippi State University. VNC