DAVID BAILEY, the Nashville cryptotech media entrepreneur and advocate, is shepherding his BTC Inc. team in Music City; preparing to convene a huge bitcoin conference in Miami; and, settling into his new part-time home in the Guaynabo suburb of San Juan, Puerto Rico.
Bailey told Venture Nashville he retains his U.S. citizenship and his residence in Nashville's Gulch community and plans to return monthly to Music City, via regular flights between BNA and SJU.
He said he recently appointed Christian Keroles as BTC's lead for publishing and related matters. Plans call for Keroles to relocate soon to Nashville from the Bay Area.
BTC Co-founder Tyler Evans remains based in Nashville, where he serves as CTO and as overseer of corporate treasury and related.
Bailey said he is happy that BTC continues to grow in Music City, and that the bitcoin and blockchain startups, meetups and other initiatives that BTC helped to foster are doing well.
BTC has a workforce of about 80 FTE across all lines of its business, said Bailey. Roughly half that number are part of the Nashville hub, from which Bailey estimated "five to ten" staff will relocate to Puerto Rico.
BTC's Bitcoin 2022 event is scheduled for April 6-9, on the combined campus of the Miami Beach Convention Center and the MB Botanical Garden. BTC's 2021 event in Miami drew over 12,000. Bailey said he's shooting for 35,000 registrants, this year.
Outside BTC, itself, the co-founder and CEO is allied with others who share his passion about bitcoin and the decentralization associated with cryptocurrency.
For example, Bailey is now also co-founder and director of Roundtable Media LLC, a decentralized digital-media network that is also based in San Juan.
Roundtable offers "journalist, activists and thought-leaders" a publishing, monetization and distribution platform. Roundtable is allied with The Arena Group, a digital-content producer and platform serving major corporate brands and based in New York City.
Bailey noted that he's working to become integrated into San Juan and communities beyond the city, because he wants to make contributions to the island on which he and many other crypto entrepreneurs have landed. He added that he has begun compiling an idea-pipeline for media and other local investments he will consider.
BTC's flagship remains Bitcoin Magazine, which BTC acquired in 2014, about two years after Bailey became a bitcoiner.
Its other assets include Carrot, a platform for earning bitcoin rewards that incentivize targeted content engagement; and, some podcasting holdings.
Bailey is also a general partner in UTXO Management, a Nashville digital-asset investment firm he cofounded with Chief Investment Officer Coyn Mateer and with BTC Co-founder Tyler Evans.
In addition, both BTC and UTXO are among investors in Valkyrie Investments, a Brentwood, Tenn.-based digital- and crypto-assets investment management firm led by CEO Leah Wald. Valkyrie announced in 2021 it had raised roughly $10MM from other investors listed here.
Bailey, who in 2015 pulled-up BTC stakes in Alabama and relocated the company to Nashville, told VNC that establishment of his Puerto Rican retreat made sense to him for multiple reasons.
Asked about his motives, the 31-year-old father of two readily acknowledged that economics and personal finance were factors in his decision to establish residency in the U.S. territory.
He explained that, as widely reported elsewhere, in addition to Puerto Rico's natural beauty and culture, Americans -- including entrepreneurs and crypto-currency traders -- who meet "Act 60" requirements may reap sizeable tax savings in Puerto Rico. Related background here, here, here, here and here.
That said, Bailey circled-back to the fact that the economic incentives of Puerto Rico residency strengthened his long-standing desire to be a significant change-agent in the process that he believes will lead to global adoption of bitcoin -- which, he makes clear, is the only cryptocurrency to which he now allocates time and money.
Reflecting on BTC's earlier -- and now discarded -- parallel interest in establishing a leadership role in blockchain-enabled distributed ledger technology, Bailey said that while there's much good to be done by DLT advocates, he's no longer splitting his own vision. That split had been costly, he said pointedly.
Instead, he now strives to remain laser-focused on advocating for bitcoin as a crucial global resource for affording individuals everywhere the access they need to decentralized value, trust and opportunity -- which he sees as vital precursors of maximum individual freedom.
Then, as though concerned the point might get lost, Bailey added that he believes personal conviction and relentless follow-through are essential to ensuring that, somewhere down the road, when he looks at himself in the mirror, he will be able to say that he was truly "all-in" for the mission he has chosen.
He said that calmly, but with something close to "burn the boats" gravity.
As do most entrepreneurs, Bailey has worked for years to gain the right focus: VNC previously reported that such concerns had led Bailey and his BTC team to shutter their former distributed-ledger publications and related events in Nashville, Atlanta, Chicago and elsewhere. About that same time, Bailey expressed his yearning for a fresh start that would 'make bitcoin fun again', in this 2019 Youtube post.
Speaking with VNC from his home in Puerto Rico, Bailey confirmed that he and wife Emily Vaughn Bailey -- a senior technical advisor with Nashville-based Change Healthcare -- are adjusting very well to their new way of living, alongside their two toddlers.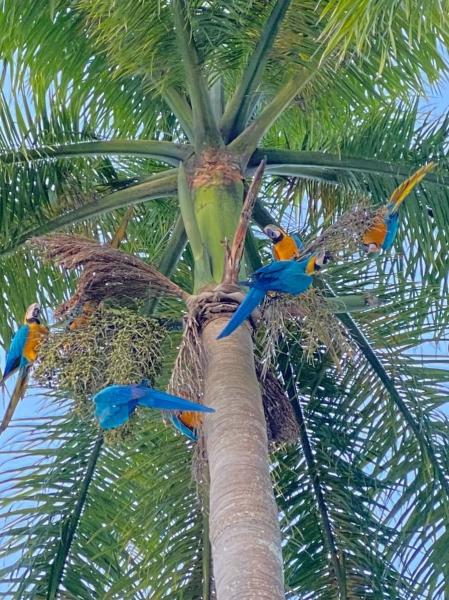 Birds of a Feather (D.Bailey)
Asked about immediate challenges, Bailey said with humor that, notwithstanding his studying multiple languages during college, he really must quickly improve his Spanish.
At another point, during an early-morning phone interview for this story, he spoke of Puerto Rico's natural beauty, describing large, brightly colored macaws that had just arrived for one of their twice-daily sessions of foraging for dates in his yard.
He laughed softly, too, as he told how great it is that Puerto Rico is on Atlantic Standard Time, which puts him a hour ahead of The States' Eastern Time zone and two hours ahead of Nashville's Central Time -- particularly handy when making a non-stop four-hour flight, Nashville-to-San Juan.
Continuing BTC backers include Asia-based VCs Fenbushi Capital (Shanghai) and Sora Ventures (Hong Kong), and Tally Ventures (Chicago).
BTC's legal advisors include attorney John Wagster with Frost Brown Todd, in Nashville.
Our previous David Bailey coverage here. Bailey LinkedIn. VNC's BTC coverage here. Blockchain coverage here. VNC

. last edited 0450 21 January 2022 CT
---