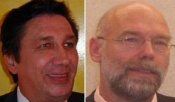 Two Nashville executives say they'll launch their smokefree cigarette-like electronic device in Europe by year's-end.
Chairman Evert Wilbrink and CEO Thomas Schroepfer of Smokefree Innotec Corporation (SFI) told VNC this morning their confidence stems, in part, from recently signing a letter of intent for manufacturing the mouthpiece for their electronics-laden product. The work is to go to AHN Biotechnologie GmbH, based in Nordhausen, Germany.

The SFI product (SFI illustration, right) uses electronics and a tubular device to provide a semblance of the tobacco-smoking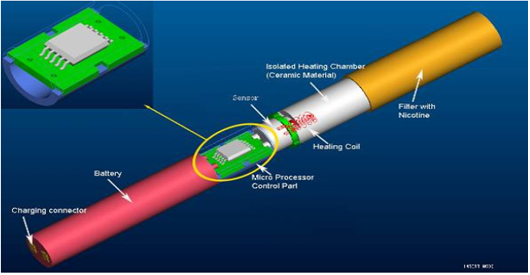 experience, by heating tobacco and nicotine in a liquid concentrate extracted from the tobacco plant, and quickly heating the air drawn-in by the user. SFI says the process produces no smoke.
Citing SEC constraints, Wilbrink and Schroepfer declined this morning to provide VNC on-the-record revenue potential for their Pink Sheet-listed (SFIO) startup. Material posted by the company online suggests that the worldwide market for tobacco products is at least $1.8 trillion, annually.

SFI is the name adopted for the company after the owners acquired a public shell, Courtside Products, Inc., which was based in Washington State. SFI is a Nevada corporation.
SFI's consumer product is targeted toward smokers worldwide who don't want to quit smoking, but who need a substitute when they are in areas where smoking is forbidden or impractical. The product is also marketed as reducing second-hand smoke exposure for nonsmokers.

Schroepfer said that while some competitors "e-cigarettes" have been banned, at least temporarily, in Canada and other nations, and marketing for smoking cessation is forbidden by some nations, he said SFI sees no such impediments ahead for its technology.
In its materials, the company says, "Now that the R & D has been completed, SFI is seeking $8,000,000 during 2009 to launch the manufacturing and first phase marketing with the first tranche of $2,500,000 in the second quarter followed by $5,500,000 in the third quarter. Another $8,000,000 is requested for 2010 to support the second phase marketing program."
Continuing, the SFI information explains, "An investment banker, Kings Pointe Capital, Inc, located in California has been hired to raise the required funds by merging SFI into a public shell and obtaining the investment capital through the selling of public stock under a private placement program. Kings Pointe, working with Dallas Jones Associates, has the funding commitment from their investment sources once SFI is a public company, which is planned to be accomplished by the end of 2008."
No update of progress toward those goals has been provided by SFI. Two years ago, the two executives told a reporter they hoped to raise $20 million in capital for the venture, and had themselves, to that point, invested a total of about $700,000 in the business.

The new Innotec product is branded Rauchless™. Innotec was originally registered in Tennessee as Rauchless Inc., two years ago. The German-English word rauchless translates as "smokeless." Schroepfer said this morning the name change was necessary, because rauchless is difficult for non-German speakers to pronounce – "it's a tongue-breaker," he said.
SFI-provided information indicates the company has "offices and teams" in Switzerland, Belgium and the People's Republic of China. Schroepfer indicated this morning that the company does not intend to outsource any manufacturing to China. SFI's online materials, available through OTC Reporter, indicate the company's director of R&D and manufacturing, Robert Wang, resides in China.
Dutch-born Wilbrink was previously the Nashville-based U.S. chief executive with a company that was also developing a smokeless device, Bel Air International Corp., a subsidiary of Metropolitan Worldwide Inc., based in Knonau, Switzerland.

Wilbrink remains involved in Nashville music, principally through his four-year-old Corazong Music Management Corp. ♦