In the past two years, Nashville's grassroots mobilizing of executives and creatives has enlisted hundreds of entrepreneurs, independent professionals and techno-innovators.
Now, there's budding interest here in creating a low-overhead Nashville workplace where self-employed workers can share space and office resources, as they need them. The new facility might be modeled after Knoxville Overground (KO), which aims to provide independent workers in that city a place to hang their earbuds, for about $125 per month.
During the past 90 days, KO Founder Alex Lavidge (left), a 29-year-old Knoxville entrepreneur, has shared the KO story at Gov. Phil Bredesen's annual economic-development workshop; and, with participants in Barcamp Nashville, which was held at the Sommet Center in October.

Lavidge is a Knoxville native who returned home a year or so ago, after breaking his axe in a couple of transaction-technology startups that would have connected landlords and renters. During his Bay Area sojourn, Lavidge became active in numerous business, human development and social-consciousness groups, and brought his passion for socioeconomic action back home.
Lavidge told VNC yesterday he's "been doing a lot of collaborating and [has] a long list" of Nashville executives who are interested in exploring creation of a Nashville Overground organization.
Lavidge's record in Knoxville suggests Nashville Overground could happen rapidly, if stalwart champions step forward. The Knoxville group has been developing less than a year, and had its official kickoff in April. It is propelled mainly by the "people power" of its volunteers.

Regardless of the ultimate viability of the Overground concept here, increasing interest in such concepts suggests the notion of collaboration and "coworking" – deemphasizing formal structures in favor of serving individuals and communities – is becoming firmly established in Music City.
Lavidge said he been encouraged in thinking about attempting to replicate KO in Nashville and other Tennessee cities by discussions with folks around the state. In an e-mail, he indicated he could see pursuing Nashville Overground in 2009, if the cause gains sufficient support here.

Lavidge indicated he has gotten more general encouragement about his Knoxville work from

such economic-development advocates as Nashville-based Tennessee Technology Development Corporation (TTDC).

The original Knoxville Overground is fast-approaching 100 members. On Nov. 19, KO will hold its first Knoxville Overground Startup Awards program, honoring achievers in 13 different categories, ranging from persistence and patents filed, to women in entrepreneurship and biotechnology. The event falls within the state's entrepreneurship week events, and TTDC is one of the event's sponsors.

Although VNC inquiries since BarCamp ended a month ago suggest that currently few in Nashville know much about Knoxville Overground or the idea of replicating it here, the philosopy behind KO is not alien to kindred spirits here.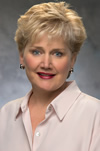 For example, Orchard Advisors LLC Founder Elizabeth Crook (left) told VNC this morning her firm shares many of Lavidge's interests in working with businesses that are addressing both "green" environmental issues and sustainable-business strategies and practices. Crook said she knows too little about the KO model at this point to comment on its potential value for Nashville.
However, complementary initiatives are underway. Crook explained that she and others have created a local professional chapter of Net Impact. The parent organization encourages adopting sustainable business practices that help improve communities and the world.

Net Impact Nashville is holding its first free speaker meeting Monday, Nov. 17, at Owen Graduate School of Management at Vanderbilt University. The speaker is Green business pioneer Joel Makower. In addition to the recently formed pro chapter here, Net Impact has an MBA student chapter at Owen.
Nashville may be more fertile ground today for pursuing an "Overground"-type facility than in earlier years, because sectors of the business community have in recent months embraced more spontaneous entrepreneurial action.
Major focusing events such as Barcamp Nashville 2, Podcamp Nashville and Nashville Startup Weekend have achieved a powerful cohesiveness that more formal commercial events and long-standing associations often fail to achieve or sustain.
Spaced only a week apart in October, Barcamp 2 and NSW attracted perhaps 650 unique participants between them. Barcamp was a festive fast-paced technology show-and-tell at Sommet Center. NSW a smaller, challenging three-day event at the Owen School, designed for people who wanted to imagineer and execute new concepts for businesses and products.

Nashville's newest user-generated "unconferences" are adaptations of models that began elsewhere, in such places as Palo Alto (Barcamp), Boston (Podcamp), Denver (StartupWeekend) and New York City (Jelly).
Some argue the success of these meet-ups is a result of the convergence of the ethos of Open Source, a desire to restore the "commons" in public life through microenterprise, the loneliness of Cube Culture, the impact of MoveOn.org, the revalidation of entrepreneurship, the rise of the Creative Class and the recognition of the impact of each individual's footprint in society, economy and environment. It's all accelerated by electronic social media, and it's newly focused on the "Triple Bottom Line" of people, planet and profits. Of course, much of it is just plain fun. ♦