During last week's venture-capital panel discussion here in Nashville, the Most Sobering Comment Award probably went to Sid Chambless, the executive director of Nashville Capital Network.
Chambless said that despite NCN's eight investments in the past year, he's lately had "a lot of our active [Angel investors] say, 'Call me in a year...but, don't ask me to write a check."
Despite economic uncertainty, fellow panelist and Solidus Company Partner Vic Gatto echoed the comments of other VCs who have stressed that, regardless of economic circumstances, his job is to "generate an unseemly big pile of money" for investors in his firm's funds.

In addition, Gatto predicted that while investors are holding back now, partly due to the "ridiculous" failure of banks to free-up lending in the wake of Federal interventions, "that'll turn quickly... there's lots of capital hanging around and [investors] will rush in" as normalcy returns.

Gatto's comments made clear he means to be hard-nosed about time and money. For instance, he said Solidus takes a longer-term "evergreen" view of its portfolio companies, looking beyond the 8- to 10-year horizons of most other VCs. However, he added with the slightest touch of humor, "it doesn't mean I won't shoot you in the head," if your company underperforms. "It just means I might not."
Perhaps in an effort to conserve ammo, Gatto said he looks for entrepreneurs' management strength from the outset. "I want a healthy process of negotiations... I don't want a pushover entrepreneur," he explained.

In addition to Gatto and Chambless (left), the panel included Rachael Qualls (right), CEO of the Angel Capital Group,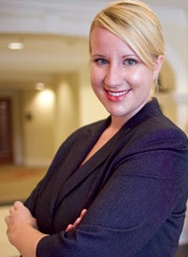 based in Hendersonville; and, moderator Courtney Ross, a vice president of the Nashville Area Chamber of Commerce. The event was sponsored by Boult Cummings Conners & Berry and organized by Nashville Technology Council.
Gatto, who said he considers as many as 500 solicitations each year, explained he wants to deal with entrepreneurs who can demonstrate they "know what they don't know" and who are giving their own plans the harshest scrutiny.
He explained that entrepreneurs who do well in Solidus' "momentum-building" process have typically shown their plans to people beyond their circle of friends and family - "people who haven't been drinking the Kool-Aid" - and they've already heard the toughest questions Gatto can ask, and are prepared with answers.
With about $50 million in assets under management, Gatto said Solidus' portfolio includes 19 companies, including nine in the Nashville area. Solidus' priorities are healthcare services, applied technology and media ventures.
Solidus' deal flow keeps Gatto busy. Gatto said it's not unusual for him to have 10 to 15 phone calls with newly introduced entrepreneurs in a given week. Maybe 150 of those calls lead to half-hour vetting calls, each year. Those calls, said Gatto, are the entrepreneur's chance to "convince me why I care."
Solidus is doing two to four deals each year, Gatto said, adding that he thinks his company will soon average a deal-a-quarter. About a fourth of those transactions are seed-capital deals and the remainder A-round. Gatto told VNC after the program he describes Solidus' target funding range as $1 million to 4 million.
Invariably, said Gatto, the companies that run the Solidus gauntlet and emerge with funding are led by entrepreneurs running ventures that are built around a central idea that make them "important" in some way. A company that achieves such importance is also more fun to work on - not a small factor, he said, given how hard the work is.
The flow of proposals from entrepreneurs seems little affected by the economy, Gatto said. He attributes this to entrepreneurial motivation: "I think you start a company because you can't sleep at night, and you've 'got to do this'." Entrepreneurs, he said, generally don't want to end-up lying on their deathbeds, regretting not having made the leap. "If you're just doing it for the money, my thinking is you're not going to make it," he added.
ACG's Qualls said she regularly contacts Gatto to get his reaction to some proposals, on the assumption that if VCs who might be needed as sources of later-round capital seem dismissive of an idea, that's reason for added caution.
Qualls has said in previous forums she fields 30 or more inquiries per month for the Hendersonville-based angel group. She said she anticipates completing one or more investments, soon. Those deals would be ACG's first fruit.

Chambless said that angels affiliated with NCN have invested about $13 million in a total 24 transactions, supporting 17 companies. He said in the past year he received about 160 business plans; and, chose to show six of those to some or all of his 60 member-Angels, with each presented company winning some investment. In January this year, NCN announced formation of NCN Angel Fund I, LP, a $5.2 million fund for early-stage companies.
In addition to his aforementioned Most Sobering Comment, Chambless also scored a rare Double Balloon Prick when he first stressed that it's true Nashville investors often won't give clear signals regarding their investments intensions - "Nashville's not a great 'No' town"; and, then revealed that in Nashville "there aren't a lot of investors who can look at your code and tell whether it's going to be the next Google."
The panelists shared a common view, it seemed, on such topics as term sheets ('don't worry about that until you've gotten me really interested'); and, simultaneous pitches ('don't overplay it: many VCs who compete one day, co-invest the next, and they talk with each other, often'). They also seem to share a gut-level aversion to getting into developing technology, whereas they find attractive companies that use proven technology effectively. And, yes, they see healthcare a likely target in that context, given, as Gatto put it, the state of technology usage in healthcare services is at roughly the 1994 stage of adoption.
Only Gatto addressed the fact that there are few sources of seed- and early-stage funding in the region, adding that he feels everyone would be better-off if there were "three or four more" players in those sectors, in addition to Solidus, Claritas Capital, Clayton Associates and Council Ventures. (Related story here.)
The executives differed a bit on how they see the entrepreneur's management team: While a competent team with a track record is a plus, recruiting a batch of grey eminences for their industry credentials may prove more suspect: Such folks may ultimately generate little confidence if they haven't been involved in successful startups. There seemed general agreement that investing funds for purposes of hiring key people - say a CFO or incremental sales staff who can leverage and replicate early sales successes - is often a priority; whereas, paying the founding management team "anything" at all, is often not.
The investor panelists were all entrepreneurs before they got into investing other people's money. Gatto, himself, founded and successfully sold an Atlanta software startup, before beginning his VC career with Nashville's Massey Burch Capital Co. Now age 38, Gatto joined Solidus fifteen months ago.
Prior to joining NCN five years ago to become its first staff director, 34-year-old Chambless served two years as sales chief for dot-com play Surfari, Inc. In 2000, Chambless co-led Surfari's sale to Coolsavings.com. Qualls, at 29 the youngest of the trio, formed several real-estate, financial-counseling and related practices, before forming what was originally known as Angel Network of Sumner County. ♦