IPREO, the international financial-technologies company with PE backing and an expanding Nashville division, has its eyes on further M&A prospects.
Ipreo's Nashville-based EVP and Managing Director Joe Maxwell, who in November announced selling his ShareholderInsite startup to the New York City-based parent, told VNC the Nashville division is "a growth platform for Ipreo and we're absolutely looking for additional tuck-in acquisitions to expand our platform."
His Alternative Assets division now has more than 60 full-timers and Maxwell has recently identified 19 positions to fill for his division, the majority of which will be stationed in Nashville, he said. Open billets include software and product development, data analysis, sales, customer support and administrative posts.
Joe Maxwell
Maxwell, 46, is leading a panel of technology startup executives exploring the sector's potential for Nashville and Tennessee, generally. Assembled by VNC as a public service, they will convene for a Feb. 13 event at the Nashville Entrepreneur Center, details here.
Ipreo announced yesterday it had acquired Canandaigua, N.Y.-based ClearMomentum, on undisclosed terms. Buyer and seller had conversations over a roughly two-year span. ClearMomentum offerings include portfolio-monitoring applications for alternative-asset investors and their limited partners.
Just six months ago, well-leveraged Ipreo announced its own sale to funds managed by Blackstone and Goldman Sachs Merchant Banking in a transaction valued at about $975MM. Ipreo, an amalgam of a number of brands and companies, traces its origins back to 1981, and adopted its current name following the 2006 merger of I-Deal and Hemscott, under the majority ownership of PE Veronis Suhler Stevenson, with additional investment from Citigroup and Merrill Lynch.
For the moment, Maxwell's division holds three brands: ShareholderInsite's CapControls and Qval; and, ClearMomentum's ClearFinancials. Maxwell acquired the Qval offering through his original company's merger with a Boulder-based company, a deal that resulted from a suggestion from a Silicon Valley source, as previously reported by VNC.
Ipreo's corporate competitors include London-headquartered Dealogic, according to a 2014 story by The Financial Times. In November, Dealogic announced plans to sell to Washington, D.C.-based Carlyle Group and Carlyle co-investors.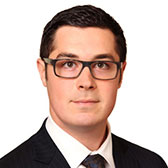 Charlie Young
Maxwell said he works directly and continually with Ipreo's EVP and managing director for global business, Charlie Young, regarding strategy, acquisitions and related matters, relying on an array of advisors in the process.
The company is actively engaged in conversations regarding other stock- or asset-centered transactions, said Maxwell.
The ClearMomentum buy was not the result of an auction process, but the culmination of a targeted solicitation by Maxwell and Ipreo. No banker was used for the transaction, he said. Maxwell was advised by San Francisco-based Financial Technology Partners for his ShareholderInsite sale.
Ipreo positions itself as a global provider of "data, market intelligence and productivity solutions" for financial professionals, and its principal market targets include investment banks and public companies, according to its website. Its BigDough database is among its most prominent offerings.
Ipreo's global revenue was about $185MM for the year-ending in March 2014. In July 2014 it had more than 750 employees globally, consistent cash flow, and then eyed 10-15% revenue growth, annually, according to a report by Moody's.
The ratings agency highlighted the objective of Ipreo reducing its then-8x-plus debt to EBITDA leverage by year-end 2015. Moody's said, in part, that Ipreo is advantaged by its business design, based on "a subscription-based revenue model in which 63% of sales are recurring, high customer retention rates in the 90% range and high-demand products embedded in customer workflows, which collectively create a loyal client base."
Prior to the 2014 LBO, Ipreo had been owned by Kohlberg Kravis Roberts since 2011, when KKR paid a reported $425MM. KKR retained a minority stake in Ipreo, according to reports at the time of the Blackstone-GS move.
Prior to the ClearMomentum announcement, Ipreo listed more than 40 open jobs on its website, and the majority of those are to be in New York City and Raleigh.
Ipreo's footprint includes 10 offices on four continents. VNC