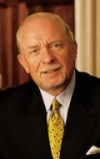 Healthcare Investment Group, the Nashville-based investment consortium lead by Harry Jacobson, M.D., announced today adding another disruptive element to its arsenal.
The Healthcare Investment Group (HIG) said in a release that Duncan Dashiff, a former Morgan Keegan managing director, will join the business Jan. 3, 2012, with responsibility for leading a new specialized investment fund "designed to enable innovation in the healthcare delivery system through the creation of and investment in highly disruptive healthcare services enterprises."
The cluster of HIG funds has $1 billion in assets under management, according to the release. In July, Jacobson told VNC that Nashville, and presumably the broader healthcare delivery system, needed a 'dose of reality' and infusions of disruptive capital if the U.S. is to provide affordable highly care, adding that he has taken up a personal challenge to improve the availability of capital available to disruptive ventures that can drive needed change and deliver promised value.
The Group includes MedCare Investment Funds, Epiphany Health Ventures and TriStar Technology Ventures (which has a TNInvestco fund), the company noted in its release. The HIG funds have invested in Informatics Corporation of America (ICA), a Vanderbilt spin-out, and other middle-Tennessee firms.

The newly paired senior executives released statements on the occasion. Jacobson said, ""We believe that the expenditure growth associated with the U.S. healthcare delivery system is unsustainable and places significant stress on our healthcare finance system, as well as the competitiveness of our corporate enterprises and the economic well-being of our citizens. Unfortunately, the continuing rise in healthcare expense is accompanied by a system with outcomes and performance that bears little correlation with its expenditure levels. In addition, capital for innovation in life sciences and medical technology continues at a rapid pace, while healthcare service delivery remains largely governed by outdated business models unable to optimally utilize the innovative drugs, devices, diagnostics and information technology at their disposal. In our view, the opportunity to catalyze 'innovation in the delivery of healthcare' through a new type of investment fund is enormous and unprecedented."

Dashiff marked the occasion by saying, in part, that those soon to be his colleagues "have earned a reputation for their deep healthcare domain expertise and their track record of success in conceiving, developing and maturing highly successful companies that have grown into market leaders and transformed the delivery of medical services in key areas."
HIG said Dashiff was earlier managing director with Morgan Keegan's healthcare investment banking group and co-head of the healthcare corporate and investment banking practice of SunTrust Robinson Humphrey. Earlier still, Dashiff was with Raymond James, Equitable Securities and Smith Barney, HIG said.
Dashif earned his bachelor's at the University of Alabama and his MBA at the University of Chicago. VNC