Updated March 5, 2012, with link to beta site.-Ed.
NextGxDx, the Nashville startup that is creating a Web-based marketplace for physicians' informed selection and ordering of genetic tests, completed its $500K A round, founder-CEO Mark Harris told VNC.
A 2010 Jumpstart Foundry alumnus and former Nashville Entrepreneur Center mentee, Harris said proceeds will support the company's move through re-launch of its beta website to its live commercial site, as well as team development.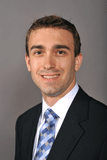 Mark Harris
Its platform will beta until early June, at which point the venture goes to market commercially, said Harris. Some hospitals and genetic-testing labs have been enrolled for the beta phase, Harris said.
A B-round raise is likely to commence within nine months, said Harris, who did not want the substantial target for the round published. Harris declined to say how much capital has been invested in his company, to date, or which single entity, if any, owns controlling interest in the venture.
Abstraction Ventures, a venture-capital firm based in New Orleans, invested an undisclosed amount of seed capital between the company's $15K Jumpstart funding and the launch of its A-round raise, Harris announced a year ago.
Abstraction co-founder and CEO Amith Nagarajan made a seed investment in 2011 in Nashville-based Care Technology Systems, led by Chairman Jim Anderson. Care Technology offers technologies and services for monitoring the well-being of the elderly or disables who are living independently. Four of the six firms showing in Abstraction's portfolio are health data-, monitoring- or device-oriented.
NextGxDx aims to help physicians order "the right genetic test" for patients, "resulting in more accurate test ordering, in less time," Harris said.
Toward such ends, he continued, "NextGxDx uses educational resources that are rich in content and easily searchable to improve the efficiency of this market. We provide physicians with the information they need to order the right test for their patient. Within our digital marketplace is a database of tests from dozens of top genetic laboratories. We utilize our partnership with SimulConsult to provide physicians with decision support and test recommendation tools, all based on the latest medical research." Boston area-based SimulConsult focuses on diagnostic decision support, according to its website.
Harris, age 30, says his mentors have thus far included, in addition to Jumpstart Foundry, Michael Burcham, CEO of the Nashville Entrepreneur Center; startup consultant Shawn Glinter; and, Tod Fetherling, immediate-past CEO of Nashville Technology Council and now investor and chairman of Stratasan, the healthtech startup.
Harris is a 13-year-resident of Nashville. An athlete, he ran a business dubbed TriathleteDVD Production for four years, dropping off that about the time work on NextGxDx got increasingly consuming, his Linkedin entries suggest.
Harris' earlier career included serving as an analyst in both Vanderbilt University's technology-transfer and commercialization unit; and, as an intern in Thermo Fisher Scientific's graduate leadership development program.
Harris is an advisor to the Techventures project run by students at Vanderbilt University and is a former president of the graduate student alliance of the industry association now known as Lifescience Tennessee.
A native of Pennsylvania, Harris earned his MBA at Vanderbilt's Owen Graduate School of Management in 2010; he also earned at Vanderbilt University his Ph.D. in cancer biology in 2009 and his bachelor's in molecular and cellular biology in 2003. While at Vanderbilt, Harris was active in campus cycling and tri-athlete clubs and ran VU cross-country and track, according to his Linkedin.
Harris' legal counsel is from attorneys with Bass Berry & Sims and his accountants are Price CPAs. He banks with Pinnacle, he said. NextGxDx is a tenant at E|Spaces on Harding Pike. VNC