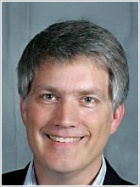 PassAlong Networks, the digital-media developer and distributor based in Franklin, announced today the appointment of venture capitalist Ray Gary as president of the company.
The company's release indicates that Gary is assuming operational management of the company, supporting founder and CEO Dave Jaworkski, and further suggests that the proliferation of corporate development and marketing initiatives is a driver in the appointment.
The release makes no mention of the prodigious amount of time and energy Jaworski has been devoting to raising a new round of capital for PassAlong.
On Dec. 12, Jaworski told VNC he remained confident in successfully completing the new raise, but explained he had not at that point secured a lead investor for the projected $30 million round, the latest in a series of raises that previously netted at least $40 million.
A PassAlong spokesperson said this afternoon she did not know whether the new president is or has been an investor in PassAlong Networks. She said she would determine whether Jaworski or Gary would be available to respond to VNC questions. This story will be updated, as warranted.
Four years ago, Gary formed Platform Business Services and Platform Capital, a Dallas-based private-equity investor which PassAlong says has purchased and consolidated four companies, placing more than $65 million in early-stage deals.
Before forming his own firm, Gary was president of Koch Ventures, the venture capital arm of Koch Industries, until that Dallas unit was integrated into another Koch investment business and relocated to Wichita, Kan. Published reports indicate that while with Koch, Gary served on the boards of several techcentric companies, including at that time Austin-based SoloMio; Colorado-based Datria Systems; and Austin-based QuickArrow.
The PassAlong release implies it was during Gary's tenure with Koch Ventures that the company participated in "one of the top IPOs of 1999." Although PassAlong does not identify the IPO, VNC research suggests it may have been the VerticalNet Inc. IPO of that year, in which Koch Ventures reportedly had a stake. That 1999 IPO reportedly became the centerpiece two years later of lawsuits in which underwriters Lehman Brothers and others managing the IPO were accused of misdealings.
Prior to Koch, PassAlong says Gary served in executive roles with Price Waterhouse Coopers; and, with EDS, for which he was division president and ran a software business unit. ♦