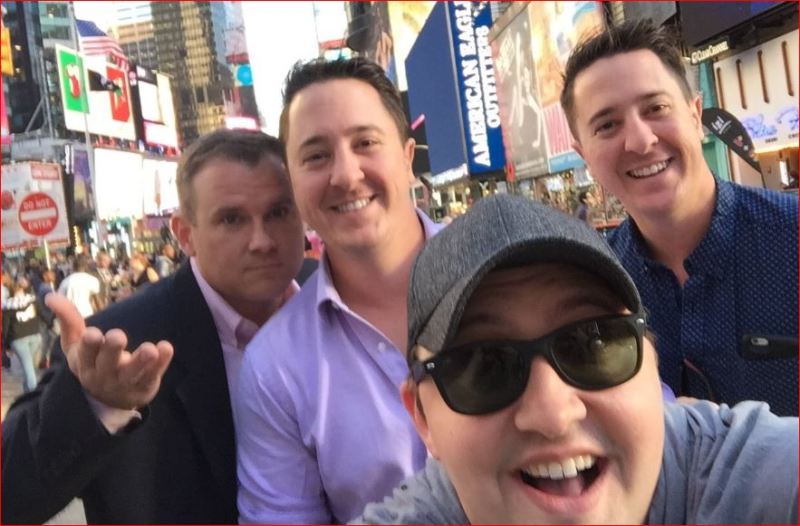 [Updated 8 June 2017] The Tennessean reports here on the official release of the VideoBomb app ahead of CMAFest in Nashville.-Ed.
RIPPLE Music's VideoBomb app will soon become much more visible, as it moves from stealth mode into the market and a Series A raise, said Co-founder/CEO Chad Marcum.
Nashville-based Marcum, a graduate of Project Music's 2015 accelerator class here in Nashville, said his raise target will be in the $1MM-$3MM range.
That comes behind the roughly $300K in Seed capital he's already raised since chartering the startup in October 2013.
Pre-revenue VideoBomb has 6 FTEs and "we're still on a ramen budget," said Marcum, with a grin in his voice.
The mobile app allows users -- typically consumers ages 18 to 30 -- to insert ("bomb") their own produced video segments into the flow of a music video song performance by a signed artist.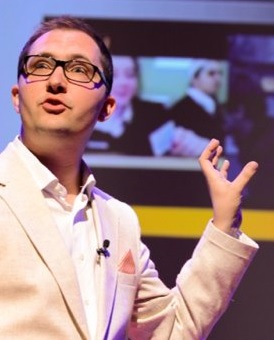 Chad Marcum presents
Marcum said the startup is in "active discussions" with majors Sony, Warner and Universal for "blanket" licenses for a large number of songs, allowing VideoBomb to create a virtual library similar to iTune's.
All parties holding rights associated with the artist's original video -- artists, publishers, labels, songwriters, et al -- are to be promptly paid what's due them by Ripple/VideoBomb, Marcum emphasized, noting that some less disciplined entrants have found their platforms mired in conflict, as a result of such oversights.
As part of its brand-building effort later this summer, Marcum said the company expects to unveil some celebrity users, who may have, for example, VideoBombed other performers' videos.
VideoBomb will enter the market later this summer and Ripple will launch its Series A afterward.
VideoBomb iOS is being tested via Apple's TestFlight platform, which accommodates up to 2,000 beta users. Results of that testing will inform presentation of metrics and financials to investors, later this year, said Marcum, 34.
While all VideoBomb app users may use without charge up to 15 seconds of a given performer's song, users will pay $1.99 for full-song usage.
Other projected revenue streams include charges for access to additional tools (filters, for example) and income from major brands that sponsor VideoBomb competitions in which their branded products play a central role.
Asked about future features, Marcum said his team is aware of a number of very significant over-the-horizon opportunities -- for example, virtual/augmented reality -- but is maintaining a taught focus on its shorter-term roadmap.
Dan McClellan
Ripple's first investor was Chattanooga native Dan McClellan and his wife, Leslie, whose backing got the company to minimum-viable-product stage, said Marcum. McClellan is president of Nashville-based Cornerstone Enrolment Services, according to his LinkedIn.
Outside professional advisors include advisors Chris Sloan of Baker Donelson and Ed Lanquist of Patterson, the IP firm. Michael Mills at Klein Bussell handles accounting. Ripple banks with Avenue Bank (being acquired by Pinnacle).
Emerging from stealth, the company's PR is to be handled by NYC-based Rubenstein. Their clients include the New York Yankees, News Corp, Paramount Pictures, the Tribeca Film Festival and others. (See note below story.-Ed.)
Though Rubenstein is not known for working with startups, VideoBomb Co-founder and Chief Creative Officer Matt Edde was introduced to the firm by a childhood friend who is a Rubenstein staff member. John Edde, Matt's twin brother, carries the same CCO title with Ripple/VideoBomb and both are principals in their own film-production company.
Cameron 'Cam' Newton and brother Dean Newton hold Ripple/VideoBomb titles as COO and SVP for business and legal affairs, respectively. They are nephews of icononic Las Vegas-based entertainer Wayne Newton.
Marcum's CTO is Bharat Gupta, an Atlanta technologist with a lengthy track record who has developed apps for NASCAR, Turner Broadcasting and others. The company's CFO is Scott Emerson, former VP-Finance at Comdata, among other posts.
Joe Galante
Country Music Association board member and former Sony Music Nashville Chairman Joe Galante, associated with the Nashville Entrepreneur Center and Project Music, remains an advisor, said Marcum.
The company's formal advisory board includes personal involvement by Chris Harding (entrepreneur and Hooters heir), Ed Hardy (CMA/GAC), Heather McBee (VP, Project Music), Kevin Montler (Google), Shaun Silva (Tackle Box Films), Braxton Woodham (Fandango) and Adam Zinke (Warner Music Nashville).
According to LinkedIn, Montler is director-Legal for global music at Google. Woodham is a Vanderbilt University School of Engineering grad and now CTO of Fandango, based in the Bay Area. Zinke is Warner's director of digital marketing and video promotion.
VNC previously reported that Bruno Francois of Egos Ventures (Atlanta) has also advised Marcum. Francois was a judge in a NASA app-development contest that Marcum and a teammate won in 2014, as reported in the Tullahoma News.
Actual or potential competitors named by Marcum include Musical.ly, Fusic and Dubsmash.
VideoBomb operates from the offices of Tackle Box, a video production house quartered in Nashville's Marathon Village.
Chad Marcum is a son of Dan and Fran Marcum, the Tullahoma-based couple long active not only in early-stage investing, but also in leadership the work of Launch Tennessee, the Southern Middle Tennessee Entrepreneur Centers, Relevance Capital and other interests.
Through a company previously owned by Fran Marcum's family, the Marcums were earlier involved in manufacturing for the Aerospace sector.
CEO Marcum said his parents are not investors in Ripple Music. VNC


. Last edited 5:30pm 29 June 2016.
---