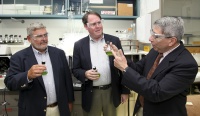 SecureWaters Inc., a Tennessee startup, is looking for roughly $500,000 in seed capital to make AquaSentinel water-security and monitoring technology ready for production, said CEO Ray Slatton.
TNInvestco funds and other investment firms are prime targets for SecureWaters' pitch, Slatton said. Slatton and other investors in the year-old venture have about $750,000 sunk into commercializing AquaSentinel, employing technology they've licensed from Oak Ridge National Laboratory, Slatton said. The company is based at Soddy Daisy, near Chattanooga.

Reaching $50 million in annual sales within five years is feasible, said Slatton, given the global scale of the "water test" subsector of the global water sector. Targeted markets include water utilities, waste-water treatment plants, corporate water users and government and military users, Slatton said. Prospects are in the U.S., and in Mexico, Israel, Canada, India, China and the United Arab Emirates, among other nations, he added.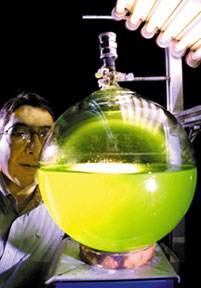 In addition to potential Homeland Security applications, the AquaSecure electro-mechanical detection and alarm system can be used by producers to monitor effluent. The technology uses naturally occurring algae, electronic sensors and wireless communications to detect and report waterborne toxic agents in reservoir, lake or river water that is exposed to sunlight and bound for the drinking-water supply, according to a SecureWaters release.
AquaSentinel's technology was developed by Elias Greenbaum, a staff scientist and corporate fellow within ORNL's chemical sciences division. The precursor research that led to AquaSentinel technology was supported by the DOE Office of Science, the Defense Advanced Research Projects Agency and BAE Systems.
AquaSentinel recently won the 2010 ThrottleUp startup competition at Oak Ridge (video); and, gained exposure among 50 firms that vyed for startup prizes during Global Entrepreneurship Week, in November.
Prior to founding AquaSentinel, Slatton's experience included partner and manager with Riverbend Construction Corp. and managing partner of Geotec, an environmental engineering firm. He holds a bachelor's in physics from the University of Tennessee at Chattanooga, according to the company's website. VNC