TAMMY HAWES, CEO of Virsys12, says that from the moment she founded her company eight years ago, she's always seen it as a scalable SaaS business and has never seen it as a lifestyle business.
Interviewed by Venture Nashville, Hawes confirmed she is preparing to raise at least $3MM in Series A capital for the Brentwood-based firm. Targets for potential future letter-rounds have not yet been established.
Though she said she would "love to have" Nashville investors with healthcare savvy aboard, she said she's likely to focus on such markets as Boston, Austin and San Francisco.
Virsys12 is a Salesforce Gold and AppExchange Partner and is focused on the healthcare sector. The business serves client organizations in about 30 states, and employs 30 fulltimers, about two-dozen of whom are in the Nashville area.
The company's primary offerings include V12 Network, for maintaining accurate provider directories, monitoring OIG compliance and supporting credentialing processes. After a case is logged, its V12Alerts offering provides Active alert messages, and associates a relevant solution to a particular view. Its V12 Intelligent Provider Directory (IPD) helps ensure the accuracy of provider profiles throughout provider networks and systems.

Citing speed and responsiveness among the company's competitive advantages, Hawes said Virsys12 can have new clients onboard and operating with base products within 90 days, with optimizing for client workflows following that.
Proceeds for its next raise will go toward supporting its applications and otherwise staffing for accelerated growth.
Its workforce is likely to grow to perhaps 50 FTE within 12 months and to 75-100 the second year out, she said. An executive hire focused on health plans and network development is among likely priorities.
In 2018, Virsys12 -- until then 100% founder funded and "cash flow-positive from Day 1" -- announced it had accepted a minority investment of undisclosed magnitude from Salesforce Ventures' SI (System Integrator) Trailblazer Fund. The closely aligned initiatives provide capital, training and other resources to enable and expand cloud consulting firms. It didn't hurt that, about the same time, Virsys12 was identified by Gartner as a "Cool Vendor" for Application Services.
That valuable recognition from Salesforce represents something like a seal of approval, said Hawes.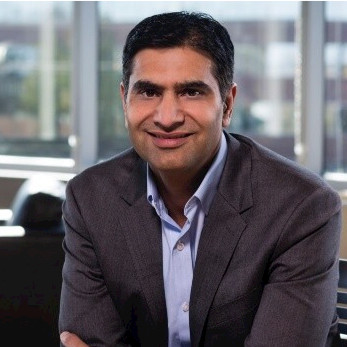 Viraj Parikh
With the Series A ahead, Hawes recently allied with New York-based Michael Crawford, whose roles include being a principal in the advisory firm of Blueshift Global Partners.
Hawes said she also connected with Nashville-based Viraj Parikh, managing partner of TechCXO, who is now assisting with business modeling and operations.

The company's standing advisory board includes Barbara Cannon (NuSirt BioPharma); Marc Fortune (an executive advisor and former chairman and CEO of Century II (HR outsourcing); Rodney Hamilton MD (serial healthtech CEO and other roles); Alpharetta-based Don Lynch (Salesforce); Atlanta-based Ernie Riddle (former CEO of a Salesforce Cloud Alliance partner); and, Bill Southwick (CEO, QualDerm Partners).
Asked about other on-going advisory relationships, Hawes said she has relied to varying degrees on attorneys with McKenzie Laird Ottinger & Leach PLLC; Frost Brown Todd; and, Bass Berry & Sims, all based in Nashville.
For accounting and related, she relies on Blankenship CPA (Brentwood) and Inflammo (Nashville). She banks with CapStar, which facilitates a line of working capital.
Though reaching its current juncture has taken several years longer than she originally projected back in 2011, Hawes told VNC the impending ramp-up coincides well with the evolution of both the healthcare industry and her cloud-driven business model -- and Salesforce's own increased emphasis on its software development platform, as well as on its iconic customer relationship management (CRM) origins.
Asked about competitors, Hawes said that on the product (vs consulting) side of the business, the company monitors perhaps a dozen companies, including VLocity, which has on at least two occasions in the past five years gained Salesforce investment and is driving into healthcare and other verticals.
She also follows current or potential public comps or bidders, including Cognizant (CTSH, including Trizetto), Change Healthcare (CHNG, in the wake of its tech combination with McKesson) and HealthStream (HSTM), all with HQ or other Nashville presence, among others.

Asked about eventual exit options, Hawes first emphasized that her current focus is on doubling-down on its current and prospective applications, to achieve network effect within the current Virsys12 business.
She also acknowledged that the usual options of sale to strategic or financial investors could well be among logical options, at some point.
She then underscored that an IPO would not be ruled-out at this point, particularly given the success of such firms as 12-year-old Pleasanton-based Veeva Systems (NYSE:VEEV; $261MM IPO 2013, current market cap $22BN).
Veeva, also aligned with Salesforce, recently announced reaching the $1BN annual revenue run-rate milestone.

In the same vein, Hawes also mentioned two other Salesforce portfolio companies: 7-year-old, North Carolina-based nCino, a cloud-fintech with Salesforce investment; and, 10-year-old San Francisco-based FinancialForce, which has attracted about $200MM in capital.
Though she did not formally "niche" the company on healthcare until Year Two, even in her first year in business, 2011-12, 80% of her business was healthcare-related -- perhaps inevitably, given Hawes' prior career in healthcare IT and related roles.
According to her LinkedIn profile, prior to founding Virsys12 Hawes held software development and executive positions with HCA (Hospital Corporation of America), Theraphysics, Paradigm Healthcare, and Behavioral Healthcare Corp. (later renamed Ardent Health Services), the latter of which had been founded by Nashville entrepreneur Chuck Elcan, an investor and serial entrepreneur long allied with HCA Co-founder and former Chairman and CEO Thomas F. "Tommy" Frist Jr.

Hawes was recently named among NEXT Awards finalists for Entrepreneur of 2019, with the winner due to be named Nov. 6 by the Nashville Entrepreneur Center.
The CEO is also among presenters scheduled to appear during the annual Venture Atlanta (VA) conference, next month. The other VA presenters from Tennessee are StudioNow spinout Octerra and Chattanooga's Freightwaves.

In addition to the Nashville area, Virsys12 has team members in Chicago, Denver, Portland (Ore.), Scottsdale, and Seattle.
The name, Virsys12, was derived from the phrase "virtual systems" and the number 12, which Hawes considers a "power number." In an online video, Hawes explains that "12" is associated with calendar systems, clock systems, the set of a dozen human cranial nerves and other references.
The CEO and her husband, John Hawes, have a family of six children and reside in Williamson County. He is owner, chairman and CEO of Rehab Practice Management. His company's locations are in California and Washington state, according to the RPM website.
She is a native of Armory, Miss., and earned her bachelor's in computer science at East Tennessee State University, in 1983.
In 2017, she was named Outstanding Alumna by the ETSU National Alumni Association. VNC
. last edited 1617 24 Sept. 2019
---