XMi Capital will soon take applications for "scholarship" leases for startups that need a place to incubate, at no cost.
An XMi spokesperson told VNC Friday that startups that survive XMi's screening process, including a routine background check, will be offered office space and access to common areas at no charge, for periods ranging from three to twelve months.

The no-cost startup initiative was apparently authored by Xebec Management (XMi) Founder-CEO Mike Shmerling, an advocate for local entrepreneurism.

The incubator could provide deal flow to Shmerling's XMi Capital division. That unit's President Jim Phillips has previously indicated his group may apply for certification as a venture fund in TNInvestco, a state program that requires participating funds to focus on funding seed- and early-stage firms.

The XMi incubator may be linked in some manner to other community resources, according to the spokesperson, who asked not to be identified, because the process by which entrepreneurs will apply to XMi has not been fully defined.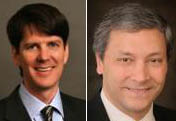 The announcement of the XMi incubator program comes just days ahead of the unveiling of a new online Entrepreneur Center that is sponsored by the Nashville Area Chamber of Commerce, Partnership 2010 and Nashville Technology Council. The online Entrepreneur Center is the outgrowth of a Chamber task force co-chaired by HealthStream CEO Bobby Frist and Shmerling (at right, left and right, respectively).

Roughly 10,000 square feet of space – a full floor in XMI's Signature Building at 1900 Church Street – will be allocated entirely to incubator operations, according to XMi.

Further, a fulltime XMi liaison to entrepreneurs will be stationed on that floor. Phase one of the incubator build-out is about 7,500 sq. ft. That work is being supervised by XMi Commercial Real Estate.
The incubator and "scholarship" or "financial aid" program for startups represents the first allocation of such resources by XMi.

However, the spokesperson said the company has occasionally accommodated entrepreneurs perching in individual spaces in various XMi buildings, while they work on their startups' business plans. ♦