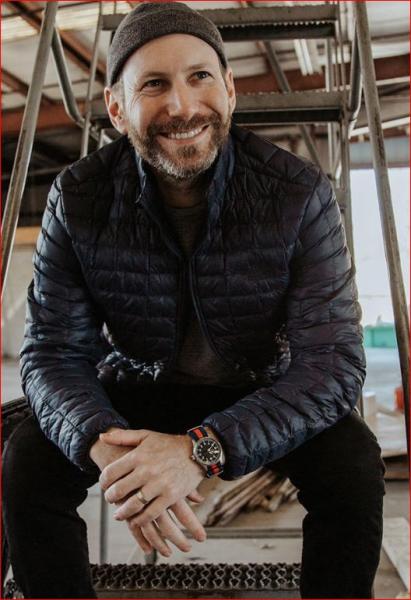 CO-FOUNDER and CEO Rick Margaritov, an entrepreneur who moved to Nashville from Los Angeles in summer 2019, is preparing to raise Seed capital for Pure Land LLC, which plans a sake brewery in Music City.
Margaritov confirmed Pure Land Sake has begun raising Seed capital that could total as much as $2MM in convertible notes and debt for production equipment, leasehold improvements, marketing and operations.
He also acknowledged that a Series A raise is likely to be undertaken within 18 months after completion of the Seed raise, with $1.5MM the likely target. Founders and friends have previously invested roughly $75K.
The CEO said he's had early conversations with some Angels and VCs about the company's capital path.
He also confirmed he is scouting potential brewery sites in Nashville, with potential communities thus far including Chestnut Hill and East Nashville. He noted the Chestnut Hill and broader Wedgewood-Houston areas are home to offices of prominent music and entertainment brands, among others.
Pure Land brewery operations can begin in Nashville within four to six months after site selection. The company projects hitting breakeven or better within 22 months after its Seed is completed, he said.
Margaritov explained that building geographic and business ties with investors and others across Tennessee and the MidSouth, generally, will yield long-term relationships and reinforce the Pure Land brand.
Pure Land sake will be made from rice from Arkansas and with water from the Smoky and Blue Ridge Mountains, contributing regional texture to a "compelling story" for its nationally and internationally marketed products, events, merchandise and other offerings.
He said that in his view Tennessee and Nashville compare favorably with many U.S. destination states and cities, particularly when talk turns to travel, tourism and hospitality.
Some small-batch test production of Pure Land offerings has been completed, and non-commercial samples are available now for prospective investors.
Margaritov said his team has begun promoting the Pure Land brand during private gatherings and pop-up events, and will soon scale-up marketing for the company's branded apparel and other merchandise.
In building scenarios for capital and related matters, Margaritov said he has recently been advised by Jonathan Bragdon, CEO and founding partners of Chattanooga-based Capacity Partners LLC. He said he is likely to seek Bragdon's guidance on future rounds.
Pure Land's other retained advisors are based in Nashville, including attorneys at Waller Lansden, and advisors at Studio Bank, KraftCPA, and Powell Architecture.
His outside advisory board includes sector-experienced advisors Bernie Baskin, Elliott Faber, and Nick Ingate. Respectively, they are focused on Pure Land's business strategy; on sake; and, on brand development.
Ryan Costanza
Margaritov's Pure Land co-founders include CIO Ryan Costanza.
Margaritov currently has controlling interest in the company. In addition to the full portfolio of CEO duties, he will handle cross-border sales and development, with emphasis on Singapore and other Asian markets.
Constanza, who is to relocate to Nashville in July, will serve as the startup's head brewer. His LinkedIn describes skills spanning chef, culinary and restaurant operations director, and restaurant-industry consultant. LinkedIn.
Sake-brewing in Nashville was pioneered five years ago by Byron Stithem, the founder-CEO of Proper Sake LLC who relocated to Nashville 18 years ago from Kansas City, Mo.
In a brief interview for this story, Stithem told VNC he plans to raise $500K to expand his business beyond the 10 states in which he has some distribution. He said Proper's Nashville tasting room will soon move from its Ewing Avenue (now order/pickup only) address to East Nashville near Trinity Lane, with Proper's return to six-day-a-week services soon following.
Margaritov estimated there are only a dozen or so fully active and commercialized sake breweries in the U.S., and the spirit among entrants is typically collegial. More industry info here: 1 | 2 | 3 .
Asked about exit options for Pure Land, the CEO said he has at least one exit strategy in mind, adding that he is focused on the fact that "right now all signs are pointing toward explosion in Japanese spirits and rice-based drinks, in particular sake."
According to his LinkedIn, Margaritov's most recent career experience includes roles in partnerships and business development efforts targeting U.S. and Asian markets for wines, craft beer, and related goods.
His earlier startup credits include an array of roles as founder, co-founder, CEO, director and-or brand officer for LA-land-based The Drinkery (craft beer and wine) and, among other things, two Singapore-focused companies: Thirsty and Vinified Wines, the latter an American wine supplier.
Margaritov has for nine years been actively engaged in market-development roles for Cilajet, a Gardena, Calif.-based supplier of products for protecting finishes encountered in automotive, aerospace, environmental, industrial, and marine verticals.
He recently earned his MBA via the executive program at Owen Graduate School of Management, Vanderbilt University.
He was originally on the Owen School's Global Immersion track, but the pandemic rendered that program impractical. He and his Owen EMBA teammates -- including the above-mentioned Falon Scott -- presented a plan for Pure Land during the Launching the Venture exercise in 4QCY20.
Margaritov earned his bachelor's degree in human development at Cornell University, in 1997.
Fresh out of college, he spent several years in Manhattan as an NBC page, as an ad-agency staffer, and began serving in restaurants.
He eventually joined the teams of celebrity chefs Tom Coliccio and Jonathan Waxman, who each pioneered cuisines and renowned restaurants on both coasts. Waxman was a founding partner with Ken Levitan and Howard Greenstone in creating Adele's restaurant in downtown Nashville.
A 44-year-old native of New York City, Margaritov explained that much of the impetus for his family's household move came from Tanya Dempsey, his wife.
Dempsey was, he said, keen to develop clients in the Country music sector for her November Grey business, through which she creates content to support consumer product brands. Her earlier focus was on video-showcasing apparel and beauty products. Her LinkedIn is here.
The couple reside in Nashville's Green Hills area and have two children. VNC
Editor's Note 20 May 2021: Original Co-founder and COO Falon Scott has departed the firm and remains CEO of her firm, Evolution Event Solutions LLC, in Nashville. She, also, recently completed her executive MBA at the Owen Graduate School of Management, at Vanderbilt. LinkedIn.
last edited 0552 20 May 2021
---