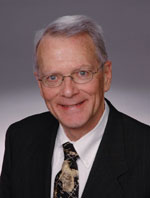 Tennessee Biotechnology Association Interim Chairman Bob Acuff, Ph.D., says TBA knows his successor should come from the biotech industry, not academe.
Acuff has held the TBA chairmanship most of the past six years, except for a roughly four-month period that ended in August with the resignation of Leslie Wisner-Lynch, the former BioMimetic Therapeutics executive who had been invited by the TBA board to take the reins.

Acuff (at left) is director of ETSU's center for nutrition research and devotes much of his time to public-affairs and government-relations duties for the Johnson City-based university.
Acuff's comments yesterday in an interview with VNC suggest that, despite months of efforts to formulate future strategy, TBA remains uncertain what its members want, yet is determined to overcome weak funding – and anxious to speak more loudly and consistently in policy circles about the needs of the biotechnology sector.
Acuff, who in an earlier VNC interview seemed to be taking the change-up in stride, said yesterday, "everybody's kind of been taken aback" by Wisner-Lynch's resignation, which he said "threw us [for] a loop."
Yesterday, Acuff told VNC the executive committee of the TBA board will meet tomorrow via teleconference to discuss the search for a permanent successor to Wisner-Lynch, a task Acuff described as "a hot item."
Acuff also indicated that the preservation of TBA's "autonomy" is also an issue for the TBA board of directors.



Although Acuff did not elaborate, his mention of autonomy was an apparent reference to concerns about influence that might

accompany funding from the state or from such nongoverning organizations as Tennessee Technology Development Corporation. TTDC President Eric Cromwell serves ex officio on the TBA board of directors.
Acuff said yesterday he believes the board must try to ensure that TBA is addressing its members' priorities; finding ways to fund pursuit of those priorities; defining clearly the duties of the chair and president, in relationship to those priorities; and, trying to ensure that "personalities match up" between the chairperson and the executive director. The current president is Joe Rolwing.
Regarding the last point, Acuff added, "maybe that played a role" in Wisner-Lynch's departure from the post and from TBA membership. He declined to clarify his point. In VNC's earlier story, Wisner-Lynch would only cite TBA's "exciting opportunity" for leadership and the organization's clear need to make difficult decisions regarding how best to accomplish its mission with respect to life sciences.
Acuff reiterated that the board hopes to find another industry executive "like Leslie," but stressed that the board, ultimately, needs to move at a "pace" with which it's comfortable, and not rush into changes. Rather, he said, the board must move "very, very cautiously," particularly with respect to the roles and expectations assigned to the board and to TBA's president and executive director.

In keeping with TBA's continued stepwise approach, Acuff told VNC that a compendium of TBA achievements and program descriptions will soon be sent to TBA members, in an attempt to elicit further comment regarding TBA priorities.

Meanwhile, Acuff noted that a key consideration, going forward, is the extent to which the president and chairperson will serve as advocates for TBA and its constituents, in government and policy circles.
Acuff explained that Rolwing has been "hesitant" to speak publicly on TBA issues, partly, according to Acuff, because Rolwing still wears several hats, as director of the life sciences center of Cumberland Emerging Technologies, which is a business incubator controlled by Cumberland Pharmaceuticals, Vanderbilt University and Cromwell's TTDC.
Acuff said that advocacy constraint on Rolwing "has been a real issue that we want to address, going forward."

In fact, TBA has not had among its leadership a continually engaged public spokesperson since the association was led by Dennis Grimaud (at left). Grimaud is currently CEO of Diatherix Laboratories, a Delaware corporation based in Huntsville, Ala., which has recently expanded its offices in Nashville, from which Grimaud usually operates.
Several years ago, Diatherix received strong support from economic-development agencies in Alabama, which led Grimaud on several occasions in recent years to decry what he saw as the lack of similar support for biotech firms in Tennessee.
However, coincident with his expansion of Diatherix's presence in Middle Tennessee, Grimaud has tempered his criticism of the lack of state support for the industry. Diatherix is not among TBA's online membership list.


Asked for comment for this story, Rolwing and Wisner-Lynch (at left) each declined to comment. Neither Grimaud nor Cromwell has yet responded to e-mailed requests for comment for this story, sent earlier this morning. This story will be updated, as warranted.
Rolwing has been TBA president five years, and he constitutes most of the organization's permanent staff. Prior to his biotech-industry roles, Rolwing spent more than 27 years in executive roles with nonprofit mental-health centers, as well as a period as business manager and vice president of a medical lab, Genetics Associates Inc.

Rolwing served five years on active duty as a U.S. Navy Reserve officer, 1965-1970, including service as a navigator and electronics officer based in the U.S. and in the then-Republic of South Vietnam. Based in then-Saigon, Rolwing's flight duties included special-operations missions involving airborne broadcasting that was intended to encourage enemy surrender. Rolwing, 65, earned his MBA in 1974 at the University of North Carolina-Chapel Hill, and his bachelor's in business marketing at Southeast Missouri State University.

Acuff said he can't serve much longer as interim chairman, partly because his duties at East Tennessee State University increased this week with his appointment of chairman-elect of the American Association of Medical Colleges Government Relations Representatives Group (GRRG). ♦