Updated 7:25 p.m. – In filings this afternoon with Chancery Court, Coleman and counsel argue, among other things, that such principles as public accountability militate toward producing the TNInvestco records that Coleman demands; that concerns regarding appropriate confidentiality and the vulnerability of proprietary information can be mitigated by redacting identifying or proprietary information from the documents requested; and, among other points, that Coleman asserts he did not denigrate or belittle other TNInvestco firms during a meeting with state officials, as the State alleged in its response. Coleman repeats his requests for the TNInvestco scoring matrix and other documents; and, asks that the State pay his legal costs. Coleman also argues that in invoking the scoring matrix as evidence of the strength of the TNInvestco competition, and then declaring that revealing matrices would create undue vulnerabilities for some parties, the State is attempting to use the matrix as both "sword and shield," and is, moreover, distorting open-records exemptions "beyond all reasonable recognition." Meanwhile, VNC learned this evening that Johnson & Poss is no longer in talks with a TNInvestco firm about representation. Our updated story follows:
Litigation over the execution of the new TNInvestco program appears set to advance another step, with a hearing in Chancery Court here now scheduled for Feb. 16.
Meanwhile, additional lobbyists are being registered in preparation for possible contretemps on Capitol Hill. Also, providing a reminder that there's plenty of actual venture work to be done, the winning TNInvestco funds have set up their new websites, addresses of which appear later in this story.

As reported earlier by VNC, Venture-capital executive Larry Coleman is asking Chancellor Russell Perkins to require members of Gov. Phil Bredesen's Cabinet to turn over to Coleman documents that Coleman believes are essential to his determining whether his firm and others were treated fairly by TNInvestco administrators.
Coleman has named as respondents Economic and Community Development Commissioner Matt Kisber and Revenue Commissioner Reagan Farr.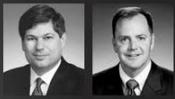 In a response filed on their behalf by the office of the Tennessee Attorney General, Kisber and Farr (respectively, at left) continue to insist that their choices of TNInvestco winners and alternates were properly executed, within the authority granted them by last year's new Tennessee Small Business Investment Company Credit Act.
They cite precedents in which information held by the state for purposes of industrial-recruitment incentives and other reasons have been protected as confidential, on grounds the documents are crucial to the state's competitiveness among state's vying for investments.

They also argue that any information regarding their deliberations might cause harm to the state or to firms that failed to win TNInvesco allocations, and that divulging such information could also affect the ability of the State or its TNInvestco's to exact from insurance companies optimal bids for tax-credit allocations.

Lest that all sound bloodless, along the way the commissioners take pains to allege that during a meeting they had with
Coleman in December, the tone, they say, was "contentious" and they allege Coleman took potshots at firms that had won TNInvestco allocations.

Observers anticipate Coleman (at right), represented by attorneys at Riley Warnock and Jacobson, to make further filings, yet this week, and there is currently no sense that this matter might be resolved prior to next week's scheduled show-cause hearing.
Meanwhile, Delta Advantage Capital Tennessee LP is the latest TNInvestco-certified company to cowboy-up with a lobbyist, in this case the ubiquitous Dan Haskell (at left). Delta Capital of Memphis joined with Advantage Capital Partners of St. Louis to create the TNInvestco entity.
Lawyer Haskell represents the Nashville Convention and Visitors Bureau, the Tennessee Title Lenders Association and others. Tennessee Ethics Commission records indicate Advantage has also recently registered three of its St. Louis or New Orleans-based employees: Scott Zajac, Jeff Craver and Phil Thomas. Zajac was recently strongly critical of the TNInvestco process, describing the process as 'corrupt'.

In an e-mail to VNC this morning, Zajac stressed that Haskell "represents the TN based Delta Advantage entity. The engagement is focused on supporting reforms for taxpayer protections initiated by legislators." E-mailing his comment while traveling, Zajac did not explain what exactly that means.
Earlier, VNC reported that Johnson & Poss, a lobbying firm, was exploring working for two TNInvestco finalists – NEST-TN LLC and Memphis Biomed Ventures. This evening, VNC learned that Johnson & Poss is no longer in those discussions and has ruled-out working on the TNInvestco issue for anyone.

Enhanced, meanwhile, has retained Baylor Swindell of The Windrow Group. Other TNInvestcos are known to have stepped-up their existing lobbyists' attention to these matters, as well.

On a lighter note, VNC is pleased to provide these links to the new websites of TNInvestco winners: