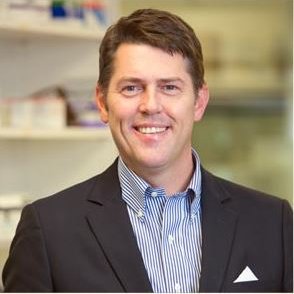 Updated 19 June 2017: TwelveStone announced it accepted $3.35MM investment from Nashville VC/PE Claritas Capital. Proceeds are to be used for entry into the Chattanooga market, expanded distribution of MEDIpack and development of its platform to support post-acute chronic-care management. -Ed.
TWELVESTONE Health Partners plans to raise capital to help stand-up a new healthIT business, while also pursuing joint ventures, mergers and acquisitions, said 100% owner and CEO Shane Reeves.
In February, Murfreesboro-based Reeves-Sain Family of Medical Services changed its name to TwelveStone Health Partners (hereafter, 12Stone).
The rebranding came nearly a year after Reeves and other owners announced selling the assets of their former Reeves-Sain Drug Store and its EntrustRX specialty-pharmacy line of business to publicly held Fred's Inc., in transaction with a $66MM announced valuation.
Reeves told Venture Nashville that proceeds from that sale helped capitalize 12Stones's new phase of development and growth, including buying-out minority interests in ancillary businesses that are now consolidated in 12Stone.
12Stone business is currently focused on its prepackaged "MediPack" medication-adherence services, infusion and enteral therapy, respiratory services and durable medical equipment (DME).
In addition to that core business, Reeves said the company is in discussions with potential institutional investors and others regarding raising capital to fund the launch of a new 12Stone company -- working title: TwelveStone Technologies -- which will create a software platform for two-way communications among the company and its customers, partners and consumers.
Reeves said he is advised in the current capital raise and on related strategic matters by Jozef Nuyens of Fivestone Partners, based in Nashville.
The CEO made clear that 12Stone is also prepared to raise capital for other purposes, as warranted.
"We have very aggressive growth plans for the next five years," he added, without commenting on current or projected revenues. The company has about 150 employees now and projects adding about 200 in the next three to five years.
He said 12Stone sees numerous opportunities beyond its four core businesses: They lie in technologies (conceivably, e.g., telemedicine), products and services (e.g., powered wheelchairs), equipment (e.g., passenger lifts for vans), Reeves said, adding that growing understanding of factors affecting health and healthcare lead to such practical interventions as installing stairway ramps for otherwise homebound patients.
And, the company remains highly interested in entering joint ventures (JVs) with hospitals, skilled-nursing facilities, hospices and other partners into joint ventures for skilled nursing, long-term care, and acute care facilities, said Reeves.
Potential JV or M&A partners should contact him directly.
In addition to Nuyens, Reeves' advisory team currently includes attorney Kolin Holladay, partner in charge for Adams & Reese's Nashville office; accountant Scott Ford CPA of Crowe Horwath; bankers with Pinnacle Financial Partners and First National Bank; and marketing consultant Amanda Cecconi of The Punching Nun Group.
While 12Stone's core business is now in the roughly 40 counties of central Tennessee, within five years he expects 12Stone to have substantial presence in Chattanooga, Memphis, Knoxville and in some bordering areas of Kentucky and Georgia.
Asked about competitors, Reeves said he sees no current competitor with the same mix of core goods and services, though he can see such majors chains as CVS and Walgreens seeking to emulate the model, with particular emphasis on bundling pharmacy services to build strong connections to hospitals. "They won't be as nimble as we are," he predicted.
Reeves told VNC that although he has yet to define exit scenarios, he sees a range of eventual options, from internal equity vesting of management or sale to a future JV partner, or the genuine possibility of an exit through a public offering of stock.
Memphis-based Fred's Inc. said in its latest 10K that it paid $42.8MM in cash at closing for Reeves-Sain assets, explaining that Fred's aims to expand its presence in specialty-pharmacy, "the largest growth area of the pharmacy industry." Rising demand for treatment of Hepatitis C is among major drivers of that business.
In addition to cash, the transaction also included seller notes to be repaid by Fred's in tranches over an eight-year period, as well as some earnout provisions, according to Fred's SEC filings.
"Twelve Stone" is a reference to a biblical passage in the Book of Joshua, in which is recounted the story of 12 stones being placed as a memorial to the faith-borne passage of the people of Israel across the Jordan River.
The company's philosophy of collaboration with healthcare providers and caregivers and of service to patients crossing into its care reflects that same theme, said Reeves.
Reeves, 48, earned his PharmD at the University of Tennessee Health Science Center in Memphis, in 1994, and a bachelor's in Pre-Pharmacy studies at Middle Tennessee State University in Murfreesboro. His LinkedIn profile is here.
Four generations of Reeves' extended family have in the course of the past century produced independent pharmacists serving the Murfreesboro area. Seven generations of his family have lived in the community.
Since the Fred's sale, the Reeves-Sain Drug Store has continued to operate under its original name, with the same workforce, said Reeves.
Against that backdrop, it might be noted that a Fred's 10K filing showed the Goodwill component of the 2015 Reeves-Sain deal valued at $41.4MM.
Reeves's former Reeves-Sain Drug Store partner of 20 years, Rick Sain, now serves as a senior development executive with Fred's, according to a recent filing by that company. VNC
. last edited 6:10pm 7 July 2016
---