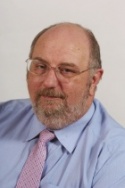 During a recent business luncheon, Care UK Group Development Director Geoff Benn surveyed the sea of healthcare executives packed into the Nashville Convention Center.
Benn later told VNC his visit to Nashville, after an absence of six years, had left him impressed with the city's "concentration of healthcare professionals unrivalled in my experience."
Amid a series of visits with local corporate executives, Benn stopped-in two weeks ago for a Nashville Health Care Council program featuring healthcare investment panelists, moderated by Harry Jacobson, M.D., Vanderbilt University Medical Center's entrepreneurial vice chancellor for health affairs.
If Benn was disturbed that day by the comments of the five Wall Street investment analysts, he showed little sign.

No doubt, however, the analysts' caveats caught his ear: For instance, while 2009 might well be better than 2008 for managed care – thanks, in part, to diminished pressure for capital expenditures – the credit crunch, the uncertainties surrounding the nation's recovery plan and increased government pressure on providers could certainly thwart those prospects.
The analysts also underscored that hospitals and some other sectors are being heavily discounted by investors, with stocks, M&A deals and other transactions experiencing "historically low" valuations. In addition, in the face of the stiffest economic headwinds in generations, demand for many healthcare services has proven suprisingly elastic, except in do-or-die situations, such as renal care.
The discounting has been sharp, the analysts seemed to agree, partly because the fresh cohort of investors who focused on

the sector since 2002 have not routinely seen hospitals "outperform," and may – incorrectly, in the eyes of most – see hospitals as "one of the most cyclical" industries, according to A. J. Rice, senior health care services analyst at Pomeroy Research.
That discounting has, at least figuratively, carried-over into the government arena, where there is growing "political hostility," according to John Ransom, managing director, health care equity research for Raymond James & Associates.

That hostility exists in spite of, or perhaps because of the near-inevitability that "government is going to become a much larger customer" of the private sector, according to Thomas Carroll, managing partner of Stifel Nicolaus Capital Markets.
As an NHCC release later said of the proceedings, there was consensus among the analysts that "Nashville industry leaders must engage in the health reform debate and emphasize their innovation, quality and positive outcomes."

Benn, who seemed to take it all in with the attentiveness of a researcher in the field, was, of course, a long way from his Care UK desk at Colchester, East Anglia, about an hour by rail from the heart of London.

Care UK is a publicly held company (FTSE Small Cap) with annual revenue of about $500 million. In a report issued prior to its annual shareholders meeting earlier today, Care UK reported that management views the company as being on solid financial footing. (The stock, recently up after falling along with everything else, was reported down a bit, by the end of today's trading in London.)

The company's services span ambulatory surgery centers, primary-case and diagnostic facilities, nursing homes for the frail elderly, as well as services related to community care, learning disabilities, mental health and related needs.
Benn explained that his duties include frequent expeditions to learn more about "differing systems of work and services" in other nations. "Nashville, as a recognized center of healthcare in the U.S., is an obvious stop-off point," he added.
This time, Benn said his U.S. itinerary was weighted toward "homecare and community and non-institutional [non-hospital] settings for the delivery of healthcare services to a wider population base."
He explained, "Healthcare policy in the UK is becoming more consumerist, technology is leading to a greater ability to deliver

complex services outside of hospital. Match the two together and the homecare and community-based service sector will grow, dramatically."
Benn indicated there is growing recognition, also, that out-of-hospital treatment is characterized by greater responsiveness to patient needs; and, some research indicates such care may produce better treatment outcomes.
He acknowledged that in the United Kingdom Care UK and other independently operated companies still face economic hurdles, as well as resistance among some clinicians who "feel their traditional 'powerbase' may be eroded" by expansion of services outside institutional settings. Benn noted, "Whilst [U.S. and U.K.] funding systems and whole healthcare structures differ – in this area there are huge similarities in progress made."

He said he believes odds are good that Care UK and U.S. healthcare firms "should be able to do business to match our various expertises." ♦