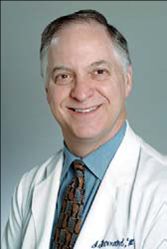 Dr. Gordon Bernard
Update: To read about the appointment of Alan Bentley to the position reported here, click here. The story as originally published appears below. Ed.

Vanderbilt University may have assigned overall responsibility for technology transfer and commercialization to Gordon Bernard, M.D., who is also director of the Vanderbilt Institute for Clinical and Translational Research (VICTR).
The shift seems indicated by remarks made by Chancellor Nicholas Zeppos, who addressed faculty during an awards program on campus, April 7. A VUMC spokesperson is researching these and related matters in response to a VNC query, but has not yet provided clarification.

In his remarks, Zeppos noted Vanderbilt is making an "overhaul and investment" in its tech-transfer and related efforts; has placed related programs in Bernard's bailwick; and, has named venture capitalists and entrepreneurs to an external advisory committee. Zeppos stressed the importance of continuing to emphasize Vanderbilt is "one university," as it pursues discovery and other opportunities in such fields as social sciences, medicine and biomedicine, pharmacology, engineering, chemistry and related fields.
Bernard is Vanderbilt's associate vice-chancellor for clinical and translational research, resident within the VU Medical Center (VUMC). Among other roles, Bernard is director and principal investigator for Vanderbilt's efforts under a grant from the Clinical and Translational Science Awards program (CTSA).
As reported by VNC Feb. 28, Vanderbilt is understood to have been recruiting an assistant vice chancellor for technology transfer and development. The search committee was led by Vice Chancellor for Health Affairs Jeffrey Balser and managed by Korn Ferry, according to an earlier source. Vanderbilt has not yet announced the results of that search effort. This story will be updated, as warranted.
The university's office of technology transfer and enterprise development is led by director Chris McKinney, Ph.D., who has held the job more than seven of his ten years with Vanderbilt. Earlier, McKinney worked in tech transfer with the University of Tennessee Research Corporation, Oak Ridge National Laboratory and other institutions. VNC