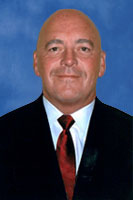 Pathfinder Therapeutics Inc. has a new president and CEO, just in time for the company's presentations to investors and medical professionals.
Curtis L. "Skip" Goode, who recently took the PTI helm after a 10-month stint as sales vice president for a West Coast firm, will lead a PTI delegation during what is for the company a vitally important meeting of the American Hepato-Pancreato-Biliary Association, opening tomorrow at Miami Beach.
AHPBA members are surgeons interested in liver and other abdominal surgery, and thus potentially key in advocating adoption of PTI technologies, which may eventually be deployed for surgeries on kidneys, pancreas and other organs, beyond the liver.
Goode succeeded Interim CEO Robert Morff, Ph.D., a principal with PTI lead investor Hatteras Venture Partners, based in the Durham-Research Triangle area. Morff, who holds a doctorate in medical physiology, took the company's reins in the course of PTI's $5.2 million A-round, last fall.
Not clear is whether Goode is accompanying PTI Co-founder and Chief Operating Officer Jim Stefansic, who is pitching investors during the Southeast Venture Conference, convening today in Atlanta. Stefansic previously told VNC that PTI contemplates a B-round capital raise.
Goode predecessor Morff had followed Paul MacDonald, who last summer departed unheralded from the CEO post, after a protracted period of unsuccessful capital-raising efforts that left the company's funding tenuous.
Immediately prior to joining Pathfinder, Goode briefly led sales for Endogastric Solutions, based in Redwood City, Calif. That company focuses on supporting "incisionless" treatment through natural orifices in the body, for upper gastrointestinal conditions, including gastroesophageal reflux disease (GERD).

PTI Board Chairman Clay Thorp, who is a Hatteras general partner, said in this morning's PTI release that Goode was selected after an "exhaustive nationwide search..."

Thorp subsequently told VNC that PTI presented Goode, who had not previously been considering leaving Endogastric, "an opportunity he couldn't refuse," given the chance to serve as CEO in a company with momentum and given the Memphis-area roots of Goode and his wife, among other factors.

Thorp also noted that Goode will soon join the ranks of PTI board members, along with Thorp, Morff, co-founder and Vanderbilt Engineering and Medical Center scientist Bob Galloway, VC representative Richard Molloy, Vanderbilt surgery chief Naji Ambumrad and a yet-to-be recruited seventh board member with sector expertise.
Prior to Endogastric, Goode was sales vice president for Sunnyvale, Calif.-based Accuray Inc., the creator of Cyberknife, which the company describes as an "intelligent robotic radiosurgery system... designed to treat solid tumors anywhere in the body as an alternative to traditional surgery."
Goode earlier spent 13 years with Medtronic, and served as vice president of sales for that company's Surgical Navigation Technologies division. While with Medtronic, Goode was also a regional sales director for the Sofamor Danek division. Goode earned a bachelor's degree in management and marketing from the University of Memphis.
Nashville Capital Network Executive Director Sid Chambless told VNC this morning the search was conducted by Leading Edge Medical Search, based in Boulder, Colo.
Chambless also told VNC he believes landing Goode represents a "huge win" for Middle Tennessee, where the minimally developed medical-devices sector still awaits the arrival of "talented people," such as Goode.
PTI says its SurgiSight Linasys™ is the first FDA-cleared and commercially available system for image-guided liver surgery. It can be used in conjunction with PlaniSight Linasys™, which is PTI's proprietary liver-surgical planning software.
Previously announced PTI investors, in addition to Hatteras, include Florida Gulfshore Capital, Clayton Associates, Nashville Capital Network, Vanderbilt University and Lumira Capital Corp., which is based in Toronto.
In today's PTI release, Goode (pronounced with the "goo" sound, according to PTI staff) said he is "thrilled" to lead Pathfinder, in part because "we have a great opportunity to introduce these systems to hospitals across the country. Pathfinder's ability to increase the number of operable liver cancers and improve the confidence of liver surgeons has the potential to save lives and drive significant economic benefits for health care." ♦