Today:
Chamber entrepreneurial strategy 2.0? - Krajicek tips - MotusPro capraise - JPJ Holdings Tech play - Eventa Global raise - CULER-Auramist changes
---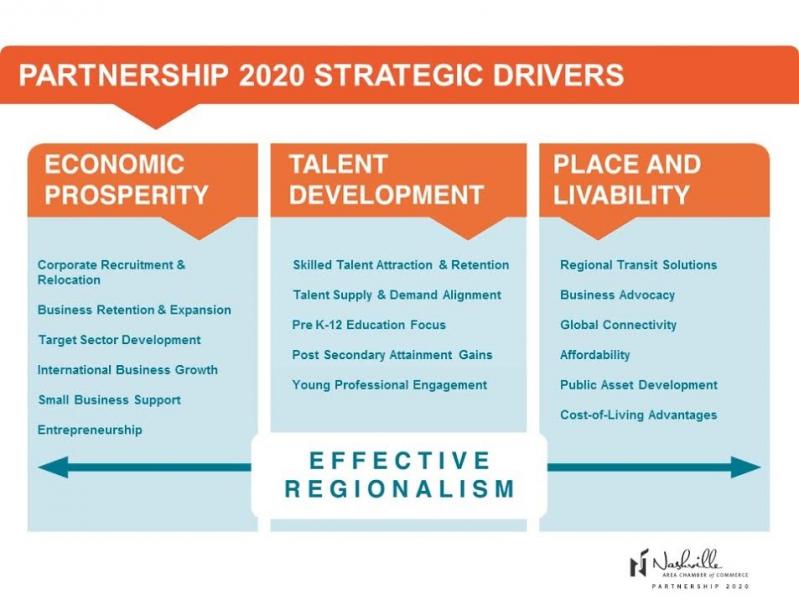 TANTALIZING: Asked this week by Venture Nashville whether or not broad business-community input might be sought in shaping plans for the region's go-forward entrepreneurial ecosystem, the Nashville Area Chamber of Commerce's Mark Drury said today that the Chamber "has ongoing discussions with the Entrepreneur Center, the Nashville Technology Council and other stakeholders about the entrepreneurial environment in the region and the best way to adapt to a changing economy and the needs of entrepreneurs. On July 1, the Chamber launches a new, five-year Partnership2020 strategy aimed at continuing the region's momentum by strengthening the key strategic drivers of the Middle Tennessee economy. As you can see in this diagram [click image at left for larger image in new window] from the P2020 plan, the hundreds of business leaders involved in developing this strategy included entrepreneurship as one of the priorities under the economic prosperity driver. We'll continue to collect data and develop strategies with our partners to help the regions' entrepreneurs become successful. It's broadly acknowledged that Middle Tennessee's ecosystem for entrepreneurs is as strong as it's ever been. The Kauffman Foundation recently ranked Nashville #5 among its 'top cities for start-up growth', ahead of Boston and San Francisco (up from our #9 ranking in 2015). A lot of work has been done, but resting on our laurels is not part of the equation. Stay tuned." Former Nashville Entrepreneur Center CEO Stuart McWhorter spokes in general terms of the EC's own strategic options in spring 2015, reported here. The Chamber in 2006-08 launched a vitally important study of the local entrepreneurial ecosystem, led by entrepreneurs Mike Shmerling and Bobby Frist (Healthstream), reported here at the time.
Steve Cretin
► MOTUSPRO, which offer technologies to track and evaluate human motion during precision activities, and which is leading with an application to improve trigger pull and accuracy in use of firearms, has a $1.5MM Series A underway, with about $500K in-hand, VNC is told. Five-year-old MotusPro is led by CEO Stephen Cretin, according to his Linkedin.
► JPJ Holdings Corp., an 8-month-old play involving undisclosed technology, filed yesterday on its $1.5MM capital raise, with $375K reported raised. Associated: Patrick and Joseph Williams and Justin Hipps, all of whom are directors. A query was placed this afternoon via their Harding Road office suite. This story will be updated, as warranted.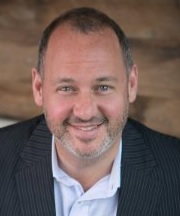 Jerry Bostelman
[Updated] EVENTA GLOBAL, which rebranded as Groups360 in 2015 and is run by CEO Kemp Gallineau, is $500K down the road toward a $1.5MM Angel raise, and his filing yesterday (June 16) showed Nashville Capital Network chief Sid Chambless and VACO-linked entrepreneur Jerry Bostelman among those associated with the filing. Jonathan Burleson and Tim Flors, both execs with hotel-event-booking player Groups360 are on the report, also. We reported on an earlier raise for Groups360 in 2015 here. Queries went in this afternoon. We'll update if we can, of course.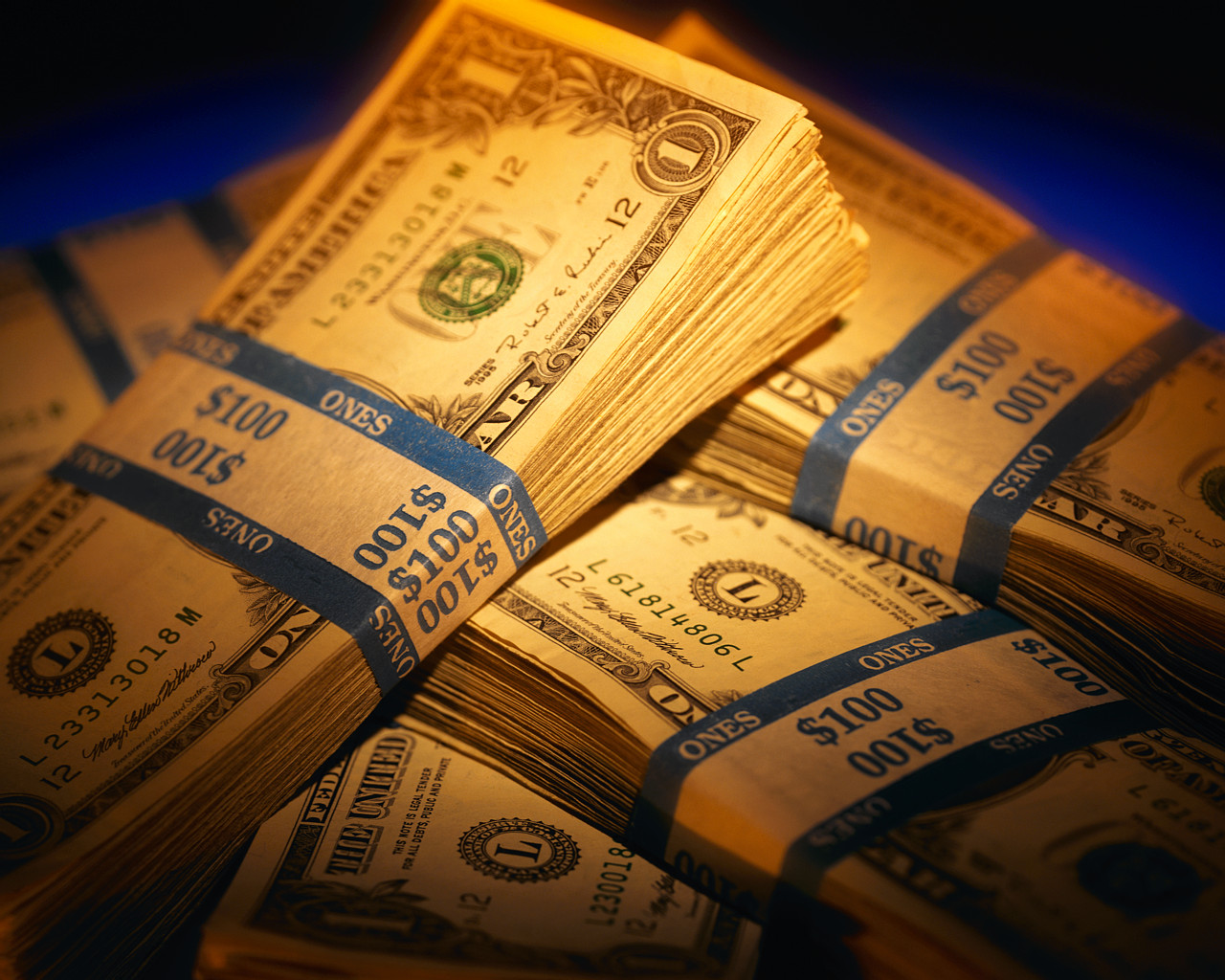 [updated] CULER, formerly Auramist, the marketer of lines of advanced-tech personal and commercial fan cooling products, is said by a source claiming knowledge of the situation to be winding-down, with a number of its roughly 10-person crew being released. Updated 18 June: Solidus' Townes Duncan told VNC June 18, "Restructured is a more accurate characterization. We licensed the evaporative cooling IP to our manufacturing partner, who hired a number of our employees and took over marketing sales activities. AuraMist retains an attractive royalty interest. Sales of AuraMist's Culer brand evaporative coolers are going very well online, in selected retail stores and on outlets such as Home Shopping Network (1,200 units sold in less than 15 minutes on one airing last week)." Auramist received $1.5MM from Solidus Co.'s TNInvestco affiliate and received over $860K via the INCITE program managed for ECD by Launch Tennessee, winning investments in each of LaunchTN's three INCITE tranches. Solidus executives have been queried by VNC this afternoon and this story will be updated, as warranted.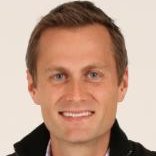 Gabe Krajicek
Kasasa CEO Gabe Krajicek of Austin-based Kasasa and formerly CEO of Nashville-based Dealerskins, said his father, an oilfields entrepreneur usually surrounded by roughnecks, taught him that one of the great core business values is to "love your employees." Speaking at the Owen School of Management at Vanderbilt this morning for an event convened by Prof. Germain Boer of the Owen Entrepreneurship Center, Krajicek said he believes that one corollary is that leaders should aim to create a company and a culture that employees can love, as well -- "It's like the best value" and, besides, he said, "I don't want to be in the trenches with somebody who's just going through the motions." Other Krajicek maxims: Hire A-team players as soon as possible -- and fire even gifted chronic troublemakers quickly. Watch your cash by talking to accounts receivable daily. Have a strategy with a primary goal and differentiate from competitors on every key point -- and focus, focus, focus. Our recent full Kasasa story is here.
. lasted edited 0816 18 June 2016
---