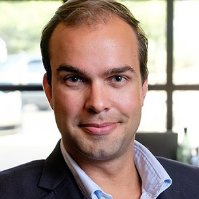 THIAGO OLSON, a graduate of Vanderbilt University School of Engineering and former entrepreneur in residence at the Atlanta Technology Development Center (ATDC), is the first managing director of Engage Ventures, an early-stage venture capital fund.
The first Engage fund, supplied with a total $15MM from 10 corporate peers making $1.5MM commitments, is accepting applications for its portfolio through July 8 (11:59pm), with its 90-day program beginning for initial entrants on Aug. 14. Two cohorts are planned annually.
The Atlanta-based firm's founding partner companies' CEOs each has a seat on the Engage board of directors.
The partner companies include AT&T, Chick-fil-A, Cox Enterprises, Delta Air Lines, Georgia-Pacific, Georgia Power Foundation, Inc., Intercontinental Exchange (ICE), Invesco Ltd., The Home Depot and UPS.
Tech Square Ventures will manage the fund, and Engage and will draw on services under contract with the ATDC, which is on the Georgia Tech campus. Georgia Tech President B.P. "Bud" Peterson also serves on the Engage board.
In March, Tech Square reported on the stirrings of the new firm, citing impetus from conversations among Petersen and Invesco CEO Marty Flanagan, both of whom wanted to improve ties between the city's tech community and its corporations.
Engage typically invests $75K initially in each accepted company, in exchange for 6% equity. Terms may vary for companies that have executed sizable capital raises and/or have achieved sustained revenue. Engage is prepared to consider follow-on investments.
The firm also promises that accepted companies have access to services and other benefits with aggregate value potentially far exceeding Engage's cash investment.
Companies accepted are likely to have raised less than $5MM each, and which are close to or have completed their minimum viable product and are looking for scale and distribution, according to the Engage website.
Prior to joining ATDC, Olson was CEO of Stratos, which created a mobile payment bluetooth connected card platform.
Stratos was backed by Toba Capital, Hyde Park Venture Partners, Resonant Venture Partners, and Western Technology Investment.
Earlier, Olson's career included work within U.S. Department of Defense, Los Alamos National Laboratory (NUF Plasma Fellow), CERN (fellowship), Weizman Institute of Science (Israel), in addition to other pursuits, according to his Linkedin.
In 2005, at age 15, Olson spent two years building a low-power fusion reactor that produced helium-3, resulting in measurable neutron emission, according to information online. VNC


.
---