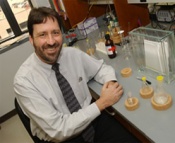 A crisis of innovation grips "the entire biomedical research enterprise," according to the leader of the Vanderbilt Program in Drug Discovery.
VPDD Director Jeff Conn, Ph.D., told VNC during an interview Friday that, despite gains on many fronts, extraordinary opportunities to improve medicine are being hampered by academic and industrial culture, and undermined by the failure of old business models that have long been employed by those attempting to translate scientific knowledge into better medicines.
Conn said the "fundamental advances" in medicine that society needs to combat diabetes, cancer and other diseases are not likely to materialize, unless new models for the research, development and commercialization of new drugs appear within the next decade.
Conn, a highly regarded scientist recruited from Merck and Co. to Vanderbilt six years ago, is responsible for VPDD's $16 million annual budget and the performance of 87 VPDD scientists and administrators, all of whom have been recruited to the program since Conn's arrival on campus.
Working under the guidance of Conn and key associates, squads of VPDD scientists work as teams to advance development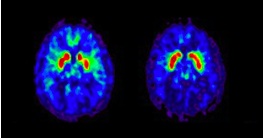 of drugs that might combat targeted diseases, currently Parkinson's, the progressive brain disorder; schizophrenia; and, fragile X syndrome, the most common inherited form of mental retardation and the most common genetic cause of autism.
Substantial progress has been reported in each VPDD program. Supporting these efforts are VPDD funders, licensees and research allies that include Janssen Pharmaceutica (Johnson & Johnson); Michael J. Fox Foundation for Parkinson's Research; Seaside Therapeutics, and others.


In response to a VNC question, Conn acknowledged that, while it is early in the process, VPDD may soon begin exploring with Vanderbilt technology-transfer and commercialization officials one or more options for licensing compounds with drug-like properties that are produced within the laboratory. Conn declined to provide details on the status of any those efforts. However, he did note, "We say 'No', a lot," when approached by pharmaceutical companies, largely because he fully appreciates how complicated those relationships can be.

A few minutes earlier, Conn had darted from a meeting with his schizophrenia team in a small room lined with whiteboards, to meet a reporter waiting in Conn's compact, but comfortable office on the 12th floor of Vanderbilt Medical Center's Light Hall.
Given the seeming relentlessness of the laboratory's operation, VNC asked Conn how he could force himself to carve-out time for an interview. Conn immediately responded, "I am passionate about the vision, about the appropriate role of academic institutions in drug discovery," adding that he is unabashedly "a real advocate" for changing the way drug-discovery is performed within universities and companies, alike, to produce the drugs needed by humankind.

Conn has written eloquently on this subject, outlining, among other factors, the increasing risk of failure as society has demanded drugs for which there is no historical clinical body of knowledge, as was typically the case when drugs were not so often synethesized, but were derived from well known plants.

Against this backdrop, Conn presses continually for increased connection between researchers engaged in basic science

and scientists pursuing drug development. He said he believes a mixed system of academe and industry actors is needed, but with incentives and resources much more aligned for discovery.
Conn said that while he does not want to come across as speaking from arrogance or bravado, and while he realizes that it would be "naive" to think his VPDD lab could by itself change the entire global discovery enterprise, he nonetheless hopes "to pave a path" and provide a model that others can adapt.
Essentially, Conn believes that the pharmaceutical industry has become too process-oriented, rather than discovery-oriented, resulting in lower-than-needed yields of innovative drugs.
Too often, he said, corporate pressure to achieve certain throughput of development leads to "shaping" of research by corporate goals and hierarchies of management in ways that often prove unproductive, in terms of breakthrough innovation. One result is soaring pharmaceutical research costs.
At the same time, Conn said he believes academe generally has been far too slow to accept the need for more collaboration among tenure-track scientists, rather than, purposefully or not, encouraging faculty to isolate, in the interest of each achieving personal recognition through publication of research findings, rather than devoting more energy toward shared efforts with colleagues.
Companies, he said, typically "try to reduce [drug discovery] to a [research] process and a business process - and, frankly, I don't think it works." In either setting, Conn said, the discovery process must be more "organic" than process-driven, with team members recognizing "they will live or die depending on the success of every other member of the team."
He said that while within companies attempts to create such a culture often falls victim to "silo" specialization and pressure for shorter-term profits, in academe it is the "publish or perish" imperative that is the threat. Within the academic setting, individual effort is "absolutely core," and leads to attempts to recruit as faculty "individuals, all of whom you hope will be superstars," and leaving each to work in their own "ivory tower."
He said that, "while no institution is perfect...," he has found since joining the university from Merck that "Vanderbilt has a much
more collaborative culture," and there are signs the "community here is starting to get it...from the top-down."
Team members, he said, must be people "who are willing to trust one another and defer to one another" when necessary, while fostering mutual confidence that all hands will conduct experiments rigorously and share opinions candidly. "There's got to be a lot of humility," he added.
Explaining the need for such qualities, Conn described a drug-discovery process that seems humbling, in itself.
Indeed, while Conn chuckled a bit as he described the search for drugs as being like the "Whac-a-Mole" arcade game, he seemed sincere when he said, "putting a man on the Moon, to me, is trivial compared to discovering a drug." Finally, though, Conn described his mission as "very doable, but very hard," and expressed doubt anyone not working in the field could fully appreciate the enormity of the effort required.


VPDD investigators employ a library of up to 200,000 compounds, dozens of which may initially be selected for a single research program and then subjected to "intensive chemistry" through literally thousands of assays, experiments and other efforts to determine which compounds and properties of compounds might eventually lead to drugs with "pharma-kinetic profiles" that deliver the safety, efficacy and potency needed in human beings suffering particular illnesses.
In a rigorous process Conn described as "tightly time-locked," chemists and other research staff work continually to discuss progress or lack of it, as well as tradeoffs that must be made, in recognition of inevitable constraints associated with staffing, equipment, time and money. Roughly 100 compounds run the gauntlet in VPDD, each week.
Conn said the pace and intensity of the work within VPDD brings with it special challenges. Nonetheless, he said, the result within VPDD is "a high energy and very upbeat environment. Everyone is excited about and strongly believes in what we are doing...

"However," he continued, "the pressure and realization that we have to make the right decisions about how to use our limited resources is present. I could not think of a better term than 'creative tension'" to describe the lab's atmosphere, he said, "in that I think [such tension] forces us to be creative in thinking about the most efficient approaches to accomplish our goals."

"Everybody has to be at the top of their game," add Conn (at left), and team positions must be filled with world-class talents, as he said he believes is true within the VPDD.
Vitally important, he said, is recognition that scientific discovery does not fit well within such models as that used in the automotive industry, where design, metrics and efficiency-building techniques are employed with relatively predictable results in an assembly-line setting.
Conn acknowledged that, as VPDD draws closer to commercializing its products, there will be some risk of becoming overly influenced by the sometime divergent priorities of outside licensees. However, Conn indicated he believes that, just as he must monitor how his tenure-track researchers are faring within Vanderbilt's evolving academic environment, sustained vigilance will ensure VPDD innovation, values and philosophy are preserved, even as the organization moves into new alliances.

Conn, 51, is founding director of the VU Program in Translational Neuropharmacology, as well as chief of VPDD. He earned his Ph.D. in pharmacology in 1986 at Vanderbilt, and his bachelor's at Lee University in 1981, in psychology and biology. For more of Conn's background, please visit here. ♦