The State's $27 billion pension fund has just refreshed the ranks of its investment advisors. No Tennessee-based firms were among the roughly 50 companies that competed for advisory and management contracts issued by Tennessee Consolidated Retirement System management.
Each of the sixteen fund managers recently chosen by TCRS will manage international or real-estate portfolios ranging in individual value from roughly $200 million to $1 billion. The firms are listed at the conclusion of this story.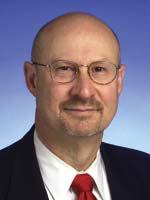 TCRS is also sifting through applications from about 30 candidates seeking to fill the newly created post of director of private-equity investments, according to Ed Hennessee (at left), who is chief assistant for benefits and insurance to State Treasurer Dale Sims. Hennessee said he believes the new directorship will be filled in early 2009.

Afterward, the new director will devise an investment strategy and solicit proposals from would-be asset managers. Another consultant will probably be recruited to assist the private-equity director with this process.

In addition to the 16 managers who won contracts within the past two weeks, two additional consultants, who were retained through earlier competitions, perform such services as helping TCRS measure investment performance, evaluate investment strategies and other tasks. About 80 percent of TCRS assets are managed by TCRS staff.

Although Tennessee firms were no-shows in the most recent competition, Hennessee said Tennessee firms are free to compete for private-equity and other asset-management and advisory contracts, and their proposals will win when the firms demonstrate "they're equal to or better than the other proposals."
Nonetheless, as previously reported by VNC, some in-state firms have expressed concerns that they'll be crowded-out of contracting by larger firms that can manage larger chunks of the state's investment.
In an interview for this story, Hennessee reaffirmed his earlier statements that Tennessee firms will have equal standing to compete, but compete they must. He acknowledged that any pressure that might be brought to bear to "earmark" funds for instate managers could help make the case for hiring only out-of-state managers.
TCRS' tight rules, caveats and principles are of long standing, and are spelled-out in the agency's recent requests for international (pdf) and real-estate (pdf)proposals.
Executives with in-state venture-capital and private-equity funds, interviewed recently by VNC, have signalled they're giving TCRS plenty of breathing room, affirming the agency's mandate to serve as fiduciary.

The Tennessee venture community has occasionally proven its capacity for influencing the legislative agenda. However, VCs who express an opinion on the matter typically acknowledge the importance of averting sensational controversy over the program, lest the public or members of the General Assembly, which elects the State treasurer, become so concerned they scuttle or hobble the new private-equity program aborning, through political or legislative action.
Still, many of those same executives have expressed concern that if TCRS seeks to invest funds rapidly, then the agency may, in the interest of efficiency or out of concern about instate conflicts, tend to hire fewer, but larger firms, rather than Tennessee firms that may prove competitive in terms of performance, but which simply have smaller operational capacity.

VCs often note that Tennessee entrepreneurs are likely to benefit more from in-state companies participating in managing TCRS assets, because they can give closer attention to local firms, while simultaneously attracting co-investment from investors elsewhere.
Hennessee made clear enough in a series of interviews that TCRS simply isn't charged with economic development. He said TCRS will continue to give highest priority to its fiduciary responsibility to achieve returns for its customers.

TCRS customers include participating state government agencies and state postsecondary-education institutions; employees of most local school districts; and, most local and county governments. Metro Nashville is among governments that have their own pension plan.
Hennessee said that in the context of private equity, while TCRS may, as part of the mix, work with large funds-of-funds managers, the agency recognizes that that is a relatively expensive option, which may nonetheless be prudent.
Two advisory firms were retained prior to the recent refreshment cycle: TCRS' general-investment consultant is Strategic Investment Solutions Inc., which is based in San Francisco. SIS works under a five-year contract that began in 2005. SIS currently earns $21,600 per month. The Townsend Group, based in Cleveland, Ohio, has been providing real-estate investment counsel.
The 16 firms recently selected through competition are listed below, with their home offices. An asterisk* indicates the firm was an incumbent re-hired.
INTERNATIONAL investments. Firms' compensation varies based on factors including asset class and volume managed and negotiated cost andprofit factors.
American Century Investments (Kansas City)
Baring Asset Management, London
GE Asset Management (NEW?) - Wellington email
Marathon Asset Management, London, England*
PanAgora Asset Management Inc., Boston (formerly Putnam Advisory Company)*
Pyramis Global Advisors, (Fidelity Investments) Rhode Island
SG Asset Management, Singapore*
TT International, London, England
Walter Scott & Partners Ltd., Edinburgh, Scotland*
REAL ESTATE compensation contingent on completed transactions. Rehired firms have asterisks*. Home offices shown.
ING Real Estate* (Amsterdam, Netherlands)
JPMorgan Asset Management* (New York City)
RREEF Alternative Investments (Deutsche Bank Asset Management)
UBS Global Real Estate (New York)
TA Realty* (Boston)
Cornerstone Real Estate Advisers*, MassMutual (Hartford, CT)
Capri Capital Partners - Chicago (backed by Chesterton International PLC, London) ♦