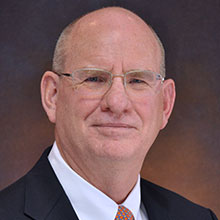 Updates: January 2019: Lee Clark, former CTO, named president/CEO. May 2017: Frank Grant elevated to company's president. 12 April 2016 1228: Amplion announced promoting Tom Stephenson to CEO, with Founder David Condra taking the executive chairmanship.-Ed.
AMPLION Clinical Communications currently plans to build its sales and valuation ahead of any capital raise or exit, said David Condra, its founder, chairman and CEO.
Near term, the company is focused on demonstrating significant organic growth from its relatively broad set of offerings "to win against the established nurse-call industry," thereby increasing the value of the company, Condra told Venture Nashville.
Assuming it gains further traction, Amplion might well look to raise growth capital in 2016, he said. He declined to suggest a target for another raise, adding only that fresh powder could fuel pursuit of a "quite substantial" market opportunity.
For now, Condra said, "we're interested in seeing the valuation of the business continue to grow and don't want to exit before we feel like we've achieved pretty reasonable growth in that valuation...[Accepting at this time] a sale or investment of any substance" is likely to come with a valuation that is "below what we feel we can achieve in a year or two," he added.
The company's current flagship, Amplion Alert, is a wireless alarm communications and management system -- hardware, software and remote monitors -- that helps nurses and other clinicians ensure patient care, safety and satisfaction.
Helping to avert "Never Events" -- such as patient falls and bed sores -- is a driver for Amplion implementations. Improved safety and care can make a hospital more competitive in its market, as hospitals' care quality becomes more transparent, under federal pressure.
The "patient care platform" confirms and documents in-room caregiver response. It transmits alarms notifications for medical sensors and other devices, reminders of routine tasks, nurse-call requests and notifications from a hospital's electronic medical record (EMR) platform, while also reporting data and reinforcing care-team collaboration, according to the Amplion website. In the aggregate, suboptimal alarm ecosystems heavily impact hospital staffing requirements, the company notes.
In October 2014, Amplion announced it had also begun providing consulting services to help hospitals audit their alarm environment and generate recommended systemic improvements, ahead of a 2016 federal requirement that all hospitals implement strategies for mitigating "alarm fatigue" and other concerns.
Though Amplion faces "real competitors" in the form of two Chicago-based players -- Rauland-Borg and Hill-Rom -- Condra expressed confidence Amplion technologies can supplant technologies that he believes have aged significantly.
Condra said Amplion's "20 to 25" investors include Angels, two TNInvestco funds -- Nashville's Council & Enhanced and Solidus-TNInvestco -- and at least one undisclosed corporate investor, which is also an Amplion customer and holds the largest single share of equity in the company.
Together, the two TNInvestco's invested just over $1MM in Amplion through by EY2013, according to state records online.
Condra confirmed that another firm -- Green Hills-based Solidus Co. -- remains an investor in Amplion. CrunchBase doesn't seem to differentiate sufficiently between Solidus Co. and its affiliated TNInvestco to warrant republication of CrunchBase numbers.
Moreover, Crunchbase errs, according to Condra, in reporting Amplion's total capital raised since inception is $6.7MM. Condra said the actual capital sum is greater.
Apart from that: VNC research shows that in an SEC filing Select Medical Holdings (NYSE:SEM) listed Amplion among several companies that were "related parties through equity investments." In Select Medical's January 2014 presentation during the annual JP Morgan Healthcare Conference, the company listed Amplion among its minority investments. And, during an August 2013 analysts call, Select's CEO mentioned that Amplion was at that time among a group of its investments on which it was incurring financial losses, but about which "we feel pretty good..."
Condra said Amplion gets inquiries from potential corporate bidders, but he hasn't considered those approaches "in the serious category." Nonetheless, a likely outcome is an eventual sale to a strategic bidder "who's in the space already in a big way and recognizes the strategic fit."
He explained that although pursuit of strategic partners is not now appropriate, potential Amplion partners logically include any entrant that considers the clinical side of the hospital, where direct care is provided, to be their marketplace. Thus, companies that provide medical devices, hospital staffing, consulting or other goods and services could qualify.
Amplion's advisors include Larry Papel of Nelson Mullins & Riley, with intellectual property counsel led by Mark Patterson of Patterson Intellectual Property Law. Audits are by LBMC, and Amplion banks with Reliant.
While most Amplion manufacturing is done in China, Condra said U.S. suppliers are becoming more competitive for some functions. For example, he said, overnight a specialist on the West Coast can translate a schematic circuit drawing into a prototype circuit board; and, within 72 hours that board can be populated with components to create a working prototype.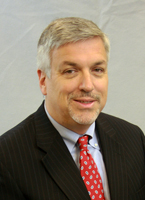 Tom Stephenson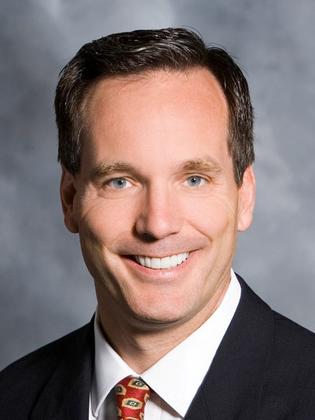 Frank Grant
Condra and his board recruited Amplion President and COO Tom Stephenson in 2012. And, in 2013, the company recruited former Cisco healthcare co-lead sales executive Frank Grant as its chief sales and marketing officer.
Both Stephenson and Amplion board member John Doss previously held topmost roles in Nashville-based Healthcare Management Systems (HMS), of which Doss was a co-founder. Private equity-backed HMS eventually sold to MEDHOST (fka HealthTech).
Jeff Gould, a long-time associate of Solidus founder Townes Duncan and fintech entrepreneur Joe Maxwell, is Amplion chief strategy officer, focusing on growth and development.
In 2011, then-Dalcon Communications Systems announced it had secured an exclusive worldwide license to integrate and market technology that make its Alert management system a true "communications hub for patient care." That license was obtained from a unit of Vanguard Health Systems (now part of Tenet).
Amplion is merely Condra's most recent entrepreneurial gambit. Though Amplion adopted its name in November 2012, the current company traces its lineage back 28 years to the formation of Dalcon Communications Systems, in 1987. Still other Dalcon technology companies began as early as 1979.
In 1997, Dalcon Technologies, through which Condra had developed enterprise software for radiology imaging center management, sold to New Jersey-based Medical Resources Inc. (MRI), for cash and stock valued at more than $2.5MM, according to an SEC filing by MRI.
In 2006, Condra sold his 25-year-old FACTS software line of business within Dalcon Business Systems to Minnesota-based Pivotal Systems, on undisclosed terms.
Condra was the first fulltime president/CEO of the Nashville Technology Council (2000-2005) and was a co-founder of the Nashville Capital Network and its precursor, Nashville Angel Network.
Condra and other honorees are to be recognized for their contributions to the Healthcare industry during a Nashville Business Journal event, later this week. Condra was selected as a Health Care Hero in the Health IT category by a panel of industry judges, NBJ said.
He is a former president of the Downtown Nashville Rotary Club. A licensed aircraft pilot, Condra volunteers through Angel Flight to transport patients in need.
Condra, 68, earned his bachelor's in Electrical and Electronics Engineering at Vanderbilt University School of Engineering, in 1969. VNC
---