Angel Capital Group Founder Rachael Qualls says she recently realized her fledgling company was not likely to fly, unless she got help.
Consequently, Qualls has recently admitted two new co-owners into the early-stage investment company she chartered more than two years ago.
The latest is ACG Nashville Managing Partner Robert "Yogi" Dougher (doo'-er), who until July was co-owner of Global Motorsports Inc., Nashville's long-established purveyor of upscale used vehicles.

Relaxed after an extended vacation, Dougher told VNC this morning he aims to "rev-up" Nashville, by recruiting perhaps another 20 angels to ACG membership, strengthening ACG's presence in Chattanooga and other Tennessee cities, and tightening the company's relationship with angel networks in North Carolina and elsewhere. Both Qualls and Dougher have indicated ACG might also explore new fund models.

In June, Qualls said ACG had 27 angels, statewide, including 17 in middle Tennessee. As typical in such organizations, regularly active investors and lead investors are a smaller subset of that number.

Prior to Global Motorsports, 49-year-old Dougher ran regional banking operations for Wachovia and First Union, and also served with Bank of Nashville. He was reared in Chattanooga, and earned his bachelor's on the Chattanooga campus of the University of Tennessee.
Dougher's appointment follows Qualls' earlier announcement of a similar collaboration with Roger Kiger, a personal-wealth planner in East Tennessee who covers the Knoxville market. Now, Qualls, Kiger and Dougher are apparently ACG's only owners.


In addition, Qualls (at left) recently told VNC her company has hired Adam Thede to help deal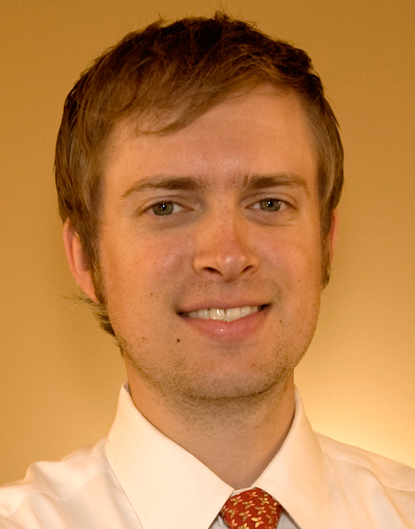 with entrepreneurs and analyze proposals.
Thede (at right) relocated to Nashville about two years ago with his songwriter wife, following five years in Lehman Brothers' New York City operations as a vice president.
Thede, 30, told VNC he earned three undergraduate degrees at the University of Colorado at Boulder (mathematics, finance and economics). He said he also spent several semesters in special academic programs at Harvard University and in London. Since relocating here, Thede has spent much of his time traveling, archiving family artifacts, working around the house and blogging.
On Aug. 26, Qualls wrote in her ACG blog that she had realized that spending "60 percent" of her time – without compensation – to meet with entrepreneurs and review investment proposals was keeping her from recruiting new angel investors who pay annual dues. Qualls' LinkedIn profile indicates she remains owner of a couple of other small businesses in property management and eBay reselling.
Her ACG blogpost seems to indicate, also, that too much unpaid time with entrepreneurs was keeping her from other duties, such as raising capital for worthy ventures.

Since its founding in 2007, ACG has announced completed investments in four firms, though investment amounts have not been disclosed. In addition, as with most such firms these days, the health of individual ACG portfolio companies is difficult to determine.

To improve revenue and discourage unprepared entrepreneurs, Qualls began last spring charging entrepreneurs $100 to submit proposals and as much as $1,850 for comprehensive business-plan assessments. She also instituted a requirement that no deals would be presented to her angels that have not survived ACG's new due-diligence requirement.
Simultaneously, Qualls told her blog readers, she resolved to double angel-investors' membership dues to $5,000, annually, from the previous $2,500. Qualls also stressed that, as of the date of her posting, entrepreneurs who survive the ACG due-diligence review "had an 80% chance of receiving funding."

Although she provided few details, Qualls also made clear in her blogpost that she, herself, is now earning significantly more money from her ACG efforts. That change, plus her new co-owners, may heighten the odds of ACG surviving its third year. ♦