Applied Health Analytics is reaching for a national role in "preemptive healthcare services," and is preparing for a second round of capital recruitment.
In a recent VNC interview in his Burton Hills offices, Applied Health Founder, President and CEO Robert Chamberlain explained the firm operates in the gap between employers and healthcare providers.

The mission: To preempt or remediate adverse health trends within an employer's workforce, thereby improving workers' pro-health behavior and reducing employer expenditures for healthcare insurance and services.

Chamberlain said Applied uses analytics and surveying technologies licensed from Vanderbilt University, as well as a broad range of employee-health enhancement programs and techniques.

Although most of the funding will go toward growing the business through sales and channel development, Chamberlain said the target for Applied Health's forthcoming capital campaign has not yet been fixed. He said hires will include several customer-support persons and a marketing-production specialist.

Chamberlain said the company raised its first outside capital in 2009. He would not provide details of the first round, other than

to acknowledge that Vanderbilt University became involved at that point, contributing a combination of cash, licensed technology and in-kind support.

Chamberlain would not provide details on the company's current finances, except to say: All its technology and process-development work is complete; the company enjoys "very, very high margins" of roughly 70 percent on its operations; and, the company has been in "good shape" throughout the roughly 15 months since its incorporation. He said revenue is earned in two forms: data-acquisitions fees and fees for recurring services.

He said he is finding demand for Applied Health's service "remarkable," and has already established strong relationships with such companies as MinuteClinic, Pfizer, Weight-Watchers and others.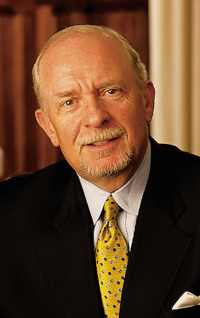 Chamberlain said that after he received initial guidance about licensing Vanderbilt technology from Vanderbilt's then-Vice Chancellor Harry Jacobson, M.D. (at left), and the university's office of technology transfer and enterprise development, his venture was matched-up with or "assigned" to the Vanderbilt Dayani Center for Health and Wellness.

Chamberlain's former firm, Aegis Health Group, which he founded and then sold after 17 years to other Aegis executives, has long been involved with Vanderbilt and Dayani. According to a VU Medical Center spokesman John Howser, queried by VNC, the Aegis-VU relationship is still "going strong." Aegis' services to Dayani apparently encompass both wellness- and marketing-oriented data-gathering and program implementation.

Chamberlain said Applied Health is differentiated from Aegis mainly in that it helps employer-payers align health and medical providers' services with their workforce's health trends and healthcare services needs. However, a recent Aegis release indicates the two companies are plowing much of the same ground.

After signing an employer-client, Applied Health's methodology includes conducting "intense" psychographic and demographic assessments of the workforce population.

Ultimately, Chamberlain explained, Applied Health's analyses, including longitudinal trend information with very specific

measurements allows Applied Health and the client to identify, for example, statistical indicators of under-adoption of mammogram screening within a workforce, and to then take steps to improve adoption and worker participation.

Applied then helps employers align with medical professionals and hospitals deemed best qualified and positioned to provide services to a particular workforce.

Among other things, Chamberlain said, the front-end analyses yield better understanding of the drive-states of segments of the workforce. Those phases of employee engagement in pursuing better health include pre-contemplative (not actively concerned); contemplative (understanding the need for action, but not actually setting goals); prepared for action; actively pursuing wellness; and, acting to maintain health.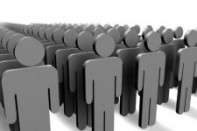 Applied Health is targeting employers with fewer than 1,000 employees each, a class Chamberlain said includes about 73 percent of all U.S. workers. Chamberlain said he is focused on 1,219 individual geographic locations for Applied Health marketing, a territory he said includes more than 7,500 employers that meet Applied's prospect profile.

Regarding provider partners, Chamberlain indicated he focuses on providers that are prepared to leverage employer demand for greater efficiency and better outcomes.

The company's strategy calls for increasing marketing via channel partners, particularly benefits consultants. Chamberlain said that as of March 4 the company had pitched partnership to 26 benefits consultants and had secured 100 percent of those as channel partners.

Applied Health also works through hospitals, of which it now has 13 as channel partners in Tennessee, Louisiana, Mississippi and Georgia. He declined to provide the hospitals' names, citing competitive concerns.

Chamberlain also noted that he - as the company's sole outside representative, at this time - has also begun discussions with one or more potential strategic partners, and confirmed he's been in talks with St. Louis-headquartered Ascension Health, among other. Ascension is the parent of St. Thomas Health Services, in Nashville.


Healthways is a de facto competitor to Applied Health, Chamberlain agrees. However, he said he believes Applied Health's community by community" marketing approach, with emphasis on locally branded providers providing counseling and other services is far superior to what he described as Healthways' more centralized approach to wellness services.

He acknowledged, however, that Healthways is focusing more on serving employers, directly, now that Healthways' traditional customer - which Chamberlain characterized as insurance carriers - are, themselves, beginning to offer wellness and disease-management services.

Healthways, it should be noted, has recovered somewhat from the buffeting disease-management took a year ago, and has taken a number of steps, including its recent acquistion of HealthHonors, to provide deeper analyses and services to a broadening customer base.

Among other Applied Health competitors are Nashville-based CareHere LLC and, positioned on a much more narrow slice of wellness and health coaching pie, OnLife Health, owned by Blue Cross Blue Shield of Tennessee, and formerly known as Gordian Health Solutions.

Applied's targeted illnesses include heart disease, cancer, diabetes, emotional health and obesity. Chamberlain notes that
about 63 percent of all American's are overweight or obese, with a body-mass index (BMI) of greater than 25.

Chamberlain's pre-Aegis experience includes business development duties at Eric Ericson & Associates, once one of Nashville's largest advertising agencies. He also held senior sales and marketing positions with Whittle Communications, then based in Knoxville; and, VisionTech Inc., which manufactured and sold specialized contact lenses.

As an undergrad, Chamberlain studied finance and economics at the University of Tennessee, Knoxville. ♦

Related Articles