Update: Cybera announced Sept. 16, 2015 that the majority of Cybera equity has been sold to Sumeru EP, with Duffey succeeded as CEO by Andrew Lev. Our 10/08 story is below. -Ed.
Cybera Inc. CEO and President Cliff Duffey told VNC he's navigating his company toward new products and alliances that will, among other things, increase sales through third-party allies.
Duffey said during a weekend interview that strategy-driven changes in the company's organization will require hiring a net half-dozen persons in the next year or so. That would raise the workforce to about 106. Duffey also said that last week, as part of its refocusing, the company laid-off a half-dozen employees scattered through several departments.
Cybera provides next-generation broadband wide-area network services for customers with multistate and-or multilocation operations.
Cybera's workforce realignment was signalled at least 18 months ago, when the company announced the expansion of its Series C round of investment. At that time, Duffey said in a statement, "This new capital funds Cybera's next step in our strategic plan to enhance our managed solutions through new service offerings and create more customer value through outsourcing..."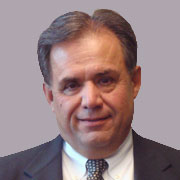 That fresh capital infusion in 2007 was a precursor to Cybera's rebuilding its upper-management team: Earlier this year, Cybera added heavyweights David Amador (at left) as senior vice president for operations, Ken Royer as senior vice president for sales, and Chris Wolff as vice president for alternative-channel sales. All three share, among other things, career experience with regional Bell companies.

"Our business is evolving, our products are changing," Duffey told VNC. Although he would not disclose details, he said new products Cybera will soon unveil will be easier for third-party distributors to sell and should increase Cybera's third-party share of revenue from its current 10 percent to about 40 percent by the end of 2009.
The Inc. 5000 listing published earlier this year showed Cybera with $18.7 million in revenue for 2007, up from $5.4 million in 2004.

Although Duffey would not discuss the privately held company's financials, he told VNC over the weekend that Cybera revenue is running 30 percent ahead of 2007's mark, the backlog of contracted business has reach its highest peak, and Cybera is having "the biggest year of profitability growth" since he founded the company, eight years ago.
Duffey said Cybera's key markets - including, for example, convenience stores (including Shell's), "quickserve" restaurants

and auto parts dealers (think O'Reilly) - are not feeling the same fallout from the economy that is hitting retailers in malls and in luxury-goods stores.
Nonetheless, he said, capital is under sufficient pressure within Cybera, as elsewhere in the business community, to make it unwise to continue employing staff who are not required in their current roles, in hope of finding other roles for them downstream.
Duffey's bullish remarks about growth were similar to comments made in June by Cybera SVP Dan Glennon. Reviewing Cybera's progress with VNC, Glennon said, "I gotta tell you we're doing quite well..."
Glennon stressed that Cybera would be doing more with wireless networks and alluded to plans for new products that would emerge this fall. Glennon said new and expanded partnerships were in prospect with other vendors and partners who share marketing targets with Cybera, including vendors who sell and service gas pumps, point-of-sale displays, digital signage, accounting applications and others allies.
Cybera's ownership is shared by Duffey, who is the company's largest shareholding individual; plus, lead C-Round investor Adams Street Partners, Chicago; Nashville-based Claritas Capital; and, Louisiville-based Chrysalis
Ventures. Duffey said there are other smaller investors, whom he declined to identify. ♦