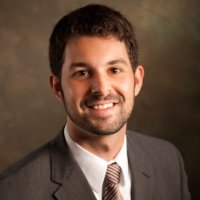 SAM LINGO, probably the longest-tenured payroll employee of the Nashville Entrepreneur Center, will depart his duties as president and COO Dec. 31, according to a release from EC CEO Michael Brody-Waite.
"Sam has had a tremendous impact on the organization, team and Nashville's entrepreneurial community since the EC opened its doors in 2010," Brody-Waite said. "We have been lucky to have Sam for as long as we have and wish him the best in all of his future endeavors."
Neither Brody-Waite in the release nor a spokesman for the EC this morning characterized reasons for the departure further, and Lingo has not signaled his plans, with the EC noting that Lingo will assume some type of advisory role in 2017. There are no immediate plans to replace him.
Lingo has spent seven years on EC staff and was its second hire, under founding CEO Michael Burcham, who went on to found and lead Narus Health.
On Lingo's watch, EC backers pursued funding, design and development of the EC's permanent home at the Trolley Barns of Rolling Mill Hill. The organization has since inception developed and implemented programming that has reached more than 450 startups, and joined strategic partnerships with Startup America, Rise of the Rest, Google and HCA, while launching Project Healthcare and Project Music accelerators, a PreFlight program for new entrepreneurs and more.
"It is an incredible honor to have been a part of the founding team at the EC, taking it from an idea to reality in service of our community," said Lingo in a press release today.
"As a Nashville native and entrepreneur, it has been extremely rewarding to help build the brands of the EC as a leading entrepreneurial hub and Nashville as an entrepreneurial ecosystem. The EC's best years are still ahead," said Lingo in the release.
"Sam has been a mainstay since the doors opened at the EC. We all appreciate his tireless work and dedication." said Beth Chase, incoming Board Chair. "He has our very best wishes and eternal gratitude for all that he has done at the EC."
The Nashville Entrepreneur Center (EC), a not-for-profit 501(c)3 public-private partnership, was founded in 2010.
.
---