JANE HANNER ALLEN, the Brentwood-based entrepreneur and founder of Counsel on Call and Hanner Clarke handbags, as well as business adviser to Connecticut-based Gridiron Capital, has been chosen as the next CEO of the Nashville Entrepreneur Center (EC).
Counsel on Call was founded in 2000 as an on-demand legal services company. It was renamed Legility LLC less than a year ago. It was recapitalized by Gridiron Capital in 2014.
Allen succeeds Michael Brody-Waite. She told Venture Nashville this afternoon that she is to take office Oct. 21. She will lead a staff currently comprised of 15 full-timers.
She also said that as she ramps-up duties at the EC and reaches out to various sectors of the community, she will be conducting her own assessment of EC objectives, stakeholder expectations, etc. Simultaneously, she plans to catch-up with the work of the EC's recently established marketing task force.
Allen confirmed she has not yet been privy to results of an ecosystem opinion survey that was conducted by the EC late in Brody-Waite's three-year term.
The CEO-in-waiting also noted that, while she is certainly familiar with the EC's programs and has previously engaged with the organization, she was not prepared to comment regarding, for example, such topics as how, going forward, the EC might pursue any regional objectives that have been or might be formulated. The EC's release today referred to the new CEO helping the EC "strengthen its role as a significant support system for the vibrant entrepreneurial ecosystem in Nashville."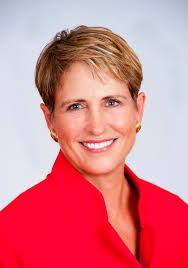 Margaret Dolan
Also as part of her impending assessment, she said she plans to explore with Launch Tennessee CEO Margaret Dolan the EC's grant-funded partnership with that organization, with an eye toward increasing the EC's impact and leverage.
She said she'll naturally also be focusing energies on the EC's longstanding relationships within Metro Nashville Davidson County Government, among others.
As VNC previously reported, the CEO search was led by an EC Board search committee chaired by Beth Chase, who recently was for a second time named EC board chair and is a senior managing director of Ankura Consulting Group, to which she sold her former company, C3 Consulting.
In her July commentary on Venture Nashville, Chase outlined the challenges and opportunities facing the EC, and the traits sought in the next CEO.
In today's release, she said, in part, "Jane brings a wealth of experience to this position. We are excited about the future of the Entrepreneur Center with her at the helm," said Chase. "Jane not only brings a great deal of wisdom and experience taking an idea from concept to launch to sustainable business, but she also understands firsthand, the power of collaboration and connectivity of the entrepreneur community to the broader corporate community..."
Immediate past EC Board Chairman Dee Anna Smith, who is CEO of HCA's Sarah Cannon Cancer Center, said in the release, "Jane is the perfect person to help cultivate the city's deep entrepreneurial spirit and take the Entrepreneur Center to the next level as we serve this vital part of the city's economy and creative class."
Allen strongly praised the EC she will now lead, commenting in the release, "The Nashville Entrepreneur Center is a meaningful organization that has done incredibly impactful work over nearly a decade in existence. I'm excited to work with the board and the community to help it move it to the next level and to help entrepreneurs achieve their goals. Nashville is an amazing community that is welcoming to entrepreneurial ventures. It is a great time to be in Nashville and frankly, an even greater time to be an entrepreneur in Nashville. We're going to make sure the EC continues to serve as a critical entryway for entrepreneurs, helping bring more great ideas to market and ensuring successful start-ups can scale their impact and success."
Allen is the first woman recruited to lead the Nashville Entrepreneur Center since its founding a decade ago, as a result of studies and explorations by the Nashville Area Chamber of Commerce and others.
In addition to Brody-Waite, her predecessors were Michael Burcham and Stuart McWhorter. Former EC President Sam Lingo also once served as lead EC executive for several months, during a gap in CEO succession.
Allen holds a JD from the University of Kentucky College of Law and earned her bachelor's in Education at the University of South Florida. She arrived Nashville in 1994 and became an attorney at Doramus & Trauger (now Trauger & Tuke), where she served til starting Counsel on Call.
Allen remains a member of the board of directors of Legility.
After exiting Counsel on Call, she launched Hanner Clarke, a handbag company she co-founded with her sister, Rebecca Hanner White JD, who is Dean & J. Alton Hosch Professor Emerita in the School of Law at the University of Georgia, and lives in Athens, Ga., according to information online.
In addition to Gridiron, institutional investors in Counsel on Call since its founding in 2000 included Nashville-based Claritas Capital, according to earlier media reports.
The 55-year-old Bowling Green native is married to Greg Allen, the former chairman and co-owner of Counsel on Call, and is the mother of four. The family resides in Davidson County.
Greg Allen is also a serial entrepreneur, and currently owner of Signcraft Inc., according to his LinkedIn profile.
Note: Beth Chase was today approved by the EC Board as its Chair, succeeding Dee Anna Smith, who was this summer named Board Chair of the Board of Regents of her alma mater, Pepperdine University. Though Smith remains an active director of the EC Board, she found that two board chairmanships were too much to continue concurrently, given her primary commitment as CEO of Sarah Cannon. Chase had also previously served as both EC Chair and Chair Emeritus. VNC
.last edited 1725 2 Oct 2019
---