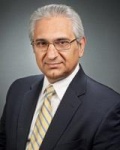 Farsheed Ferdowsi, now 56, was failing at retirement even more miserably than we realized.
For several months in 2010, the founder and successfully exited CEO of Paymaxx quietly consulted on a project associated with Austin Ventures, the Texas firm with an increasing presence in Nashville.
However, by year's-end, Ferdowsi was mulling his entrepreneurial options, including healthcare IT, insurance and other ideas. "I think I would have been reasonably engaged and excited about any of those," he told VNC. After spending three years considering real-estate development, writing a novel and helping other entrepreneurs, he was ready to re-engage, he said.
Yet, he explained, the payroll space beckoned: His Inova Payroll startup, he explained, "is like old worn-out clothes, you feel very comfortable in them." That familiarity, plus the "second wind" he's gotten as an entrepreneur and an insight he's had about the sector should land Inova in the $10 million range within "5 or 6" years. Inova can reach the $1 million annualized revenue range in 12-14 months and can be breakeven at a $2 million run-rate in about two years, he said.
Ferdowsi believes he'll quickly outpace the growth of Paymaxx, which had more than $12 million revenue when he sold it to CompuPay in 2005, because there are a myriad of U.S. accounting firms with service bureaus that are losing money providing payroll services to 50 or fewer clients, each generating less than about $1 million per year revenue. Inova affords those firms opportunities to earn revenue by ceding that business to Ferdowsi's firm. Ferdowsi has licensed proven Execupay technology to support the business, he said.
Ferdowsi said he had at least 30 willing investors, and has accepted funds from about 20, with the total likely to rise as high as $4 million. He made the go-decision near the end of 2010, sent a letter to investors in his network in February, and by mid-March the round was over-subscribed, he said.
In early: Clayton Associates and Crofton Capital. While two or three investors said they'd cover the entire round, Ferdowsi explained he wanted a broader syndicate, partly to ensure the company would have a broad network for "warm introductions" for sales. Controlling interest is held by "4 or 5" investors, he said, adding that as founder he has "effective control."
Inova has 10 employees and will soon have 13, with another 2 to 7 hired by year's-end, he said. Infrastructure work for Inova is nearly complete and Ferdowsi expects to have at least 20 customers up-and-running, very soon, he added. He's mulling many options regarding handling year-end auditing chores. Meanwhile, his advisors include attorneys at Neal & Harwell, and he's banking with Reliant Bank and Pinnacle Financial.
Ferdowsi's other active interests include his role as investor in Middle Tennessee-based CellJournalist and nTelagent; Dallas-based Xformity, a cash-management software provider; and, advisor to ConduIT Corporation. He has also been active in the Nashville Area Chamber of Commerce and YMCA Middle Tennessee. VNC