FIVESTONE PARTNERS, the Franklin firm that guides and invests mainly in technology-driven companies, has asked its initial group of outside investors to make collectively a "skin in the game" investment of $500K, Founding Partner Jozef Nuyens confirmed for VNC.
Two-year-old Fivestone engages with early- and growth-stage firms that are underperforming or confronting growth-stage challenges. In exchange for management fees, equity and-or other considerations, Fivestone provides fee-based consulting, investment, strategic development and other assistance, all with an eye toward exiting within 24 to 48 months, according to materials provided by Nuyens.

Nuyens confirmed that those who have stakes in Fivestone, thus far, include Bob Barone, the retired former managing director of BMI's Landmark Digital Services subsidiary; Raymond Pirtle, a founder and former senior managing director of Avondale Partners and now chief manager of Claridge Company, a financial-services firm; Jeff Landman, M.D., of New Light Imaging Partners and Vanderbilt Imaging Services (adjunct associate professor, VUMC); Scott Harmel, who has held executive roles with Cypress Semiconductor; and, Kermit Campbell, a member of the board of Dow Corning and a retired former CEO of Herman Miller. Some others prefer not to be identified, said Nuyens. Fivestone refers to the group as a Wisdom Tree, he explained.
Fivestone's current holdings and-or client relationships include Goba (the Nashville social-media startup that encourages users to "get out, be active"); Indigo Partners, a brand/entertainment-linked product development company, with apparel-industry ties; Enconcert, the San Jose company that offers a fan-focused application; Atlanta-based Sportronix (AI software and analytics); Zuzsa, Nashville-based firm offering website content and design tools for real estate professionals; TRL9, a Los Gatos, Calif.-based tech-commercialization fund that leverages intellectual property from government and other "non-public" dealflow sources; Luma Brite Technologies, a Florida-based creator of "Green-friendly" high-impact lighting; G Squared Wireless, the Nashville-based mobile helpdesk and solutions providers; and, New Bedford, Mass.-based Incident Control Systems (ICS), which provides vehicular and personnel armoring technology and services.
Responding to VNC queries, Nuyens acknowledged that Fivestone was instrumental in forging Goba's recently announced deal with Enconcert, in which for the first time Goba technology was licensed to Enconcert. Goba's 39-year-old founder and CEO John Dayani recently told VNC that API-borne licensing for enterprise use has been in Goba's gameplan from the outset.
VNC research indicates Goba has thus far been backed largely by more than $840,000 in investments by TNInvestco TriStar Technology Fund. The Fund's Brian Laden has not yet responded to a request for comment for this story.
Fivestone has been instrumental in putting together yet another opportunity for Goba, but that deal will not be unveiled until early February, Nuyens told VNC. The impending announcement will "catapult" and "accelerate" Goba, Nuyens added. Perhaps referring to the deal alluded to by Nuyens, a recent posting on the Goba site declares, "We just signed a deal - which we can't officially announce until 2012 - which continues our trajectory to be in the pockets of the world's 2.2 billion mobile subscribers."
Nuyens indicated that Fivestone is likely to exit several of its portfolio holdings in 2012-13. Fivestone has 30 percent founding equity in Goba, said Nuyens. Fivestone co-founder Brad Edmonson serves on the Goba board.
Fivestone is also party to Fivestone [Launch], which is a joint venture with Rockefeller Consulting/Insight Capitalists, the New York City-based company that also employs a metrics-driven model. Among that firm's partners is Mark Rockefeller, son of Nelson Rockefeller, the late former New York governor and former Vice President under President Gerald Ford.
The Fivestone approach seems consistent with the "lean finance" model of venture capital investment in the current "Era of Cheap," which proponents say requires sparing use of investment capital, stage-gated investment for performance and validation of market opportunities, agility in terminating funding streams, better returns through successful exits and other advantages. (Related: Menlo Park-based Bullpen Capital Managing Director Duncan Davidson recently extolled the 'capital-efficient' approach in an interview with TechCrunch here.)
Fivestone became a Tennessee-chartered company in October 2011; it was originally chartered in Texas in 2009 as Stacked Stones LLC, Nuyens confirmed for VNC. Nuyens and Edmonson recently added Michael Hassen, a former UBS analyst, as an associate.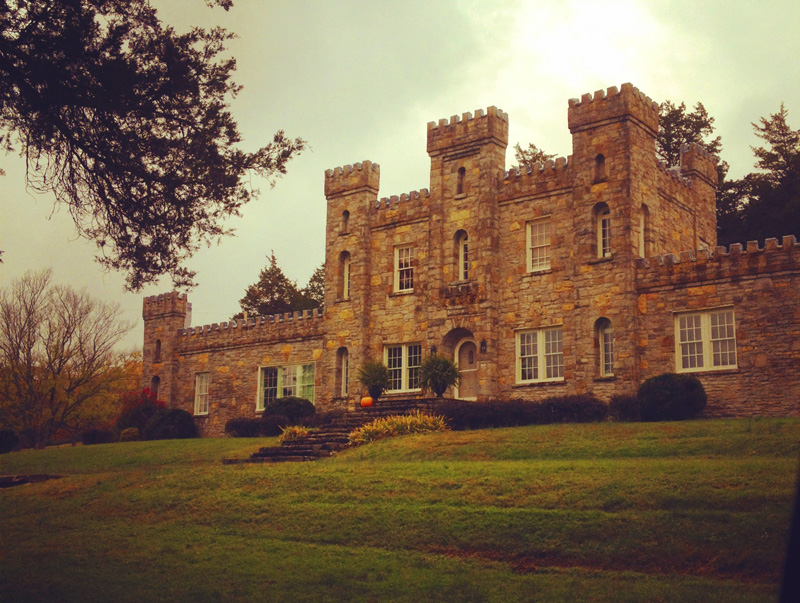 Nuyens' Castle
Nuyens, 51, was heretofore most prominently associated with The Castle, the 32-acre Depression Era property that was redeveloped by the Nuyens family in 1981 and relaunched in 1982 as a recording venue under Nuyens' oversight. Recent Castle sessions have drawn Brad Paisley, Alan Jackson, Myly Cyrus, Darius Rucker and others, Studio Manager Rich Ramsey told VNC.
Fivestone Partners is headquartered within The Castle, on Old Hillsboro Road. The property is owned by a Nuyens Family limited partnership, in which Jozef Nuyens holds the largest interest.
Fivestone business allies include the Jumpstart Foundry business accelerator (sponsored by Solidus Company); Auburn Angel Network; Metacake, a Nashville-based Internet strategy and services firm (also with offices in The Castle); and, Anchor Management, an Atlanta/Nashville consulting and operations-workout practice. Fivestone's site also identifies CollectiveIQ as an ally providing M&A deal-sourcing and -financing information and potential development or exit opportunities. In his role as a Jumpstart Foundry mentor, Nuyens has also advised startup RentStuff, among others.
Among his earlier entrepreneurial ventures, Nuyens was a co-founder of former Passalong Networks and led its artist-oriented Speakerheart division as CEO. Nuyens was also previously involved in joint ventures with Warner-Chappell (Time-Warner) and Arista Records. (Fivestone Co-founder Edmonson spent nearly five years as Passalong's SVP for operations and technology.)
Over the years, Nuyens has garnered recognition from the National Academy of Recording Arts and Sciences (NARAS, the GRAMMY folks), BMI and ASCAP. Nuyens graduated with honors from Belmont University (music business), and holds an Acting diploma from the Weist-Barron School of Television (NYC). He also studied philosophy and fine arts at Vanderbilt University; earlier, he graduated with honors from Koninklijke Atheneum in his native Belgium, according to his LinkedIn.
Nuyens told VNC that Fivestone received some counsel from Baker Donelson Bearman Caldwell & Berkowitz regarding structuring its "skin in the game" raise. VNC