Update March 1, 2018: ICA has sold to SSI Group of Mobile, Ala., which says it'll keep a presence here. CEO Gary Zegiestowski left in 2016. May 14, 2015: Nashville Business Journal reports Zegiestowsky confirmed the company has cut 20 of its now roughly 100 staff, in the process of adjusting to changes in the healthcare business environment. Our 2010 story follows. -Ed.
Barring another national economic calamity, responding to RFPs and recruiting talent may be the greatest challenges facing Nashville's Informatics Corporation of America.
After all, ICA seems well positioned in a market energized by rising federal Health IT standards.

The company has an "organically" growing customer base, coveted ties to Vanderbilt University Medical Center and, held quietly in reserve, some capacity for mergers and acquisitions.

Thus far, ICA has been primarily capitalized by investments of undisclosed magnitude from Medcare Investment Funds, based in San Antonio.

ICA is also a portfolio company held by Vanderbilt's Office of Technology Transfer and Enterprise Development. Together, VU
and Medcare own 97 percent of the company's stock. The company's CareAlign™ technology stitches together health information systems to provide an electronic health record, as well as physician portals, secure messaging and disease and wellness dashboards for hospitals, health information exchanges and other healthcare networks. ICA has done installs in about 40 hospitals and 100 clinics.

Through its licensing agreement with VU, the company enjoys exclusive rights for marketing products based on information technology developed at Vanderbilt, access to VU Medical Center resources and use of VUMC as a reference site. ICA unabashedly leverages its ties to the widely recognized research university.


Despite an apparent slowdown in hiring and presumably revenue growth, ICA Vice President-Client Services and Marketing John Tempesco (at left) told VNC in an interview Friday, March 12, that the six-year-old company now projects hiring 31 workers by year's end - a 56 percent growth in headcount, which now stands at 55.

In Spring 2006, when the company was still known by its original name, Star Technology, ICA had just 13 on its payroll and had just signed its first paying customer.

Though the latest ICA growth projections are ear-catching, the asterisk here is that fully 18 months ago ICA estimated that it would hit the 100-employee mark, by now.

That estimate came, of course, before the Great Recession and before the hospital sector realized that setting national standards for health-information technologies would take longer than originally anticipated.

During a VNC interview in late 2008, ICA CEO Gary Zegiestowsky told VNC he thought the company, which then had 46

employees, would become "self-sustaining" and profitable in 2010. In the same interview, Zegiestowsky mused that one day it could make sense for ICA to consider offering its shares to the public.

That mildly bullish projection by Zegiestowsky (at right) was based partly on the fact ICA revenue had doubled in two consecutive years, 2007 and 2008 - and until the Recession, that trend was expected to continue for awhile.

The same sort of extrapolation led ICA to relocate to larger quarters, taking 16,000 sq. ft. at 1801 West End Avenue, and 16 months ago the company said it was scouting for even more space.

Today, along with the rest of the nation, ICA's taking a conservatively optimistic posture. On Tuesday, Tempesco responded to a VNC query about financial progress by saying the company had decided to say only that it is "on track and on budget."

Tempesco indicated ICA is encouraged by recent strong growth in the number of competitive requests for information and proposals the company receives.


ICA has responded to 26 RFP/RFIs in about the past seven months. That is nearly four times as many responses as the company published in the more than four years preceding that period.

Rising provider interest and ICA's efforts are paying dividends: During the past 30 days, ICA announced new customers Meridian Health (New Jersey) and Wellstar Health System (Georgia).

The proliferation of opportunities means ICA is likely to remain focused on organic sales growth, rather than resorting to mergers and acquisitions for revenue boosts.

Even so, Tempesco said the company is not ruling-out considering M&A activity that improves ICA "functionality,"

rather than merely driving top-line revenue.

Said Tempesco, "IF, and I'll emphasize 'IF', again, we were to look at acquiring another company it would have to fill a strategic gap in our functionality or at a minimum [bring ICA] a complementary offering which enhances our market potential and speed our delivery time to meet customer demand."

Tempesco cited several major trends he believes bolster prospects for ICA growth: The minds of many healthcare executives are opening wider to the potential of technology; the federal Stimulus program ("HITECH") seems likely to produce a strong tailwind for informatics companies; and, a new generation of hospital and medical professionals will soon be in-place, bringing their pro-technology mindsets with them.

Mind-opening? Tempesco explains that among forces that have pried-open previously closed minds are the sometimes cacophonous debate over healthcare insurance coverage and costs; federal Stimulus funding for healthcare IT; the funding of IT initiatives in Tennessee and other states; growing awareness that sharing information doesn't undermine competitiveness; and, mounting pressure for improved healthcare outcomes.



Combined, the forces of crisis and opportunity created "this whole kind of excitement within every aspect of healthcare," as well as "trepidation" born of widespread belief that "there's not a government dollar that's ever been given that didn't have a string attached to it."

In addition, said Tempesco, while uncertainty abounds with respect to standards, certification and incentives, many providers have begun to realize "they don't want to be laggers in the market, they want to be leaders in the market," and then began to find ways to proceed with health IT implementation, despite the vagaries of federal policy and budgeting.

Tempesco said he believes providers in smaller cities - including Nashville - seem to be more willing to collaborate.

Providers in those cities, he said, are certainly competitive, but they are "not ravenously competitive" and he believes they are more likely to be focused on moving forward.

In such communities, he said, integrated delivery networks - in which players are vertically or horizontally integrated, under some degree of shared governance and often with information technology as a driver -- can be particularly successful. There are hundreds of IDNs nationwide.

Beyond Stimulus-driven funding and IDNs, Tempesco said, there is the fact that a generational shift is not far off.

"When we have the next wave of physicians retire, adoption [of health IT] will go up, tremendously," Tempesco said with a chuckle. Consequently, he said, getting the ICA brand in front of medical students and residents, now, is a higher priority.

Nonprofit change-agent organizations also get a lot of attention from ICA. For example, Tempesco cited the Health Information Management Systems Society (HiMSS), and the 1,200-member Association of Medical Directors of Information Systems (AMDIS) as among the "pioneers" in electronic health record adoption and related trends.


Medcare Investment President Tim Lyles (at left) is chairman of the ICA board of directors. Lyle, an attorney and CPA, is also president and general counsel of Mission City Management Inc., of San Antonio.

Mission City Management is a holding company that manages assets of James Leininger, a founding investor and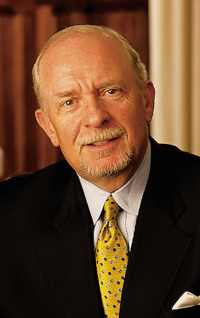 chairman emeritus of NYSE-listed Kinetic Concepts Inc. (KCI), the health technology company based in San Antonio. Leininger was a founding investor of Renal Care Group, along with Renal Care's co-founder, Harry Jacobson, M.D.

Jacobson (at right) is a senior advisor to ICA. He is also a former Vanderbilt vice chancellor for health affairs and, more recently, co-founder of the TriStar Technology Fund (TNInvestco). As previously reported by VNC, Jacobson is a member of Kinetic Concepts' board of directors. Jacobson and Lyles also serve on the board of Brentwood-based Cardiovascular Care Affiliates (CCA), which Jacobson co-founded.

Other ICA board members include Vanderbilt University Vice Chancellor and CFO Brett Sweet; local venture-capital investor Fred Goad, co-founder of Voyent Partners; and, Thomas Smith, who, among numerous influential posts over a long career, is the former CEO of VHA Inc., a group purchasing organization for community-owned healthcare systems and physicians.

ICA's senior advisors also include Bill Stead, M.D., chairman of the Vanderbilt Center for Better Health and director of Vanderbilt's informatics center.

ICA has previously announced that its strategic technology partners include EHR player Sevocity (Conceptual Mindworks, San Antonio); healthcare software developer Ulrich Medical Concepts (Paducah, Ky.); and, e-prescribing tech entrant DrFirst (Rockville, Md.).

Tempesco, 53, joined ICA two years ago as director of client services and was later promoted to vice president. He previously spent three years with Healthport (formerly, SDS Health in Alpharetta, Ga.).

Earlier still, Tempesco was with Blue Cross Blue Shield of South Carolina and its subsidiary, Companion Information Management Services, which specialized in claims-processing and Internet customer-service products. ♦


Related Articles